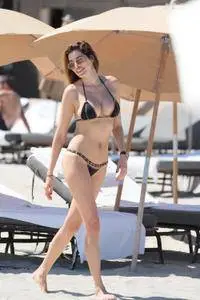 Aida Yespica - Bikini Candids in Miami May 11, 2017
31 JPG | 1280x1920 | 6 mb
Venezuelan model

Aida Maria Yespica Jaime is a Venezuelan beauty queen born on 15 July 1982 in Barquisimeto, Venezuela. She is the girlfriend of footballer Matteo Ferrari and they have a baby boy, Aron, born on 27 November 2008. In January 2009 they split up after 2 years. And got together in December 2009. They live together in Turkey

Modeling career

Aida Yespica Jaime moved to Milan, Italy to start her modeling career back in 2003. She has become a big star in the Italian entertainment business and has graced the covers of multiple magazines including GQ and Maxim. Aida appears regularly in Fashion TV and RAI doing photoshoots, fashion commercials or as a presenter.