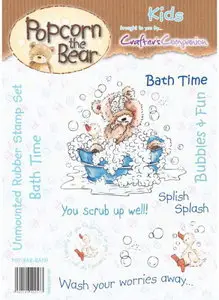 Popcorn The Bear Kids Collection: Bath Time Stamp Set
Paper Craft Projects | CD-ROM | 500 MB
This A6 Popcorn the Bear Kids Collection 'Bath Time' Stamp Set brings to you a very special bear with the 'aaah' factor guaranteed to add warmth and freshness to all your crafting projects.
Join Popcorn for bubbles and fun as he washes his worries away in his bathtub. This appealing little bear is joined by his best friend Souffle as he splashes about in this fun Bath Time rubber stamp set. This scrummy collection contains 12 enchanting individual stamp images and is perfect for many occasions, or just to show someone special you care.
* Fantastic value - 12 individual stamp images.
* Choose any 4 Popcorn the Bear Stamps. (frames)
These CD-ROM is for use with ADOBE READER (provided free on the cd-rom) and DO NOT use graphics packages such as
Paint Shop Pro or Adobe Photoshop etc.
Minimum Requirements:
PC running Windows 98SE but XP preferred
(Vista & Win7 compatable - running Adobe reader version 8 or higher)
Minimum Screen resolution 800 x 600 (1024 x 768 recommended)
Adobe Reader version 6 or higher
Colour Printer
Download Links:
Hotfile Part1
Hotfile Part2
Hotfile Part3
Hotfile Part4
Hotfile Part5
Fileserve Part1
Fileserve Part2
Fileserve Part3
Fileserve Part4
Fileserve Part5