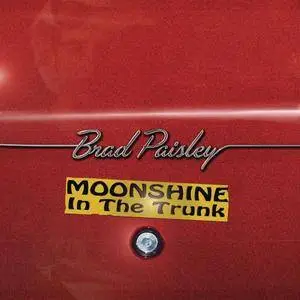 Brad Paisley - Moonshine in the Trunk (2014)
FLAC (tracks) 24-bit/44.1 kHz | Time - 51:34 minutes | 602 MB
Studio Master, Official Digital Download | Artwork: Front cover
Ambition got the better of Brad Paisley on 2013's Wheelhouse, coaxing him into the briar patch that was "Accidental Racist" an ill-conceived cross-cultural duet with LLCool J which generated a flurry of headlines that camouflaged how the album straight-up flopped on country radio. Wheelhouse was Paisley's first record since Play not to go gold, and even that is misleading because that 2008 effort was an instrumental album and those never sell in large numbers; subtract that from his stats and the 2013 record achieves the ignoble status of his first-ever album not to reach gold and, perhaps more importantly, his first not to generate a number one single. Paisley slyly alludes to this slump, singing "I guess I've been in a dry spell, but that's about to change" on "Crushin' It," the opening track of his 2014 album Moonshine in the Trunk, a phrasing that suggests his dip in sales lasted longer than a year which, in a way, it has. His sales started decreasing around the time of the open-hearted, far-ranging American Saturday Night, so perhaps it's no surprise that he's attempting to turn back the clock on Moonshine in the Trunk, stripping back all his experimentations and declining every detour so he winds up with a record that could function as a de facto sequel to 2007's 5th Gear. Moonshine in the Trunk is all gleaming steel, hard edges, sleek rhythms, and power ballads, state-of-the-art modern country that doesn't dare make a big deal of any of Paisley's eccentricities outside of his squealing guitar. Restless guy that he is, Paisley doesn't quite abandon every one of his quirks: specifically, he plays around with rhythm, setting "Crushin' It" to a thumping disco beat, pushing "River Bank" along to a stuttering syncopation, and underscoring "Limes" to an electronic loop. These dance-friendly beats go down smoothly because the emphasis is on the twang of the Telecaster and Paisley's drawl, signatures as prominent as his sense of humor which also surfaces on Moonshine in the Trunk quite genially on "Going Green," a wry tale of a redneck choosing to sacrifice for the sake of the environment, and quite nastily on "High Life," where a bunch of white trash sue their way toward millions. No matter how much he rhapsodizes about the logos across the caps in this great "Country Nation," these two novelties suggest where Paisley's sympathies lie: he's too smart, too worldly to pander to his base, so he'll take sly jabs and disguise his wide-eyed futurism within the nostalgia of "American Flag on the Moon." Most of all, he's savvy enough to know when to play it safe, which he does throughout Moonshine in the Trunk, turning out high-octane, highly enjoyable songs about trucks, water, speed, and making out with girls who don't realize they're beautiful enough to be a model. This is, for want of a better word, his wheelhouse, and while he may not be leaving his comfort zone here, Moonshine in the Trunk proves his strengths remain mighty potent.
Tracklist:
01. Crushin' It
02. River Bank
03. Perfect Storm
04. High Life
05. Moonshine in the Trunk
06. Shattered Glass
07. Limes
08. You Shouldn't Have To
09. 4WP (feat. Brad Paisley)
10. Cover Girl
11. Gone Green
12. JFK 1962
13. American Flag on the Moon
14. Country Nation
15. Me and Jesus (Extra Special Bonus Track)
foobar2000 1.3.7 / Dynamic Range Meter 1.1.1
log date: 2018-01-30 02:49:47

––––––––––––––––––––––––––––––––––––––––
Analyzed: Brad Paisley / Moonshine in the Trunk
––––––––––––––––––––––––––––––––––––––––

DR Peak RMS Duration Track
––––––––––––––––––––––––––––––––––––––––
DR6 -1.06 dB -8.59 dB 3:39 01-Crushin' It
DR6 -1.00 dB -9.02 dB 3:01 02-River Bank
DR6 -1.06 dB -8.56 dB 3:56 03-Perfect Storm
DR6 -1.00 dB -8.54 dB 3:44 04-High Life
DR7 -1.05 dB -9.01 dB 4:00 05-Moonshine in the Trunk
DR6 -1.04 dB -9.09 dB 3:46 06-Shattered Glass
DR6 -1.00 dB -8.11 dB 3:57 07-Limes
DR6 -1.00 dB -8.96 dB 3:55 08-You Shouldn't Have To
DR7 -1.00 dB -9.50 dB 3:27 09-4WP (feat. Brad Paisley)
DR6 -1.08 dB -8.34 dB 3:11 10-Cover Girl
DR7 -1.00 dB -9.77 dB 3:16 11-Gone Green
DR9 -1.08 dB -12.68 dB 0:54 12-JFK 1962
DR7 -1.04 dB -10.77 dB 3:48 13-American Flag on the Moon
DR6 -1.06 dB -8.98 dB 3:49 14-Country Nation
DR8 -1.09 dB -11.47 dB 3:20 15-Me and Jesus (Extra Special Bonus Track)
––––––––––––––––––––––––––––––––––––––––

Number of tracks: 15
Official DR value: DR7

Samplerate: 44100 Hz
Channels: 2
Bits per sample: 24
Bitrate: 1479 kbps
Codec: FLAC
================================================================================
All thanks go to the original releaser