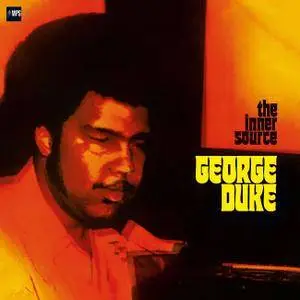 George Duke - The Inner Source
Funk, Jazz, Fusion | FLAC (tracks) 24-bit/88.2 kHz | 87:47 min | 1.55 GB | Front Cover
Label: MPS Records/Edel Germany GmbH | Tracks: 16 | Rls.date: 1973/2015
In 1971 George Duke, having just recently done his time with the Mothers of Invention, was engaged by the Cannonball Adderley Quintet. Beginning in April of that year, Duke made two recordings over a short timespan that on their release in 1973 as a double LP (against the desire of the artists, by the way), would be a major statement. On Chapter One of his fusion autobiography, "Solus", Duke, along with the skeleton crew of bassist John Heard and drummer Dick Berk, tries out the new compositional philosophy he had absorbed from his work with Adderley. The album was obliged to maintain a jazzy environment, illustrated by the harmonically flowing piano improvisation on "Love Reborn" and the bop-influenced busyness of "The Followers". But the record also signifies the importance of the keyboards in all their diverse contexts – the funky rock of "Au-right", and the smoldering, dreamy feel of "Peace", for instance. And on "Manya" Duke lives it up as he shows off his exuberant experimental synth side.
"The Inner Source" continues in the same vein. "So There You Go" is a downright delightful waltz featuring e-piano, whereas "Some Time Ago" is pure tonal color and atmosphere. We find an exotic gem in "Nigerian Numberumba" in which an African Lamellophone is craftily simulated with an echoplex and ring modulator. Duke also begins to vary the lineup here. "Feels So Good" und "My Soul" are reinforced with Latin percussion, and incisive horn and reed instruments (luminaries from the Thad Jones and Santana entourages). The same with the title track, a masterstroke of quintet dramaturgy, with Duke on his first instrument, the trombone. As a curiosity, two basses compete with each other on "Twenty Five". The last piece, "Always Constant", is a more open piece that spontaneously unfolded in the studio.
TRACKLIST
01 Au Right 3:27
02 Love Reborn 7:25
03 Peace 7:39
04 So There You Go 5:18
05 The Followers 5:15
06 Solus 9:05
07 Nigerian Numberuma 2:49
08 My Soul 4:37
09 The Inner Source 6:07
10 Life 5:39
11 Some Time Ago 5:00
12 Feels So Good' 7:10
13 Manya 3:26
14 Sweet Bite 3:32
15 Twenty-Five 4:54
16 Always Constant 6:47
PERSONNEL
George Duke – Keyboard
John Heard – Bass
Dick Berk – Drums
Armando Peraza – Congas
Luis Gasca – Flugelhorn, Trumpet
Jerome Richardson – Saxophone
foobar2000 1.3.7 / Замер динамического диапазона (DR) 1.1.1
Дата отчёта: 2016-11-28 16:25:23

––––––––––––––––––––––––––––––––––––––––
Анализ: George Duke / The Inner Source
––––––––––––––––––––––––––––––––––––––––

DR Пики RMS Продолжительность трека
––––––––––––––––––––––––––––––––––––––––
DR12 -3.34 дБ -18.53 дБ 3:25 01-Au Right
DR16 -0.68 дБ -21.78 дБ 7:23 02-Love Reborn
DR13 -4.43 дБ -22.74 дБ 7:30 03-Peace
DR14 -0.73 дБ -17.90 дБ 4:39 04-My Soul
DR14 -0.92 дБ -18.69 дБ 6:58 05-Feels so Good
DR12 -4.64 дБ -24.63 дБ 3:30 06-Manya
DR16 -4.24 дБ -27.35 дБ 3:31 07-Sweet Bite
DR13 -2.98 дБ -19.37 дБ 5:13 08-The Followers
DR17 -3.63 дБ -25.26 дБ 6:11 09-The Inner Source
DR13 -1.12 дБ -19.53 дБ 5:44 10-Life
DR13 -1.95 дБ -22.65 дБ 5:10 11-Some Time Ago
DR13 -2.70 дБ -20.03 дБ 5:09 12-So There You Go
DR14 -1.91 дБ -20.42 дБ 9:00 13-Solus
DR11 -5.76 дБ -21.03 дБ 2:47 14-Nigerian Numberuma
DR13 -2.29 дБ -22.41 дБ 4:57 15-Twenty-Five
DR15 -2.92 дБ -22.54 дБ 6:48 16-Always Constant
––––––––––––––––––––––––––––––––––––––––

Количество треков: 16
Реальные значения DR: DR14

Частота: 88200 Гц
Каналов: 2
Разрядность: 24
Битрейт: 2647 кбит/с
Кодек: FLAC
================================================================================
Thanks to the Original customer.