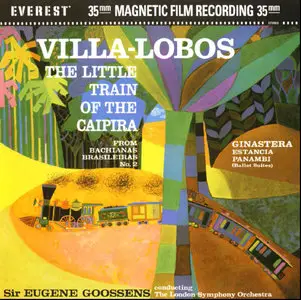 Eugene Goossens/LSO - Villa-Lobos: The Little Train of The Caipira
Vinyl Rip in 24-Bit/96-kHz | FLAC tracks | Full Scan Covers | MU, RS | 232 MB 3% recovery
1960 | Genre: Classical | Label: Everest | SDBR-3041 | HDTrack hi-res digital download
As an introduction to the music of the Brazilian composer Villa-Lobos, you can't really do better than this little masterwork which is the toccata from his Bachiana Brasileira No. 2. It was inspired by a ride that Villa-Lobos took in 1931 on just such a train that was transporting berry-pickers and farm laborers between villages. Sir Eugene Goossens wrote: "The little train puffs and chugs along and proceeds to its distant destination which it reaches safely in a process of gradual deceleration and much exhaust steam."
The ingenious use of native percussion instruments to create the steam sounds and the infectious use of traditional Brazilian melodies and rhythms create a sound world full of life and bright colors. You can almost see that little steam train just struggling along on it's journey.
Audio buffs are probably aware of the great recordings Everest released in the 50's and 60's, and this one in particular is a case in point. Recorded in 1960 on 3-track 35mm magnetic film it puts to shame some recordings done a month ago.
(Jean-Yves Duperron)
In 1960, David Hall, who wrote the original liner notes for this Everest 35MM recording had this to say about the Villa Lobos composition / Everest Recording: " In recent years, hi-fi fans have delighted in the realistic recordings of big steam locomotives and other railway sounds. For some, it is more thrilling to have a fast freight roaring through the living room than to hear the music of Beethoven or Tchaikovsky. Here, though, is a tailor made for both the audiophile and music lover. With Everest's startlingly lifelike sound, coupled with the vivid imagination of Villa-Lobos, you can hear a musical train come to life on your phonograph." The Little train of the Caipira was inspired by a ride that Villa-Lobos took in 1931 on a train that was transporting berry-pickers and farm laborers between villages in the Brazilian province of Sao Paolo. Within an hour he had completed the last movement (toccata) and that very night he and his wife played the movement on cello and piano. Alberto Ginastera, Argentina's most celebrated composers, wrote "Estancia," a one act Ballet in five movements, as a commissioned composition in 1941. It was not performed in ballet form, however, until 1952 in Buenos Aires. "Panambi" composed in 1936, and another ballet suite in five movements, is based on a South American Indian legend. Its primitive element is most spectacularly evident in the second movement which is scored for percussion and brass only and in the last movement "Dance of the Warriors" which works up to a tremendous final climax.
Performers:
London Symphony Orchestra conducted by Sir Eugene Goossens
Track Listing:
1. Villa-Lobos: The Little Train of the Caipira from Bachianas Brasileiras No.2
2. Ginastera: Estancia
- The Land Workers
- Wheat Dance
- The Cattlemen
- Final Dance, "Malambo"
3. Ginastera: Panambi
- Moonlight on the Parana
- Invocation of the Powerful Spirits
- Lament of the Maidens
- Rondo of the Maidens; Dance of the Warriors
Turntable: Roksan Radius III
Tonearm: Audioquest PT-9
Cartridge: Ortofon X5-MC (Moving Coil)
Phono Cable: Van den Hul D-502 Hybrid
Pre-amplifier: Counterpoint SA 5.1 (vacuum tube Sovtek 6922)
Interconnect: balanced, Belden 1813A cable with Neutrik XLR connectors
Analog to Digital Converter: EMU 1212M (configured for balanced input +4dBu, 0 dB Gain)
Capture software: Goldwave 5.52
Post processing: ClickRepair, setting: 15, reverse, wavelet x3