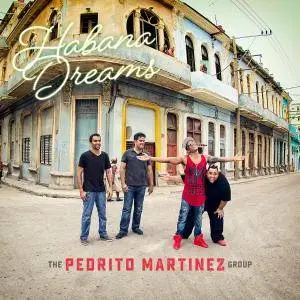 The Pedrito Martinez Group - Habana Dreams
Latin Jazz | FLAC (tracks) 24-bit/88.2 kHz | 46:31 min | 857 MB | Front Cover
Label: Motéma Music (MTA-CD-195) | Tracks: 09 | Rls.date: 2016
The African drums and rhythms that originated in Yorubaland, have been an integral part of the Santeria religion in Cuba, and a profound influence on the rumbero percussionists on the island. Pedrito Martinez is a premier conga master who hails from the Cayo Hueso barrio in La Habana, and is also an akpwon (lead singer) and santero priest, guiding the ceremonious drumming and invocations of the spirits. Habana Dreams was recorded in the historic Areíto/EGREM studios in the city, and marks a triumphant homecoming for the prodigal son.
Since leaving Cuba in 1998, Martinez has been quite prolific both as a first-call sideman, and leader. He was a founding member of the Afro-Cuban ensemble Yerba Buena, formed his own group in 2005, released a self-titled album in 2013, and has appeared on over 75 productions as percussionist and vocalist. This record takes him back to not only his home turf, but to his primordial inspiration in music, the drums, and the energetic call and response of the classic Cuban rumba.
One benefit of playing on other people's records is that one gets to call in markers and have them return the favor. Trumpet virtuoso Wynton Marsalis appears on the opener "Mi Tempestad," where Martinez establishes his vocal skills, joined by spoken—word artist Telmary Diaz. Marsalis encores on "Antadilla," accompanied by salsa superstar Rubén Blades, who adds his distinguished vocals. Blades also does an impressive duet with Martinez on "Compa Galletano," exchanging phrases and lyrical challenges.
Martinez is reunited with former Yerba Buena band mate and singer Descemer Bueno, on "Dios Mio," a melodic affair with an engaging contemporary chorus. The hometown reunion continues on "Recuerdos," a nod to the famous Muñequitos de Matanzas group; the Martinez brothers playing together with their mentor Román Díaz, for a spiritual invocation and a percussion tour de force. Díaz continues as the high priest on "Encantamiento Yoruba," an authentic santero ritualistic offering on the sacred batá drums, as the ancestors in Africa are paid a solemn tribute.
Keeping Africa in the vanguard, Angelique Kidjo conveys her innate ability to sing in Yoruban, on "Tributo A Santiago De Cuba," an homage to the eastern region of the island, rich in cultural traditions and local legends. The unique Cuban timba is highlighted on "Tuve Una Revelación," where the montuno piano of Edgar Pantoja-Aleman defines the arrangement, bassist Alvaro Benavides holding down the bottom with determination and distinction. The other principle drummer in the group, Jhair Sala, was a student of Martinez, so he knows this complex music well.
The title track features renowned Cuban singer Isaac Delgado, as he and Martinez sing harmonious praise and admiration for the city that gave them their talents and their dreams. Delgado was already an established artist when Martinez was coming up so this is a special presentation of the young and old bearers of the Afro-Cuban lineage. This entire production is a tribute from Martinez to his homeland, and a testament to the world that Cuba remains as vibrant and relevant as ever, and prepared for its grand regeneration. (James Nadal)
TRACKLIST
1. Mi Tempestad
2. Compa Galletano
3. Dios Mio
4. Recuerdos
5. Encantamiento Yoruba
6. Tributo a Santiago de Cuba
7. Antadilla
8. Tuve una Revelacion
9. Habana Dreams
PERSONNEL
Pedrito Martinez - congas, bata, lead vocals
Edgar Pantoja-Aleman - keyboards, vocals
Alvaro Benavides - bass, vocals
Jhair Sala - percussion, vocals
guests:
Wynton Marsalis - trumpet (1, 7)
Ruben Blades - vocals (2, 7)
Descemer Bueno - vocals (3)
Angelique Kidjo - vocals (6)
Isaac Delgado - vocals (9)
& others
foobar2000 1.3.12 / Замер динамического диапазона (DR) 1.1.1
Дата отчёта: 2016-11-15 09:43:09

––––––––––––––––––––––––––––––––––––––––
Анализ: The Pedrito Martinez Group / Habana Dreams
––––––––––––––––––––––––––––––––––––––––

DR Пики RMS Продолжительность трека
––––––––––––––––––––––––––––––––––––––––
DR9 -0.61 дБ -11.52 дБ 6:10 01-Mi Tempestad
DR9 -0.61 дБ -11.76 дБ 6:33 02-Compa Galletano
DR12 -0.61 дБ -13.88 дБ 4:44 03-Dios Mio
DR7 -0.61 дБ -10.50 дБ 4:43 04-Recuerdos
DR9 -3.03 дБ -13.56 дБ 2:59 05-Encantamiento Yoruba
DR10 -0.61 дБ -12.74 дБ 6:04 06-Tributo a Santiago de Cuba
DR12 -0.61 дБ -14.59 дБ 3:29 07-Antadilla
DR12 -0.61 дБ -13.56 дБ 6:24 08-Tuve una Revelacion
DR15 -0.61 дБ -18.27 дБ 5:32 09-Habana Dreams
––––––––––––––––––––––––––––––––––––––––

Количество треков: 9
Реальные значения DR: DR11

Частота: 88200 Гц
Каналов: 2
Разрядность: 24
Битрейт: 2354 кбит/с
Кодек: FLAC
================================================================================
Thanks to the Original customer.