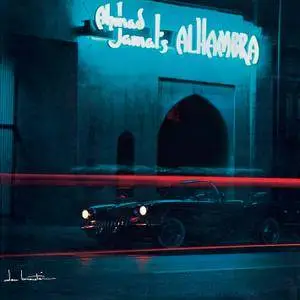 Ahmad Jamal - Ahmad Jamal's Alhambra (1961/2013)
DSD64 (.dsf) 1 bit/2,8 MHz | Time - 42:16 minutes | 1,06 GB
FLAC (tracks) 24-bit/88,2 kHz | Time - 42:16 minutes | 878 MB
Studio Master, Official Digital Download | Artwork: Front cover
Ahmad Jamal's Alhambra, recorded live in June 1961 by engineer Ron Malo (the same man who recorded the classic Muddy Waters/Folk Singer), might not be as famous or well-known as Bill Evans' Waltz For Debby, but it belongs in the same class. This is such a beautiful performance and perfect recording that it by rights should be an all-time audiophile classic. And as a DSD, hi-res download, it's finally got its chance to get its due. This is as intimate and detailed a live recording as exists. You're in the room! One of the All-Time-Best Recordings, Captured by Needle Drop Direct to DSD.
Taken from what were probably bassist Israel Crosby's final recordings with pianist Ahmad Jamal (14 months before the bassist's unexpected death), this LP features the classic version of Jamal's Trio (with drummer Vernell Fournier) playing live at the leader's short-lived Chicago club. The interplay between the musicians was often magical, as can be heard on such numbers as "We Kiss In a Shadow", "Love for Sale", "Broadway" and "Isn't It Romantic".
Tracklist:
01 - We Kiss in a Shadow
02 - Sweet and Lovely
03 - The Party's Over
04 - Love For Sale
05 - Snow Fall
06 - Broadway
07 - Willow Weep For Me
08 - Autumn Leaves
09 - Isn't It Romantic
10 - The Breeze And I
Produced by Leonard Chess. Engineered by Ron Malo.
Recorded in June 1961 at Alhambra Club, Chicago, IL.
Musicians:
Ahmad Jamal - piano
Israel Crosby - bass
Vernel Fournier - drums
Captured by Needle Drop Direct to DSD.
There's something magical about a vinyl needle drop transfer. We've always loved capturing our favorite LPs this way so that we can take them on the go. But a mint RTI virgin vinyl pressing, mastered by Bernie Grundman, of one of the greatest live jazz recordings of all time? Captured straight to DSD by the foremost DSD engineer Gus Skinas? Using a VPI Direct turntable, a Koetsu Onyx phono cartridge and a Pass XP-25 phono preamp? Well, we may have on our hands the finest needle drop ever. And you can have it too!

In lieu of a transfer from the master tapes for this jewel, we figured the next-best option was a needle drop using a perfectly dialed-in rig (set up by our audio expert Chad Stelly) and the transfer touch of Gus Skinas of the Super Audio Center. The mint LP was played for the very first time for the transfer. The results are breathtaking. In fact, we feel this is among the best sounding files on our Super HiRez site. Have a listen!
Analyzed: Ahmad Jamal / Ahmad Jamal's Alhambra
––––––––––––––––––––––––––––––––––––––––

DR Peak RMS Duration Track
––––––––––––––––––––––––––––––––––––––––
DR15 -4.26 dB -23.74 dB 5:05 01-We Kiss in a Shadow
DR17 -5.78 dB -27.83 dB 4:00 02-Sweet and Lovely
DR15 -7.81 dB -26.40 dB 3:59 03-The Party's Over
DR14 -6.34 dB -24.80 dB 4:02 04-Love For Sale
DR15 -6.24 dB -29.41 dB 2:36 05-Snow Fall
DR16 -5.06 dB -24.15 dB 7:49 06-Broadway
DR16 -4.05 dB -27.43 dB 4:00 07-Willow Weep For Me
DR15 -5.95 dB -25.65 dB 3:52 08-Autumn Leaves
DR15 -6.15 dB -25.94 dB 4:28 09-Isn't It Romantic
DR15 -6.45 dB -27.59 dB 2:25 10-The Breeze And I
––––––––––––––––––––––––––––––––––––––––

Number of tracks: 10
Official DR value: DR15

Samplerate: 2822400 Hz / PCM Samplerate: 88200 Hz
Channels: 2
Bits per sample: 1
Bitrate: 5645 kbps
Codec: DSD64
================================================================================


Thanks to the Original customer!
Some More of 'Ahmad Jamal' in Hi-Res