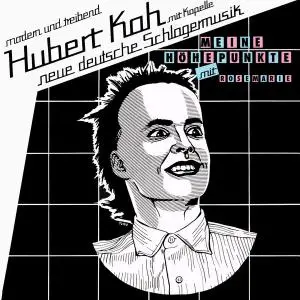 Hubert Kah Mit Kapelle - Meine Höhepunkte (1982) [LP, DSD128]
Synthpop, New wave | DSD128 (*.dsf, tracks), 1-bit/5.64 MHz
Run Time: 00:38:38 | 3.20 GB + 5% Recovery
Label: Polydor | Release Year: 1982
Kemmler's career began as a member of a trio named Hubert Kah, consisting of Hubert Kemmler (vocals, keyboards), Markus Löhr (guitars, keyboards) and Klaus Hirschburger (bass) at the time of the New German wave 1982 commercial success with the singles "Rosemarie", "Sternenhimmel" ("Starry Sky") and "Einmal Nur Mit Erika… (Dieser Welt Entfliehn)" ("Just Once With Erika … To Escape This World"), and with the albums Meine Höhepunkte ("My High Points") and Ich Komme ("I'm Coming"). During this time, Kemmler caused quite a stir by his TV appearances, wearing a nightdress or straitjacket. Before Kemmler's music career, he studied law at the University of Tübingen.