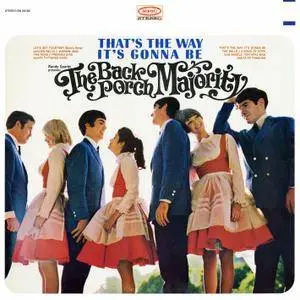 The Back Porch Majority - That's The Way It's Gonna Be (1966/2016)
FLAC (tracks) 24-bit/192 kHz | Time - 32:53 minutes | 1,2 GB
Studio Master, Official Digital Download | Artwork: Front cover
The Back Porch Majority was an American folk music group founded by Randy Sparks in 1963. It was intended to be a rehearsal space for The New Christy Minstrels, another group Sparks had established in 1961, but it ended up becoming successful on its own. The group released six albums, appeared on several TV shows and was chosen to provide entertainment at the White House in 1965.
The Back Porch Majority was one of several large folk music ensembles that were popular during the first half of the 1960's. Along with the Serendipity Singers, they were considered rivals and imitators of the New Christy Minstrels, but they had a closer relationship to the latter group than any of their rivals, as they were founded by the same man, (Randy Sparks). In 1963, Randy Sparks decided to give up performing with the New Christy Minstrels, the folk ensemble that he'd founded two years earlier. His exit, and the decision to move group-member Barry McGuire to center-stage as his replacement as "leader" of the Christys on stage, caused singer Dolan Ellis to quit the 10-man group. After briefly trying out Doug Brookins for the spot, Sparks latched onto Gene Clark, a member of a group called the Surf Riders, and put him into the Christys. As compensation for breaking up the Surf Riders, Sparks and his manager, Jack Daley, agreed to put the other two members of Clark's old group, Jimmy Glover and Mike Crumm, into a new group that eventually came to be called the Back Porch Majority.

Sparks' idea was to get the Back Porch Majority (visualized as a sextet or septet, slightly smaller than the Christys' 10-person line-up) off the ground as a performing unit and get them as much exposure as possible, but also to use them as a source for new members of the New Christy Minstrels; they would, in effect, be the minor league "farm team" for the Christys. The Back Porch Majority did better than Sparks could have hoped for, despite the fact that they entered the field of "big band" folk music somewhat late – they were chosen to entertain at the White House in 1965, and were signed by Columbia Records to the latter company's Epic label, where they ultimately released five LPs, including a live album recorded at Sparks'club, Ledbetters. They also appeared on installments of the network music showcase hullabaloo, and were guests on other variety shows as well. Among the earliest alumni of the Back Porch Majority to make the jump to the Christys was Paul Potash, a former Greenwich Village folkie who'd moved to California, originally as a partner with Art Podell (who'd been a member of the Christys since 1962) – Podell joined in 1964, replacing Gene Clark. The Back Porch Majority continued making records thru 1967 before breaking up, but their most successful member, apart from Clark, was probably singer-guitarist Kin Vassy, who appeared on records by artists as different as Frank Zappa (Apostrophe), Dolly Parton, Kenny Rogers, and Lionel Ritchie, and sang on the USA For Africa: We Are The World album.
Tracklist:
01 - That's the Way It's Gonna Be
02 - Let's Get Together (Dino's Song)
03 - The Road
04 - Freedom Bird
05 - Natural Man
06 - The Bells
07 - A Song of Hope
08 - Workin' Man
09 - Sad Angels
10 - Santa Fe Freeline
11 - Black Tattered Rags
12 - Golden Bells
Produced by Randy Sparks.
Analyzed: The Back Porch Majority / That's The Way It's Gonna Be
––––––––––––––––––––––––––––––––––––––––

DR Peak RMS Duration Track
––––––––––––––––––––––––––––––––––––––––
DR11 -3.17 dB -19.22 dB 2:19 01-That's the Way It's Gonna Be
DR11 -5.49 dB -20.06 dB 3:11 02-Let's Get Together (Dino's Song)
DR11 -7.97 dB -23.32 dB 2:49 03-The Road
DR10 -4.52 dB -18.42 dB 2:48 04-Freedom Bird
DR10 -3.06 dB -17.61 dB 2:27 05-Natural Man
DR11 -3.75 dB -17.92 dB 3:31 06-The Bells
DR11 -3.97 dB -17.84 dB 3:03 07-A Song of Hope
DR11 -2.49 dB -19.31 dB 2:44 08-Workin' Man
DR11 -4.76 dB -18.78 dB 2:16 09-Sad Angels
DR12 -2.94 dB -18.17 dB 2:38 10-Santa Fe Freeline
DR11 -5.29 dB -20.17 dB 2:31 11-Black Tattered Rags
DR10 -5.48 dB -17.79 dB 2:38 12-Golden Bells
––––––––––––––––––––––––––––––––––––––––

Number of tracks: 12
Official DR value: DR11

Samplerate: 192000 Hz
Channels: 2
Bits per sample: 24
Bitrate: 5196 kbps
Codec: FLAC
================================================================================


Thanks to the Original customer!