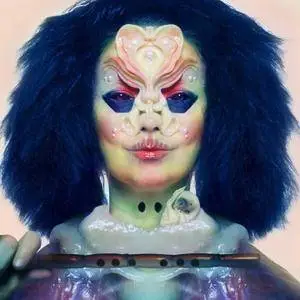 Björk - Utopia (2017)
FLAC (tracks) 24-bit/96 kHz | Time - 71:47 minutes | 1,54 GB
Studio Master, Official Digital Download | Artwork: Front cover
"Utopia" is the ninth studio album by Icelandic musician Björk. She began working on Utopia almost immediately after releasing Vulnicura in 2015. With fourteen tracks in total, Utopia clocks in at 71½ minutes, making it the longest of Björk's studio albums to date. "Utopia" has received acclaim from music critics. At Metacritic, which assigns a normalized rating out of 100 to reviews from mainstream critics, the album received an average score of 79 based on 12 reviews, indicating "generally favorable reviews".
"And just that kiss/was all there is," Björk sings at the start of "Arisen My Senses," the opening track on her new album, "Utopia." When the song follows that line by bursting into a luxurious bloom of harps, accented with ticking electronic beats and anchored by that iconic voice, you're left with no choice but to let the sheer jubilance of the moment sweep you off your feet. Having exorcised the pain of divorce on 2015's "Vulnicura," Björk wastes no time rededicating herself to the pursuit of rapture. What does the perfect world Björk imagines on "Utopia" look like? For starters, it's a place where time moves slowly; at 71 ½ minutes, this is her longest album yet, songs unfolding gradually with little regard for conventional pop structure. The liberal use of sampled bird song, along with the flute and harp-heavy arrangements, evoke a peaceful, natural beauty, though the contrast between these more pastoral sounds and cold, fidgety beats adds a certain tension to the mix. Perhaps most significantly, Björk envisions a society centered on the contributions of women, a philosophy she embodies in both her actions (assembling a 12-woman flute ensemble for the album) and words ("break the chain of the (expletive) of the fathers/for us women to rise and not just take it lying down").

Björk co-produced all but one of the album's tracks with cutting-edge electronic producer Arca, who in recent years has worked with everyone from FKA twigs to Kanye West. The two also collaborated on "Vulnicura," and Björk has spoken rapturously about their artistic kinship. In this context, one hears in "Utopia" the sound of two brilliant musicians, their minds overflowing with ideas, pushing each other to create something entirely unique. Make no mistake, though: This is a Björk album through and through, and no matter how significant the contributions of her collaborators, they are ultimately subordinate to her grand vision.
Tracklist:
01 - Arisen My Senses
02 - Blissing Me
03 - The Gate
04 - Utopia
05 - Body Memory
06 - Features Creatures
07 - Courtship
08 - Loss
09 - Sue Me
10 - Tabula Rasa
11 - Claimstaker
12 - Paradisa
13 - Saint
14 - Future Forever
Produced by Björk & Arca, except "8" & Rabit.
Analyzed: Björk / Utopia
––––––––––––––––––––––––––––––––––––––––

DR Peak RMS Duration Track
––––––––––––––––––––––––––––––––––––––––
DR5 -0.10 dB -7.03 dB 5:00 01-Arisen My Senses (feat. Arca)
DR5 -0.10 dB -7.25 dB 5:06 02-Blissing Me (feat. Arca)
DR5 -0.24 dB -9.65 dB 6:34 03-The Gate (feat. Arca)
DR6 -0.10 dB -7.94 dB 4:43 04-Utopia (feat. Arca)
DR4 -0.09 dB -6.75 dB 9:47 05-Body Memory (feat. Arca)
DR7 -0.24 dB -10.09 dB 4:50 06-Features Creatures
DR5 -0.23 dB -7.21 dB 4:45 07-Courtship (feat. Arca)
DR4 -0.09 dB -5.97 dB 6:51 08-Losss (feat. Arca)
DR3 -0.10 dB -6.00 dB 4:58 09-Sue Me (feat. Arca)
DR6 -0.10 dB -8.99 dB 4:42 10-Tabula Rasa (feat. Arca)
DR7 -0.21 dB -9.59 dB 3:19 11-Claimstaker (feat. Arca)
DR10 -2.98 dB -14.81 dB 1:45 12-Paradisa
DR6 -0.10 dB -9.40 dB 4:41 13-Saint (feat. Arca)
DR8 -0.24 dB -11.57 dB 4:47 14-Future Forever (feat. Arca)
––––––––––––––––––––––––––––––––––––––––

Number of tracks: 14
Official DR value: DR6

Samplerate: 96000 Hz
Channels: 2
Bits per sample: 24
Bitrate: 2611 kbps
Codec: FLAC
================================================================================


Thanks to the Original customer!