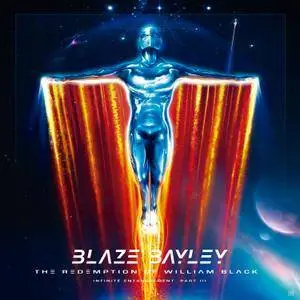 Blaze Bayley - The Redemption Of William Black: Infinite Entanglement, Pt. III (2018)
FLAC (tracks) 24-bit/48 kHz | Time - 55:17 minutes | 611 MB
Studio Master, Official Digital Download | Artwork: Front cover
2018 release, the 10th solo album from Blaze Bayley, formerly the front man for Iron Maiden from 1994-99. This release is the third and final installment in the Infinite Entanglement trilogy. This album also features a special guest appearance by Fozzy singer and WWE star Chris Jericho. Blaze recorded the album with his main recording and touring musicians picked from British metal band Absolva - Chris Appleton (guitar, backing vocals), Martin McNee (drums), Karl Schramm (bass). The record also contains a talented array of guests; Chris Jericho (Fozzy) - backing vocals, voice actor, Luke Appleton (Iced Earth / Absolva) - backing vocals, Liz Owen - lead vocals (18 Days), backing vocals, Jo Robinson - backing vocals, Mel Adams - backing vocals. Mastering: Ade Emsley (Iron Maiden, Tank, Phil Campbell). Production: Blaze Bayley and Chris Appleton. Songwriting: Blaze, Chris Appleton and Liz Owen.
Heavy Metal vocalists who find success in a commercially recognized band often use that safety net to branch out into their solo career, and create the art they always dreamed with enough backing support from various high places to get there. A great example of this driven fortitude comes from England-born Blaze Bayley, who originated his success with his band Wolfsbane in the early eighties, and then landed his most commonly-known role where he took on a five-year vocal lead in Iron Maiden – which brought 1995's The X Factor and 1998's Virtual XI into the universe.

For anyone who understands Blaze's wild-eyed, fantastically visual vision, these were viewed in high success. Although some Bruce Dickinson fans may view these albums as a wash in Iron Maiden's career, they were actually very exciting and quite a bit before their time. Regardless of your stance on that topic, Blaze Bayley has risen to true form within his career with his March 2, 2018 release, The Redemption of William Black – Infinite Entanglement Part III, arriving via his own Blaze Bayley Records. This album holds its rank as the final installment in the trilogy of albums he has released in the last three years dubbed the Infinite Entanglement. As he tends to dabble in Sci-Fi and other-worldly themes, this latest work is no exception and finalizes an epic space adventure in all its chaos and glory with his stylized NWOBHM in a progressive manner. A bulk of credit is due in the lyrical creativity here that bridges the gap between fantasy and real-life issues as told through the metaphor of an outer-space adventure. The fact that the listener could dive deep into a listen of all three Infinite Entanglement albums from start to finish, and gain a comprehensive viewpoint while keeping up the excitement to follow through to the ending battle of space and time proves the outreach success. On a purely technical music standpoint, The Redemption Of William Black holds its own.

In short, Blaze Bayley has won again with a very predictable yet stable and creatively-driven album that may be one of his most complete works to date. Therefore, CrypticRock holds this latest album installment from the Infinite Entanglement series at a ranking of 4 out of 5 stars, and highly encourages fans to catch the upcoming tour which will surely feature excerpts from all three albums in the trilogy as its highlight.
Tracklist:
01 - Redeemer
02 - Are You Here
03 - Immortal One
04 - The First True Sign
05 - Human Eyes
06 - Prayers of Light
07 - 18 Days
08 - Already Won
09 - Life Goes On
10 - The Dark Side of Black
11 - Eagle Spirit
Analyzed: Blaze Bayley / The Redemption of William Black (Infinite Entanglement, Pt. III)
––––––––––––––––––––––––––––––––––––––––

DR Peak RMS Duration Track
––––––––––––––––––––––––––––––––––––––––
DR7 -1.30 dB -10.50 dB 4:12 01-Redeemer
DR7 -1.30 dB -9.33 dB 2:32 02-Are You Here
DR6 -1.30 dB -8.49 dB 2:56 03-Immortal One
DR7 -1.30 dB -10.15 dB 4:05 04-The First True Sign
DR7 -1.30 dB -10.94 dB 5:36 05-Human Eyes
DR6 -1.30 dB -9.36 dB 3:25 06-Prayers of Light
DR6 -1.30 dB -9.96 dB 4:04 07-18 Days
DR7 -1.30 dB -9.79 dB 2:58 08-Already Won
DR7 -1.30 dB -10.81 dB 5:00 09-Life Goes On
DR6 -1.30 dB -8.94 dB 3:25 10-The Dark Side of Black
DR8 -1.30 dB -11.72 dB 8:51 11-Eagle Spirit
––––––––––––––––––––––––––––––––––––––––

Number of tracks: 11
Official DR value: DR7

Samplerate: 48000 Hz
Channels: 2
Bits per sample: 24
Bitrate: 1658 kbps
Codec: FLAC
================================================================================


Thanks to the Original customer!