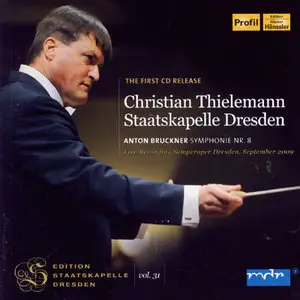 Anton Bruckner - Symphony Nr. 8 WAB 108 (Edition Robert Haas 1939)
Staatskapelle Dresden - Christian Thielemann
SACD ISO: 3,25/1,37 GB (Stereo + MCH DSD) | FLAC @ 24bit/88.2kHz: 983/425 MB | Full Artwork | 5% Rec. Info
Label/Cat#: Hänssler Classics "Profil" # 2 SACD PH10031 | Country/Year: Germany 2011
Genre: Classical | Style: Romantic
MD5 [X] CUE [X] LOG [X] INFO TEXT [X] ARTWORK [X]
selfrip [X] not my rip []

16908361[0x1020049]: SACD-Ripper Version 0.36
16908361[0x1020049]: config: 00 00 00 0c 00 00 00 00 ff 41 00 04 00 00 00 00
16908361[0x1020049]: config: 00 00 00 00 00 00 00 00 00 00 00 00 00 00 00 00
16908361[0x1020049]: config: 00 00 00 00 00 00 00 00 00 00 00 00 00 00 00 00
16908361[0x1020049]: config: 00 00 00 00 00 00 00 00 00 00 00 00 00 00 00 00
16908361[0x1020049]: device_info: 75 6e 6e 61 6d 65 5c 10 80 00 00 00 00 53 a0 00
16908361[0x1020049]: device_info: 80 00 00 00 10 13 de 70 80 00 00 00 00 5e 64 00
16908361[0x1020049]: device_info: 00 00 00 00 00 00 00 00 00 00 00 00 7f ff ff ff
16908361[0x1020049]: device_info: 00 00 08 00 00 00 00 01 00 01 01 00 00 00 00 01
16908361[0x1020049]: disc inserted..
16908361[0x1020049]: config: 00 00 00 0c 00 00 00 10 ff 41 01 04 00 00 00 00
16908361[0x1020049]: config: 00 00 00 00 00 00 00 00 00 00 00 00 00 00 00 00
16908361[0x1020049]: config: 00 00 00 00 00 00 00 00 00 00 00 00 00 00 00 00
16908361[0x1020049]: config: 00 00 00 00 00 00 00 00 00 00 00 00 00 00 00 00
16908361[0x1020049]: device_info: 75 6e 6e 61 6d 65 5c 10 80 00 00 00 00 53 a0 00
16908361[0x1020049]: device_info: 80 00 00 00 10 13 de 70 80 00 00 00 00 5e 64 00
16908361[0x1020049]: device_info: 00 00 00 00 00 00 00 00 00 00 00 00 00 18 cb 00
16908361[0x1020049]: device_info: 00 00 08 00 00 00 00 01 00 01 01 00 00 00 00 01
16908361[0x1020049]: Album Title: Symphonie Nr. 8, c-moll
16908361[0x1020049]: Album Artist: Staatskapelle Dresden, Christian Thielemann
16908361[0x1020049]: Disc Version: 01.20
16908361[0x1020049]: config: 00 00 00 0c 00 00 00 10 ff 41 01 04 00 00 00 00
16908361[0x1020049]: config: 00 00 00 00 00 00 00 00 00 00 00 00 00 00 00 00
16908361[0x1020049]: config: 00 00 00 00 00 00 00 00 00 00 00 00 00 00 00 00
16908361[0x1020049]: config: 00 00 00 00 00 00 00 00 00 00 00 00 00 00 00 00
16908361[0x1020049]: device_info: 75 6e 6e 61 6d 65 5c 10 80 00 00 00 00 53 a0 00
16908361[0x1020049]: device_info: 80 00 00 00 10 13 de 70 80 00 00 00 00 5e 64 00
16908361[0x1020049]: device_info: 00 00 00 00 00 00 00 00 00 00 00 00 00 18 cb 00
16908361[0x1020049]: device_info: 00 00 08 00 00 00 00 01 00 01 01 00 00 00 00 01
16908361[0x1020049]: succeeded. raw_spu number is 0
16908361[0x1020049]: succeeded. entry d0
16908361[0x1020049]: Establishing the interrupt tag on the interrupt PPU thread.
16908361[0x1020049]: ioctl_report_key1[45023901] 0
16908361[0x1020049]: sac_exec_generate_key 0 c9 0
16908361[0x1020049]: ioctl_send_key[2] c9 0
16908361[0x1020049]: ioctl_report_key[2] c8 0
16908361[0x1020049]: sac_exec_validate_key_1[0]
16908361[0x1020049]: sac_exec_generate_key_2[ae] 0
16908361[0x1020049]: ioctl_send_key[3] ae 0
16908361[0x1020049]: ioctl_report_key[3] b0 0
16908361[0x1020049]: sac_exec_validate_key_2[0]
16908361[0x1020049]: ioctl_report_key[4] 30 0
16908361[0x1020049]: sac_exec_validate_key_3[0]
16908361[0x1020049]: ioctl_report_finish [0xff] 0
16908361[0x1020049]: Queuing raw: /dev_usb000/Staatskapelle Dresden, Christian Thielemann - Symphonie Nr. 8, c-moll.iso, start_lsn: 0, length_lsn: 1624832

17039505[0x1040091]: SACD-Ripper Version 0.36
17039505[0x1040091]: config: 00 00 00 0c 00 00 00 00 ff 41 00 04 00 00 00 00
17039505[0x1040091]: config: 00 00 00 00 00 00 00 00 00 00 00 00 00 00 00 00
17039505[0x1040091]: config: 00 00 00 00 00 00 00 00 00 00 00 00 00 00 00 00
17039505[0x1040091]: config: 00 00 00 00 00 00 00 00 00 00 00 00 00 00 00 00
17039505[0x1040091]: device_info: 75 6e 6e 61 6d 65 5c 10 80 00 00 00 00 53 a0 00
17039505[0x1040091]: device_info: 80 00 00 00 10 13 de 70 80 00 00 00 00 5a b0 00
17039505[0x1040091]: device_info: 00 00 00 00 00 00 00 00 00 00 00 00 00 18 cb 00
17039505[0x1040091]: device_info: 00 00 08 00 00 00 00 01 00 01 01 00 00 00 00 01
17039505[0x1040091]: disc inserted..
17039505[0x1040091]: config: 00 00 00 0c 00 00 00 10 ff 41 01 04 00 00 00 00
17039505[0x1040091]: config: 00 00 00 00 00 00 00 00 00 00 00 00 00 00 00 00
17039505[0x1040091]: config: 00 00 00 00 00 00 00 00 00 00 00 00 00 00 00 00
17039505[0x1040091]: config: 00 00 00 00 00 00 00 00 00 00 00 00 00 00 00 00
17039505[0x1040091]: device_info: 75 6e 6e 61 6d 65 5c 10 80 00 00 00 00 53 a0 00
17039505[0x1040091]: device_info: 80 00 00 00 10 13 de 70 80 00 00 00 00 5a b0 00
17039505[0x1040091]: device_info: 00 00 00 00 00 00 00 00 00 00 00 00 00 0a be 60
17039505[0x1040091]: device_info: 00 00 08 00 00 00 00 01 00 01 01 00 00 00 00 01
17039505[0x1040091]: Album Title: Symphonie Nr. 8, c-moll
17039505[0x1040091]: Album Artist: Staatskapelle Dresden, Christian Thielemann
17039505[0x1040091]: Disc Version: 01.20
17039505[0x1040091]: config: 00 00 00 0c 00 00 00 10 ff 41 01 04 00 00 00 00
17039505[0x1040091]: config: 00 00 00 00 00 00 00 00 00 00 00 00 00 00 00 00
17039505[0x1040091]: config: 00 00 00 00 00 00 00 00 00 00 00 00 00 00 00 00
17039505[0x1040091]: config: 00 00 00 00 00 00 00 00 00 00 00 00 00 00 00 00
17039505[0x1040091]: device_info: 75 6e 6e 61 6d 65 5c 10 80 00 00 00 00 53 a0 00
17039505[0x1040091]: device_info: 80 00 00 00 10 13 de 70 80 00 00 00 00 5a b0 00
17039505[0x1040091]: device_info: 00 00 00 00 00 00 00 00 00 00 00 00 00 0a be 60
17039505[0x1040091]: device_info: 00 00 08 00 00 00 00 01 00 01 01 00 00 00 00 01
17039505[0x1040091]: succeeded. raw_spu number is 0
17039505[0x1040091]: succeeded. entry d0
17039505[0x1040091]: Establishing the interrupt tag on the interrupt PPU thread.
17039505[0x1040091]: ioctl_report_key1[45023901] 0
17039505[0x1040091]: sac_exec_generate_key 0 c9 0
17039505[0x1040091]: ioctl_send_key[2] c9 0
17039505[0x1040091]: ioctl_report_key[2] c8 0
17039505[0x1040091]: sac_exec_validate_key_1[0]
17039505[0x1040091]: sac_exec_generate_key_2[ae] 0
17039505[0x1040091]: ioctl_send_key[3] ae 0
17039505[0x1040091]: ioctl_report_key[3] b0 0
17039505[0x1040091]: sac_exec_validate_key_2[0]
17039505[0x1040091]: ioctl_report_key[4] 30 0
17039505[0x1040091]: sac_exec_validate_key_3[0]
17039505[0x1040091]: ioctl_report_finish [0xff] 0
17039505[0x1040091]: Queuing raw: /dev_usb000/Staatskapelle Dresden, Christian Thielemann - Symphonie Nr. 8, c-moll.iso, start_lsn: 0, length_lsn: 704096

–– 13:31:52,90 subdir "Bruckner- Staatskapelle Dresden, Thielemann - Symp0". Script ver.: 2012.05.18
–- Extraction of Edit Master.dff started at 13:31:52,90
–- Extraction of Edit Master.dff finished at 13:38:14,07
–- DR Metering of EM.dff in foobar started at 13:38:14,68
–- DR Metering of EM.dff in foobar finished at 13:40:42,12
–- Found among Tracks: HighestTrNo="3", HighTrNo="1", HighestPeak="632",HighPeak="655".
–- Threshold compared: HighestTrNo="0", HighTrNo="0", BiggestNo="0"; TrNo="3".
–- The peak {632} of the highest track {0} is greater than {612}, so the {+6.0dB} Gain assumed.
–- Ready to Convert EM to .caf with Gain={6.00}
–- "Staatskapelle Dresden, Christian Thielemann - Symphonie Nr. 8, c-moll.dff" to .caf with GAIN=6.00 started at 13:40:42,80
–- Saracon ErrorLevel:0
–- "Staatskapelle Dresden, Christian Thielemann - Symphonie Nr. 8, c-moll.dff" to .caf with GAIN=6.00 finished at 14:02:43,17
–- Searching *.caf for the max Peak started at 14:02:43,18
–- Searching *.caf for the max Peak finished at 14:03:08,44
–- max Peak {with Gain 6.00} found: {032}
–- Converting EM .caf to flac started at 14:03:08,93
–- Converting EM .caf to flac finished at 14:08:30,14
1 Datei(en) verschoben.
–- Writing tags started at 14:08:30,19
–- Writing tags finished at 14:08:58,55
–– 14:09:00,19 subdirectory processing finished

–– 15:54:25,28 subdir "Bruckner- Staatskapelle Dresden, Thielemann - Symp0". Script ver.: 2012.05.18
–- Extraction of Edit Master.dff started at 15:54:25,28
–- Extraction of Edit Master.dff finished at 15:57:08,97
–- DR Metering of EM.dff in foobar started at 15:57:09,57
–- DR Metering of EM.dff in foobar finished at 15:58:32,53
–- EM.dff consists of a single track.
–- Found among Tracks: HighestTrNo="1", HighTrNo="0", HighestPeak="627",HighPeak="0".
–- Threshold compared: HighestTrNo="0", HighTrNo="0", BiggestNo="0"; TrNo="1".
–- The peak {627} of the highest track {0} is greater than {612}, so the {+6.0dB} Gain assumed.
–- Ready to Convert EM to .caf with Gain={6.00}
–- "Staatskapelle Dresden, Christian Thielemann - Symphonie Nr. 8, c-moll.dff" to .caf with GAIN=6.00 started at 15:58:32,86
–- Saracon ErrorLevel:0
–- "Staatskapelle Dresden, Christian Thielemann - Symphonie Nr. 8, c-moll.dff" to .caf with GAIN=6.00 finished at 16:13:28,55
–- Searching *.caf for the max Peak started at 16:13:28,56
–- Searching *.caf for the max Peak finished at 16:13:39,05
–- max Peak {with Gain 6.00} found: {028}
–- Converting EM .caf to flac started at 16:13:40,13
–- Converting EM .caf to flac finished at 16:15:57,68
1 Datei(en) verschoben.
–- Writing tags started at 16:15:57,71
–- Writing tags finished at 16:16:00,35
–– 16:16:00,77 subdirectory processing finished

CD Info:
Anton Bruckner - Symphony Nr. 8 WAB 108 (Edition Robert Haas 1939)
Staatskapelle Dresden - Christian Thielemann
Label: Hänssler
Series: Profil
Catalog#: 2 SACD PH10031
Format: 2x Hybrid-SACD, Album, Stereo, Multichannel
Country: Germany
Released: 2010
Genre: Classical
Tracklist:
Disc 1
01. 1. Allegro Moderato 15:45
02. 2. Scherzo 15:52
03. 3. Adagio 27:09
Disc 2
01. 4. Finale 24:53
Broadcast recording of the 2nd symphony concert of 2009/2010 by the Staatskapelle Dresden on September 14, 2009, made by MDR FIGARO, the arts radio channel of Mitteldeutscher Rundfunk.
Further info:
http://www.haensslerprofil.de/profil/index.php?id=23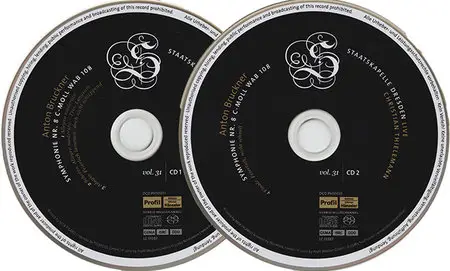 "Der Typus lauert auf bestimmte Momente, vermeintlich schöne Melodien, grandiose Augenblicke." Natürlich gehört Christian Thielemann nicht zu Adornos recht verächtlicher Kategorie des bildungsbürgerlichen Musikkonsumenten (der wir doch fast alle angehören). Schon allein deshalb nicht, weil er eine komplexe Partitur lesen kann. Und aus ihr, wie seine neueste Bruckner-Exegese mit der fabelhaften Staatskapelle aus Dresden zeigt, geradezu magisch anziehende Klänge herausfiltert, deren restlos ausgehorchte Tiefenschichtung ihresgleichen sucht im romantisch-großsinfonischen CD-Repertoire. Und sonst? Auch auf die Gefahr der Wiederholung (wie schon bei der bislang publizierten Vierten, Fünften und Siebten): prozessuales, auf den Formverlauf gerichtetes Denken ist Thielemanns Sache nicht, auch nicht bei Bruckners gewaltigster Schöpfung (die hier in der problematischen, gleichwohl gängigen Haas-Fassung vorliegt, die "das Beste" von Erst- und stark umgearbeiteter Zweitfassung kompiliert). Schon ihr Beginn offenbart: Wo beispielsweise Hans Rosbaud oder Michael Gielen den drängenden Puls, die scharfen Bass-Punktierungen und mit ihnen das unterschwellig Dräuende des kommenden Ganzen hervorkehren, da setzt Thielemann auf gedehnte Lamenti und Seufzer-Attitüden, auf Schönklang, auch melodischen, par excellence. Überhaupt: das "Mysterium" Bruckner hat noch niemand weihevoller zelebriert als Thielemann in diesem seinem fast halbstündigen Adagio, dessen kathartisch ritardierender Höhepunkt sich geradezu obszön demonstrativ entlädt. (Womit wir doch wieder bei jenen "grandiosen Augenblicken" wären). Dazu passen Cover und Booklet der Einspielung: Der kleingedruckte Bruckner hat da kaum noch Platz neben der umjubelten Vorab-Inthronisierung des neuen Kurfürsten am Hof der Staatskapelle am 14. September letzten Jahres.

Christoph Braun, 11.09.2010 rondomagazin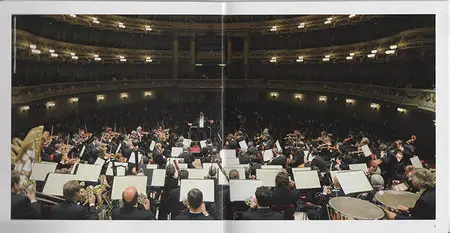 Some of the here presented SACDs had signs of wear. I cannot guarantee that all will play without any errors, because the program to rip SACDs has no error detection. It rips the disc or not, that's it. I do open the converted stereo FLAC file(s) in Adobe Audition and do a visible check for loud glitches in both spectral and wave view. Same with the MCH. But although i do my very best, it can happen that i do not see an error. Unfortunately i do not have the time and setup atm to do the required listening test every time and with all discs. So if errors appear, please mention them here. Maybe i can fix them, maybe not. Sorry about that & many thanks for your understanding.