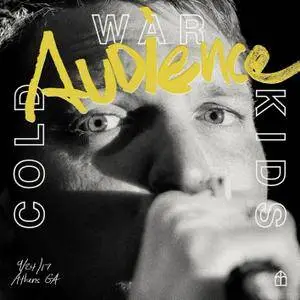 Cold War Kids - Audience (2018)
FLAC (tracks) 24-bit/48 kHz | Time - 65:15 minutes | 874 MB
Studio Master, Official Digital Download | Artwork: Front cover
Cold War Kids is an American indie rock band from Long Beach, California. "Audience" is the 16-track live collection recorded last September during a show in Athens, Georgia.
Cold War Kids means International Blues. We began in August '04 with friends, jangly guitar, hand claps, and a Harmony amp in a storage room atop Mulberry Street restaurant in downtown Fullerton, CA. For the first practices, having instruments was secondary to stomping and chanting; Clanging on heat pipes, thumping on plywood walls. Hollering into tape recorders. Slipping and swaying into alleyways and juke joints of yesteryear. Tapping in to the American dustbowl and British maritime. On the restaurants roof the sound and feeling was cultivated and burned, built and hallowed out, painted and stripped to the primer. Almost three years have passed and we haven't let up since the starting gun fired. The album "Robbers & Cowards" was released in the US in October '06 on Downtown and the rest of the world in February '07 on V2. 'Why even have apartments?' We often ask ourselves as we have toured with the vim of a family reunion brawl across the US, UK, Europe, Australia and Japan. Cold War Kids strive to make honest songs about human experience in orchards and hotel rooms, laundromats and churches, sea ports and school halls. We love the songs of Dylan, Nina Simone, and the Velvet Underground and make our own, which we like to think, are pretty original.
Tracklist:
01 - All This Could Be Yours
02 - Miracle Mile
03 - Hot Coals
04 - Louder Than Ever
05 - Hang Me Up To Dry
06 - Can We Hang On
07 - Restless
08 - Mexican Dogs
09 - Bottled Affection
10 - So Tied Up
11 - We Used To Vacation
12 - Cameras Always On
13 - Hospital Beds
14 - First
15 - Audience
16 - Somethings Not Right With Me
Musicians:
Nathan Willett - lead vocals, piano, guitar, percussion
Matt Maust - bass
Joe Plummer - drums, percussion
Matthew Schwartz - keyboards, guitar, backing vocals, percussion
David Quon - guitar, backing vocals
Analyzed: Cold War Kids / Audience
––––––––––––––––––––––––––––––––––––––––

DR Peak RMS Duration Track
––––––––––––––––––––––––––––––––––––––––
DR6 -0.30 dB -8.31 dB 3:23 01-All This Could Be Yours
DR5 -0.30 dB -6.65 dB 3:06 02-Miracle Mile
DR7 -0.30 dB -9.03 dB 3:52 03-Hot Coals
DR6 -0.30 dB -7.30 dB 2:40 04-Louder Than Ever
DR7 -0.30 dB -8.40 dB 3:55 05-Hang Me Up To Dry
DR7 -0.30 dB -8.42 dB 4:07 06-Can We Hang On
DR7 -0.30 dB -9.14 dB 5:16 07-Restless
DR7 -0.30 dB -9.82 dB 7:02 08-Mexican Dogs
DR8 -0.30 dB -10.14 dB 5:13 09-Bottled Affection
DR7 -0.30 dB -8.52 dB 3:10 10-So Tied Up
DR7 -0.30 dB -8.30 dB 4:21 11-We Used To Vacation
DR11 -0.30 dB -13.37 dB 0:32 12-Cameras Always On
DR7 -0.30 dB -8.65 dB 4:24 13-Hospital Beds
DR6 -0.30 dB -8.20 dB 3:47 14-First
DR8 -0.30 dB -10.12 dB 3:24 15-Audience
DR6 -0.30 dB -8.17 dB 7:03 16-Somethings Not Right With Me
––––––––––––––––––––––––––––––––––––––––

Number of tracks: 16
Official DR value: DR7

Samplerate: 48000 Hz
Channels: 2
Bits per sample: 24
Bitrate: 1772 kbps
Codec: FLAC
================================================================================


Thanks to the Original customer!