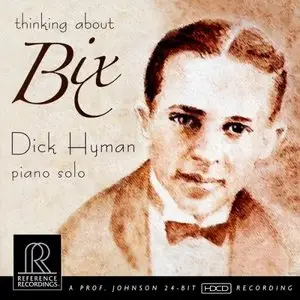 Dick Hyman - Thinking About Bix (2008/2009)
DSD64 (.dsf) 1 bit/2,8 MHz | Time - 67:37 minutes | 1,61 GB
FLAC (tracks) 24-bit/176,4 kHz | Time - 67:37 minutes | 2,92 GB
Studio Master, Official Digital Download | Artwork: Digital booklet
Dick Hyman, one of the most accomplished and versatile musicians of our time, is especially known as an authority on early jazz. After a lifetime of playing and studying the music of Bix Beiderbecke, Hyman recorded this solo program of music associated with Bix, including all five original pieces Bix wrote for piano. Hyman arranged other numbers Bix performed with various groups and plays and improvises upon these in his distinctive, brilliant style. Thinking About Bix was recorded at Skywalker Sound in California using custom-made microphones, electronics and high-resolution digital converters.
Long an admirer of cornetist/composer Bix Beiderbecke, Dick Hyman pays tribute to the gifted but short-lived jazz legend by interpreting the songs Bix recorded in a series of piano solos, mixing transcriptions of Beiderbecke's solos (and occasionally, others' as well) with his own improvisations. One exception is Hyman's original composition "Thinking About Bix," a warm, easygoing piece that captures the spirit of the era. The pianist's buoyant setting of "Singin' the Blues" and playful rendition of "Ostrich Walk" prove captivating, while his jaunty interpretation of "'Tain't So, Honey, 'Tain't So" is lots of fun. But the obvious high points of this CD, recorded not long before Hyman's 81st birthday, are Beiderbecke's rarely performed works for solo piano. The shimmering impressionist air of "Candlelights," the subtlety of "In the Dark," the Gershwin-flavored "In a Mist," the constantly shifting "Flashes," and the loping treatment of "Davenport Blues" all glisten in Hyman's gifted hands. Stride pianist Mike Lipskin (a protégé of stride pianist Willie "The Lion" Smith) joins Hyman in a lively duo rendition of "You Took Advantage of Me".
Tracklist:
01 - Thinkin
02 - Singin
03 - Ostrich
04 - Virginia
05 - Jazz Me Blues
06 - Candlelights
07 - Taint So
08 - My Best Gal
09 - In The Dark
10 - Clementine
11 - Lonely Melody
12 - In a Mist
13 - Sweet Sue
14 - Wringin and Twistin
15 - Flashes
16 - Davenport
17 - Took Advantage
Recorded on February 25-26, 2008 at Skywalker Sound, Nicasio, CA.
Recorded natively in the PCM format at 176.4 kHz/24 bit and converted to DSD using the best equipment available.
Musicians:
Dick Hyman - piano
Mike Lipskin - piano
Analyzed: Dick Hyman / Thinking About Bix
––––––––––––––––––––––––––––––––––––––––

DR Peak RMS Duration Track
––––––––––––––––––––––––––––––––––––––––
DR15 -7.77 dB -27.09 dB 4:04 01-Thinkin
DR14 -11.64 dB -29.44 dB 3:24 02-Singin
DR14 -10.09 dB -28.01 dB 2:58 03-Ostrich
DR14 -9.93 dB -28.42 dB 5:25 04-Virginia
DR14 -6.97 dB -25.40 dB 3:46 05-Jazz Me Blues
DR13 -11.77 dB -30.24 dB 4:38 06-Candlelights
DR14 -7.57 dB -27.45 dB 2:47 07-Taint So
DR14 -7.08 dB -24.93 dB 2:59 08-My Best Gal
DR13 -10.17 dB -29.09 dB 6:05 09-In The Dark
DR15 -9.15 dB -27.91 dB 2:52 10-Clementine
DR14 -10.08 dB -28.13 dB 5:16 11-Lonely Melody
DR14 -9.62 dB -27.65 dB 4:06 12-In a Mist
DR13 -9.62 dB -29.43 dB 3:19 13-Sweet Sue
DR15 -8.00 dB -27.43 dB 4:56 14-Wringin and Twistin
DR13 -7.37 dB -27.77 dB 3:00 15-Flashes
DR15 -9.21 dB -29.55 dB 5:26 16-Davenport
DR13 -8.19 dB -25.13 dB 2:33 17-Took Advantage
––––––––––––––––––––––––––––––––––––––––

Number of tracks: 17
Official DR value: DR14

Samplerate: 2822400 Hz / PCM Samplerate: 176400 Hz
Channels: 2
Bits per sample: 1
Bitrate: 5645 kbps
Codec: DSD64
================================================================================


Thanks to the Original customer!
Dick Hyman - From The Age Of Swing (1994)