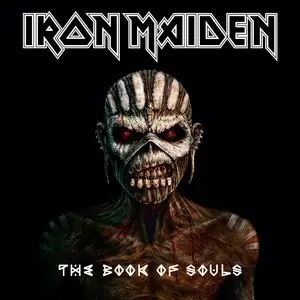 Iron Maiden - The Book Of Souls (2015)
FLAC (tracks) 24-bit/48 kHz | Time - 92:15 minutes | 1,17 GB
Studio Master, Official Digital Download | Artwork: Digital booklet
"The Book Of Souls" is the band's 16th studio album since their eponymous debut in 1980 charted at #4 in the UK, in a career achieving sales of over 90 million albums worldwide. The long awaited Hi-Res release in his proper lenght.
To say that Iron Maiden's Book of Souls was ardently anticipated would be a vast understatement. Though it was (mostly) finished in 2014, vocalist Bruce Dickinson's cancer diagnosis and treatment delayed its release until he was medically cleared. While 2006's A Matter Of Life And Death and 2010's The Final Frontier showcased longer songs, Book of Souls is epic by comparison. Their first double album, it's 92 minutes long, and three of its 11 tracks are over ten minutes. Steve Harris contributed one solo composition, and co-wrote six tracks with various bandmates. Dickinson – for the first time since Powerslave – wrote two solo tunes, the album's bookends, and collaborated on two more. The music is cleanly divided between the two discs. The first is tight; it offers a bit of everything that makes Iron Maiden…well, Iron Maiden. It is seemingly self-contained. Dickinson's "If Eternity Should Fail" is an impressive showcase for his voice. Its dark intro and atmospherics are eventually transformed into one of the heaviest tunes Maiden's ever recorded, but he shines above the sonic mass. "Speed of Light" is a burner. Dickinson's fury is accompanied by a rockarolla riff, soaring metal guitar fills, and Nicko McBrain's grooving drums. Harris' 13-minute "The Red and the Black" contains a strutting riff, a catchy chant, and a martial tempo. It's followed by "When the River Runs Deep," a chugging hard rocker with all three guitarists challenging one another. The title cut is theatrical, as acoustic guitar and a sparse synth are filled out with a knotty riff and solo breaks, emerging as a slower, heavier headbanger. By contrast, disc two is structured almost narratively; it slowly enlarges and expands to serve an unexpected conclusion. Opener "Death or Glory" is another crowd-catcher as Dickinson soars above thudding drums and guitar choruses redolent of Thin Lizzy. "Shadows of the Valley" is the only clunker. It's dull and predictable, a minor distraction that doesn't measure up to the set's ambition. "Tears of a Clown," written by Harris and Dave Murray, is for Robin Williams. It's a clamorous rocker, yet the lyrics and melody are simultaneously empathic and disconsolate. "The Man of Sorrows" follows expertly, progressing from meandering ballad to theatrical hard rock. Dickinson's 18-minute "Empire of the Clouds" is about the R101 airship disaster of 1930. It's Maiden's longest song, but a grand conclusion. He plays majestic classical piano throughout, as tasteful, biting guitars create a complementary melodic labyrinth amid swelling orchestral strings. They add texture while McBrain's swinging drums add drama. It's a heavy metal suite, unlike anything in their catalog. Producer Kevin Shirley does a stellar job capturing an "in studio" sound that allows for spacious dynamics and warmth without artifical mass. Who would have thought that after decades Iron Maiden would have an album as fine (let alone as long) as Book of Souls in them? With repeated listening it earns shelf space with their finest records.
Tracklist:
CD1 #01 - If Eternity Should Fail
CD1 #02 - Speed Of Light
CD1 #03 - The Great Unknown
CD1 #04 - The Red And The Black
CD1 #05 - When The River Runs Deep
CD1 #06 - The Book Of Souls
CD2 #01 - Death Or Glory
CD2 #02 - Shadows Of The Valley
CD2 #03 - Tears Of A Clown
CD2 #04 - The Man Of Sorrows
CD2 #05 - Empire Of The Clouds
Analyzed: Iron Maiden / The Book Of Souls
––––––––––––––––––––––––––––––––––––––––

DR Peak RMS Duration Track
––––––––––––––––––––––––––––––––––––––––
DR7 -1.28 dB -10.32 dB 8:28 01-If Eternity Should Fail
DR8 -0.30 dB -9.27 dB 5:02 02-Speed Of Light
DR8 -1.27 dB -11.06 dB 6:38 03-The Great Unknown
DR8 -1.27 dB -10.08 dB 13:34 04-The Red And The Black
DR8 -1.27 dB -10.13 dB 5:53 05-When The River Runs Deep
DR8 -1.27 dB -10.32 dB 10:28 06-The Book Of Souls
DR8 -1.27 dB -9.25 dB 5:13 01-Death Or Glory
DR8 -1.27 dB -9.73 dB 7:32 02-Shadows Of The Valley
DR8 -1.27 dB -9.85 dB 4:59 03-Tears Of A Clown
DR8 -1.27 dB -10.32 dB 6:28 04-The Man Of Sorrows
DR8 -1.27 dB -10.78 dB 18:01 05-Empire Of The Clouds
––––––––––––––––––––––––––––––––––––––––

Number of tracks: 11
Official DR value: DR8

Samplerate: 48000 Hz
Channels: 2
Bits per sample: 24
Bitrate: 1683 kbps
Codec: FLAC
================================================================================


Thanks to the Original customer!