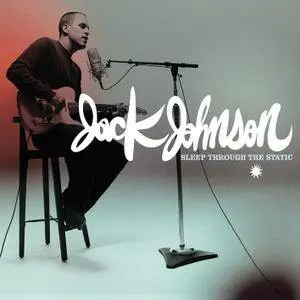 Jack Johnson - Sleep Through The Static (2008/2014)
FLAC (tracks) 24-bit/96 kHz | Time - 51:22 minutes | 1,13 GB
Studio Master, Official Digital Download | Artwork: Front cover
For the first time in his career Jack Johnson recorded outside of his home turf of Hawaii. He picked a location no less sunny, however: a solar-powered studio in Los Angeles. While the location might have been different, the outcome was the same: another smash hit for Johnson, another million-seller in the US and another number one album in six countries. Sleep Through The Static took on a darker, more sombre tone as Johnson dedicated the album to his late cousin and wrote about feelings of grief and loss he was experiencing.
Much of the press surrounding the release of Sleep Through the Static recounted Jack Johnson's claim that he gave all his peppy pop tunes over to the Curious George soundtrack and how that, combined with personal losses – including the death of his cousin Danny Riley, to whom the album is dedicated – led the surfing singer/songwriter into darker territory for his fifth album. To a certain extent, all of that is true, as the album does open with an atypically stark, moody number in "All at Once" and there are some darker sentiments lurking within the 14 songs here, but it takes some close listening to find the sorrow flowing through some of the words. Some very close listening, really, as Johnson's sand-brushed, gentle voice doesn't command attention. His voice lulls and soothes, so it takes concentrated effort to hear beyond his tone and hear what he's actually saying. Then again, the meaning of Johnson's music doesn't matter as much as the mellow mood, a feeling that he's sustained throughout his albums and doesn't change here. Johnson may use more electric guitars than acoustics on Sleep Through the Static, but he's strumming them like acoustics and his overall aesthetic has not changed at all: he's still a laid-back guy singing songs that roll so easy they glide into the background. No matter what instrument he's playing or what he's singing about, his music still feels the same, which is enough to satisfy his fans but not to win him many new ones.
Tracklist:
01 - All At Once
02 - Sleep Through The Static
03 - Hope
04 - Angel
05 - Enemy
06 - If I Had Eyes
07 - Same Girl
08 - What You Thought You Need
09 - Adrift
10 - Go On
11 - They Do, They Don't
12 - While We Wait
13 - Monsoon
14 - Losing Keys
Produced by JP Plunier. Engineered by Robert Carranza.
Recorded at the Solar Powered Plastic Plant, Los Angeles, CA, and The Mango Tree, Hawaii.
Mastered by Bernie Grundman.
Musicians:
Jack Johnson - vocals, guitar
Zach Gill - vocals, keyboards
Trent Johnson - acoustic guitar
Merlo Podlewski - bass guitar
Adam Topol - drums
J.P. Plunier - hand claps, background vocals
Emmett Malloy - hand claps
Josh Arroyo - hand claps
Danny Riley - background vocals
Analyzed: Jack Johnson / Sleep Through The Static
––––––––––––––––––––––––––––––––––––––––

DR Peak RMS Duration Track
––––––––––––––––––––––––––––––––––––––––
DR10 0.00 dB -12.66 dB 3:38 01-All At Once
DR10 0.00 dB -11.73 dB 3:43 02-Sleep Through The Static
DR9 0.00 dB -10.80 dB 3:42 03-Hope
DR12 -0.49 dB -15.99 dB 2:03 04-Angel
DR11 -0.01 dB -13.28 dB 3:48 05-Enemy
DR9 0.00 dB -10.54 dB 3:59 06-If I Had Eyes
DR13 0.00 dB -16.66 dB 2:11 07-Same Girl
DR10 -0.01 dB -12.12 dB 5:27 08-What You Thought You Need
DR12 -0.37 dB -15.09 dB 3:56 09-Adrift
DR9 0.00 dB -10.78 dB 4:35 10-Go On
DR10 0.00 dB -11.47 dB 4:10 11-They Do, They Don't
DR12 -1.68 dB -17.74 dB 1:26 12-While We Wait
DR10 0.00 dB -12.05 dB 4:17 13-Monsoon
DR12 -0.02 dB -15.43 dB 4:28 14-Losing Keys
––––––––––––––––––––––––––––––––––––––––

Number of tracks: 14
Official DR value: DR11

Samplerate: 96000 Hz
Channels: 2
Bits per sample: 24
Bitrate: 2871 kbps
Codec: FLAC
================================================================================


Thanks to the Original customer!