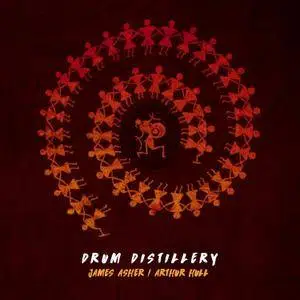 James Asher & Arthur Hull - Drum Distillery (2018)
FLAC (tracks) 24-bit/44,1 kHz | Time - 63:39 minutes | 740 MB
Studio Master, Official Digital Download | Artwork: Front cover
Longstanding friends worldbeat artist James Asher and drumcircle facilitation trainer and percussionist Arthur Hull meet again to co-create, and produce some of their most persuasive imaginative material within their recorded audio adventures, ranging from energising and percussive to cinematic, chilled and atmospheric.
Drum Distillery by James Asher:
Fifteen years ago I developed a fascination with the idea of drumcircles, and set about finding out what I could about their movement. I gathered from initial enquiries this that one of its founder figures was Arthur Hull. This coincided with going to see a demonstration of new Remo drum products in London. It was presented by a curious fellow with a hat, whose ebullient, elf-like and charismatic quality captivated me immediately. This turned out to be Arthur Hull. It was amazing to me learning the broad range and scope of how far drumcircles extend and what a powerful tool for community they are. Arthur's brilliant playful and engaging way of teaching drumcircle facilitation is unique and compelling. We struck up a friendship, and began exploring ideas in my studio and recording them. Every year in his global touring schedule we would meet for a week or so and explore further journeys into rhythmical alchemy. After three years we had an album, Sounding the Stones, originally released by Dutch label Oreade. From there our adventures rolled on and we explored rhythmic ideas and ambient scenarios, but all with with a light-hearted and playful innocence. Before our get-together in 2017 we had made contact with Adelle Brownlee Brewer from the Nia Technique, who had already discovered that some of our music suited her dance routines well. So during the time we met, Arthur and I were speaking to her about what we were creating, enjoying her friendship and being inspired by her bubbly enthusiasm. It has been a privilege and pleasure to enjoy so many great years of fun, friendship and co-creativity with Arthur, and I am grateful to Adelle for helping to make it an extra special year and album of music.
Tracklist:
01 - Circadian Spirals
02 - Helix Rising
03 - As We Grow Forward
04 - Giving Thanks
05 - Breathdub
06 - Mystic Mambo
07 - Guarana Gazelles
08 - Billy Bravado
09 - Sandless Desert
10 - Absorbing the Moment
11 - Deep Valleys
12 - Global Samba
13 - Infiniterium
Produced by James Asher.
Recorded by James Asher at Starfield Studios, Eastbourne, East Sussex, England.
Mastered by Gwyn Mathias GBdb.
Musicians:
James Asher - Keyboards, percussion, drums, Akai MPC X
Arthur Hull - Drums, percussion, bells
Sandeep Raval - Tablas, Humdrum, Ring-Drum
Sam McEvoy - Cahon, Batajon, Darabuka, Cymbal swells
Flip Giles - Vocals
Duncan White - Acoustic and electric guitars
Tom Askaroff - Electric Guitar
Phil Kerry - Alto, Tenor and Soprano Saxophones
Bill Eborn - Chromatic Harmonica.
Analyzed: James Asher & Arthur Hull / Drum Distillery
––––––––––––––––––––––––––––––––––––––––

DR Peak RMS Duration Track
––––––––––––––––––––––––––––––––––––––––
DR9 -0.10 dB -11.08 dB 5:46 01-Circadian Spirals
DR10 -0.10 dB -11.99 dB 5:29 02-Helix Rising
DR8 -0.10 dB -9.61 dB 4:28 03-As We Grow Forward
DR9 -0.10 dB -10.23 dB 5:09 04-Giving Thanks
DR10 -0.10 dB -11.40 dB 4:03 05-Breathdub
DR10 -0.10 dB -10.90 dB 5:06 06-Mystic Mambo
DR11 -0.10 dB -12.36 dB 3:02 07-Guarana Gazelles
DR7 -0.10 dB -8.92 dB 4:56 08-Billy Bravado
DR9 -0.10 dB -10.84 dB 5:48 09-Sandless Desert
DR8 -0.10 dB -10.36 dB 4:26 10-Absorbing the Moment
DR11 -0.10 dB -12.20 dB 6:04 11-Deep Valleys
DR12 -0.10 dB -13.67 dB 4:41 12-Global Samba
DR10 -0.10 dB -14.82 dB 4:41 13-Infiniterium
––––––––––––––––––––––––––––––––––––––––

Number of tracks: 13
Official DR value: DR9

Samplerate: 44100 Hz
Channels: 2
Bits per sample: 24
Bitrate: 1333 kbps
Codec: FLAC
================================================================================


Thanks to the Original customer!