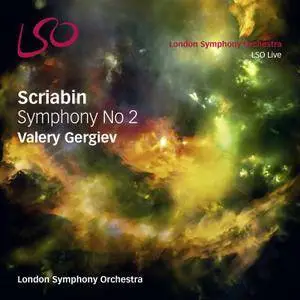 The London Symphony Orchestra - Scriabin Symphony No 2 - Valery Gergiev (2017) {B&W Society of Sound LSO87 24-96}
FLAC (tracks) 24-bit/96 kHz (studio master) | 948 Mb
© 2017 B&W Society of Sound | Official Digital Download - Source: bowers-wilkins.com
genre: classical, symphony
Emerging at the dawn of the twentieth century, the idiosyncratic structures of Scriabin's early symphonies display the Russian's unique approach. His Second Symphony blends echoes of Strauss, Tchaikovsky and Wagner, with sweeping climaxes, swirling colours, and passages of majestic intensity over the course of its five movements.

Producer: James Mallinson
Engineering: Classic Sound Ltd
Recorded: Live in DSD, April 2014, Barbican Hall, London

Despite a tepid reception for his First Symphony in 1900, Scriabin was undiscouraged and immediately embarked on a Second. He originally intended it to have a vocal element, as with his First Symphony, but his publisher insisted on a purely orchestral work. It is another substantial work that goes beyond the standard four-movement symphonic structure: its five movements are presented in three parts – the first and second are played without a break, as are the fourth and fifth, and these stand either side of a long, slow movement.

The music, as with much of Scriabin's output, is characterised by contrasts: dramatic and rhythmically incisive themes, such as at the opening of the Second and Fourth movements, are balanced by those that are harmonically complex and rhythmically fluid (for example, much of the middle, slow movement). There is also a sense of development throughout the work – the initial sombre, brooding C minor theme, heard at the symphony's opening on a solo clarinet, is gradually transformed during the third and fourth movements before reappearing as a brilliant march, providing the main material of the C major finale.

In later years, Scriabin believed he had somewhat missed the mark in the finale – having aimed at 'radiant triumph', he felt he had achieved something more like 'a military parade'. Yet, with Gergiev's insightful conducting and the luxurious sonority of the London Symphony Orchestra combining to give a superlative performance, perhaps Scriabin's original intention has finally been realised?

Adapted from programme notes by Andrew Huth.
Track list:
01 Symphony No 2 in C minor, Op 29 i Andante
02 Symphony No 2 in C minor, Op 29 ii Allegro
03 Symphony No 2 in C minor, Op 29 iii Andante
04 Symphony No 2 in C minor, Op 29 iv Tempestoso
05 Symphony No 2 in C minor, Op 29 v Maestoso
===