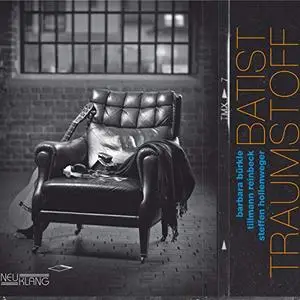 Batist - Traumstoff (2012)
FLAC (tracks) 24-bit/44.1 kHz | Time - 65:33 minutes | 320 MB
Studio Master, Official Digital Download | Artwork: Digital Booklet
Gorgeous and seductively simple, Batist manages to fuse jazz, classical and the subtleties of world and Latin flavors into a rich sonic mosaic. Much like the genres they so effortlessly transcend, this trio crosses over the artistic limitations of 'labels' and emerges with a fresh vibrant sound with unlimited potential. The brightly colored tiles of a mosaic are in relation to the vibrant bits and pieces of musical variety offered including Sting's 'I Was Brought To My Senses.' Barbara Burkle's pristine vocals accompanied by the classical guitar of Tillmann Reinbeck reinvent a pop tune into a more eclectic contemporary ambiance. Far more than just a passable cover, Batist adds their own musical depth of field and breathes fresh life into the classic Sting tune.