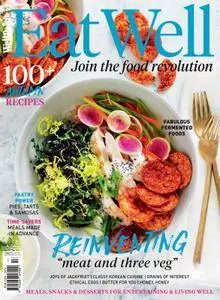 Eat Well - March 2018
English | 132 pages | True PDF | 47.4 MB
As autumn unfolds and the leaves begin to change colour, there's a noticeable chill in the night's air and we begin craving quick and easy comfort food. Autumn is harvest time for summer crops, which means an abundance of fresh fruit and vegetables fill our tables and, in this issue, we focus on seasonal fare that's been lovingly grown, harvested, prepared and enjoyed. Delight family and friends with fabulous pastry dishes, discover new ways to reinvent "meat and three veg" and learn to perfect the art of fermenting. Join us as we share our favourite pre-prepared meals and tips for cooking with jackfruit, a popular vegetarian substitute for dishes that use meat. Booking your next foodie destination? How about Korea? We've dedicated an entire recipe section to Korean food, including Mandu Dumplings, Tofu Noodles and Kimchi Fried Rice; it could inspire you to book flights! Also, discover the properties of honey and why it's important to choose ethically grown eggs. Plus, we chat to two passionate butter producers and dive deep into the vast and wonderful world of grains. Still hungry? We also share the latest food news, which fruit and vegetables are in season and loads more.