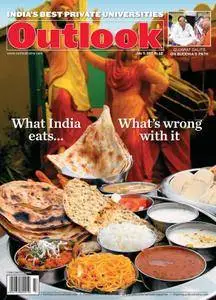 Outlook - July 08, 2018
English | 108 pages | True PDF | 22.2 MB
20 In Service of Big Brother?
The media narrative of the Thoothukudi tragedy in Tamil Nadu reeks of cold calculation
32 When the Levee Breaks
The Una incidents were a turning point for the Dalits of Gujarat. A revolution unfolded
thereafter. Now, many Una Dalits are seeing reason in leaving the Hindu fold for Buddhism.
56 The Republic's Ration
Food is mandatory existence affair. How do our meals add up for us at a national scale?
A nutritional
diagnosis of the staple foods of India.
76 Global Headspin
Trump's heavy duties, India's burdens and the world's watchful eye: an economic muddle
86 The Salman Company
Multiple examples prove that it's not an exageration: just his name makes cash registers ring
at the box office. Add to that the obligatory script and entourage of brand Salman Khan.