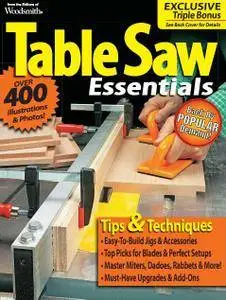 Table Saw Essentials 2008 (Woodsmith Special Edition)
English | True PDF | 100 pages | 43 MB
The table saw is probably the first major power tool that most woodworkers purchase — and for good reason. It probably gets used on more projects than any other tool in the shop. So when you consider how versatile a tool the table saw is, it's really kind of surprising that most of them don't come with better instructions.
That's where this book comes in. Inside, you'll find information to help you unlock the potential of your table saw — starting with how to set it up and keep it tuned for consistently accurate cuts. From there, we'll move on to basic crosscuts, rip cuts, and a wide range of joinery. Then you'll learn about some great shop-made accessories and after-market upgrades designed to really boost your saw's performance.
Finally, don't miss out on all the online bonus material (see page 99 for more).
Look also another Special Editions (True PDF):


• Woodsmith Router Table Secrets 2008
• ShopNotes Table Saw: Tough Cuts Made Easy 2007
• Woodsmith Router Workshop 2007
• ShopNotes Tools & Jigs: Plans, Tips, Techniques, 2007
• ShopNotes 120+ Shop-Tested Tips & Techniques 2006
• Woodsmith Tools, Tips, Tricks & Techniques 2016
• Woodsmith Workbenches & Simple Shop Storage Solutions 2016


Look also Woodworking DVD:


• Woodsmith Shop 200+ Woodworking Video Tips & Techniques DVD -

NEW!!!


• ShopNotes Magazine - The Complete Final Edition DVD -

NEW!!!


• Woodworking Magazine 2004-2009 CD-ROM
• Woodwork Magazine 1989-2014 DVD-ROM
• Woodsmith Magazine 1979-2014 DVD-ROM
• American Woodworker Magazine 1985-2014 DVD-ROM
• Popular Woodworking 1995-2013 DVD-ROM
• Popular Woodworking 2014 CD-ROM
• Fine Woodworking Archive DVD-ROM (1975 - 2012)
• The Best of Fine Homebuilding DVD-ROM 2nd Edition
• The Complete WOOD Magazine Collection on DVD-ROM 1984-2009
• Woodcarving Illustrated Volume 1,2 (#001-038)
• Woodcarving Illustrated Volume 3 (#039-050)
• Weekend Woodworking Projects: 352 Great Projects CD-ROM