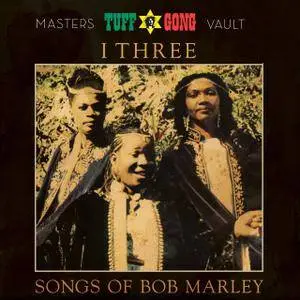 I-Three - Tuff Gong Presents: Songs of Bob Marley (From the Masters Vault) (Remastered) (2018)
Reggae | 1:02:32 | WEB FLAC (tracks) | 488 MB
Label: Tuff Gong Caribbean Distributors
The I Threes were a Jamaican reggae singing group made up of three women, that was formed in 1974 to support Bob Marley & The Wailers after Peter Tosh and Bunny Wailer — the original Wailer backing vocalists — left the band. The three members were Marley's wife Rita Marley, plus Judy Mowatt and Marcia Griffiths. Their name is intended as a spin on the Rastafarian "I and I" concept of the Godhead within each person.
Tracklist:
01. I-Three - Waiting In Vain (feat. Rita Marley, Judy Mowatt & Marcia Griffiths) [Remastered]
02. I-Three - Stir It Up (feat. Rita Marley, Judy Mowatt & Marcia Griffiths) [Remastered]
03. I-Three - Could You Be Loved (feat. Rita Marley, Judy Mowatt & Marcia Griffiths) [Remastered]
04. I-Three - Iron Lion Zion (feat. Rita Marley, Judy Mowatt & Marcia Griffiths) [Remastered]
05. I-Three - Buffalo Soldier (feat. Rita Marley, Judy Mowatt & Marcia Griffiths) [Remastered]
06. I-Three - No Woman No Cry (feat. Rita Marley, Judy Mowatt & Marcia Griffiths) [Remastered]
07. I-Three - Redemption Song (feat. Rita Marley, Judy Mowatt & Marcia Griffiths) [Remastered]
08. I-Three - Is This Love (feat. Rita Marley, Judy Mowatt & Marcia Griffiths) [Remastered]
09. I-Three - Get Up Stand Up (feat. Rita Marley, Judy Mowatt & Marcia Griffiths) [Remastered]
10. I-Three - I Shot the Sheriff (feat. Rita Marley, Judy Mowatt & Marcia Griffiths) [Remastered]
11. I-Three - One Love (feat. Rita Marley, Judy Mowatt & Marcia Griffiths) [Remastered]
12. I-Three - Three Little Birds (feat. Rita Marley, Judy Mowatt & Marcia Griffiths) [Remastered]
13. I-Three - Bob Marley Medley (feat. Rita Marley, Judy Mowatt & Marcia Griffiths) [Remastered]
fooCDtect - foobar2000 + auCDtect, baralgin.

auCDtect: CD records authenticity detector, version 0.8.2
Copyright © 2004 Oleg Berngardt. All rights reserved.
Copyright © 2004 Alexander Djourik. All rights reserved.

mode: 0

===========================================
Track: 03. I-Three - Could You Be Loved (feat. Rita Marley, Judy Mowatt & Marcia Griffiths) [Remastered]

Processing file: [03. I-Three - Could You Be Loved (feat. Rita Marley, Judy Mowatt & Marcia Griffiths) [Remastered].aucdtect]
Detected average hi-boundary frequency: 2.108895e+004 Hz
Detected average lo-boundary frequency: 1.768785e+004 Hz

Detected average hi-cut frequency: 2.197605e+004 Hz
Detected average lo-cut frequency: 1.777452e+004 Hz
Maximum probablis boundary frequency: 2.189100e+004 Hz
Coefficient of nonlinearity of a phase: 2.983817e-002
First order smothness: 6.106513e-001
Second order smothness: 5.649514e-001

––––––––––––––––––––––––––––––
This track looks like MPEG with probability 95%

===========================================
Track: 02. I-Three - Stir It Up (feat. Rita Marley, Judy Mowatt & Marcia Griffiths) [Remastered]

Processing file: [02. I-Three - Stir It Up (feat. Rita Marley, Judy Mowatt & Marcia Griffiths) [Remastered].aucdtect]
Detected average hi-boundary frequency: 2.113911e+004 Hz
Detected average lo-boundary frequency: 1.768790e+004 Hz
Detected average hi-cut frequency: 2.197621e+004 Hz
Detected average lo-cut frequency: 1.741852e+004 Hz
Maximum probablis boundary frequency: 2.189100e+004 Hz
Coefficient of nonlinearity of a phase: 9.852353e-002
First order smothness: 5.753034e-001
Second order smothness: 6.077802e-001

––––––––––––––––––––––––––––––
This track looks like CDDA with probability 100%


===========================================
Track: 04. I-Three - Iron Lion Zion (feat. Rita Marley, Judy Mowatt & Marcia Griffiths) [Remastered]

Processing file: [04. I-Three - Iron Lion Zion (feat. Rita Marley, Judy Mowatt & Marcia Griffiths) [Remastered].aucdtect]
Detected average hi-boundary frequency: 2.102967e+004 Hz
Detected average lo-boundary frequency: 1.702509e+004 Hz
Detected average hi-cut frequency: 2.197640e+004 Hz
Detected average lo-cut frequency: 1.740700e+004 Hz
Maximum probablis boundary frequency: 2.189100e+004 Hz
Coefficient of nonlinearity of a phase: 1.074491e-001
First order smothness: 6.215423e-001
Second order smothness: 4.962280e-001

––––––––––––––––––––––––––––––
This track looks like CDDA with probability 100%

===========================================
Track: 01. I-Three - Waiting In Vain (feat. Rita Marley, Judy Mowatt & Marcia Griffiths) [Remastered]

Processing file: [01. I-Three - Waiting In Vain (feat. Rita Marley, Judy Mowatt & Marcia Griffiths) [Remastered].aucdtect]
Detected average hi-boundary frequency: 2.132660e+004 Hz
Detected average lo-boundary frequency: 1.800775e+004 Hz
Detected average hi-cut frequency: 2.197361e+004 Hz
Detected average lo-cut frequency: 1.855958e+004 Hz
Maximum probablis boundary frequency: 2.189100e+004 Hz
Coefficient of nonlinearity of a phase: 9.922422e-002
First order smothness: 6.111111e-001
Second order smothness: 6.784266e-001

––––––––––––––––––––––––––––––
This track looks like CDDA with probability 100%

===========================================
Track: 05. I-Three - Buffalo Soldier (feat. Rita Marley, Judy Mowatt & Marcia Griffiths) [Remastered]

Processing file: [05. I-Three - Buffalo Soldier (feat. Rita Marley, Judy Mowatt & Marcia Griffiths) [Remastered].aucdtect]
Detected average hi-boundary frequency: 2.095476e+004 Hz
Detected average lo-boundary frequency: 1.710283e+004 Hz
Detected average hi-cut frequency: 2.197566e+004 Hz
Detected average lo-cut frequency: 1.597594e+004 Hz
Maximum probablis boundary frequency: 2.189100e+004 Hz
Coefficient of nonlinearity of a phase: 1.226690e-001
First order smothness: 5.320252e-001
Second order smothness: 5.864495e-001

––––––––––––––––––––––––––––––
This track looks like CDDA with probability 100%

===========================================
Track: 06. I-Three - No Woman No Cry (feat. Rita Marley, Judy Mowatt & Marcia Griffiths) [Remastered]

Processing file: [06. I-Three - No Woman No Cry (feat. Rita Marley, Judy Mowatt & Marcia Griffiths) [Remastered].aucdtect]
Detected average hi-boundary frequency: 2.110746e+004 Hz
Detected average lo-boundary frequency: 1.767058e+004 Hz
Detected average hi-cut frequency: 2.198182e+004 Hz
Detected average lo-cut frequency: 1.703293e+004 Hz
Maximum probablis boundary frequency: 2.189100e+004 Hz
Coefficient of nonlinearity of a phase: 1.178566e-001
First order smothness: 5.621425e-001
Second order smothness: 6.427457e-001

––––––––––––––––––––––––––––––
This track looks like CDDA with probability 100%

===========================================
Track: 07. I-Three - Redemption Song (feat. Rita Marley, Judy Mowatt & Marcia Griffiths) [Remastered]

Processing file: [07. I-Three - Redemption Song (feat. Rita Marley, Judy Mowatt & Marcia Griffiths) [Remastered].aucdtect]
Detected average hi-boundary frequency: 2.101458e+004 Hz
Detected average lo-boundary frequency: 1.754938e+004 Hz
Detected average hi-cut frequency: 2.197380e+004 Hz
Detected average lo-cut frequency: 1.726540e+004 Hz
Maximum probablis boundary frequency: 2.189100e+004 Hz
Coefficient of nonlinearity of a phase: 4.367104e-001
First order smothness: 4.718739e-001
Second order smothness: 6.721605e-001

––––––––––––––––––––––––––––––
This track looks like CDDA with probability 100%

===========================================
Track: 08. I-Three - Is This Love (feat. Rita Marley, Judy Mowatt & Marcia Griffiths) [Remastered]

Processing file: [08. I-Three - Is This Love (feat. Rita Marley, Judy Mowatt & Marcia Griffiths) [Remastered].aucdtect]
Detected average hi-boundary frequency: 2.094821e+004 Hz
Detected average lo-boundary frequency: 1.640130e+004 Hz
Detected average hi-cut frequency: 2.196248e+004 Hz
Detected average lo-cut frequency: 1.619748e+004 Hz
Maximum probablis boundary frequency: 2.189100e+004 Hz
Coefficient of nonlinearity of a phase: 1.901746e-001
First order smothness: 5.136081e-001
Second order smothness: 6.232504e-001

––––––––––––––––––––––––––––––
This track looks like CDDA with probability 100%

===========================================
Track: 09. I-Three - Get Up Stand Up (feat. Rita Marley, Judy Mowatt & Marcia Griffiths) [Remastered]

Processing file: [09. I-Three - Get Up Stand Up (feat. Rita Marley, Judy Mowatt & Marcia Griffiths) [Remastered].aucdtect]
Detected average hi-boundary frequency: 2.126625e+004 Hz
Detected average lo-boundary frequency: 1.740111e+004 Hz
Detected average hi-cut frequency: 2.198016e+004 Hz
Detected average lo-cut frequency: 1.887418e+004 Hz
Maximum probablis boundary frequency: 2.189100e+004 Hz
Coefficient of nonlinearity of a phase: 3.589369e-001
First order smothness: 5.991131e-001
Second order smothness: 6.004435e-001

––––––––––––––––––––––––––––––
This track looks like CDDA with probability 99%

===========================================
Track: 10. I-Three - I Shot the Sheriff (feat. Rita Marley, Judy Mowatt & Marcia Griffiths) [Remastered]

Processing file: [10. I-Three - I Shot the Sheriff (feat. Rita Marley, Judy Mowatt & Marcia Griffiths) [Remastered].aucdtect]
Detected average hi-boundary frequency: 2.143375e+004 Hz
Detected average lo-boundary frequency: 1.774031e+004 Hz

Detected average hi-cut frequency: 2.198595e+004 Hz
Detected average lo-cut frequency: 2.102081e+004 Hz
Maximum probablis boundary frequency: 2.189100e+004 Hz
Coefficient of nonlinearity of a phase: 7.387831e-003
First order smothness: 6.738340e-001
Second order smothness: 7.831617e-001

––––––––––––––––––––––––––––––
This track looks like MPEG with probability 95%

===========================================
Track: 11. I-Three - One Love (feat. Rita Marley, Judy Mowatt & Marcia Griffiths) [Remastered]

Processing file: [11. I-Three - One Love (feat. Rita Marley, Judy Mowatt & Marcia Griffiths) [Remastered].aucdtect]
Detected average hi-boundary frequency: 2.131479e+004 Hz
Detected average lo-boundary frequency: 1.747930e+004 Hz
Detected average hi-cut frequency: 2.198334e+004 Hz
Detected average lo-cut frequency: 1.978521e+004 Hz
Maximum probablis boundary frequency: 2.189100e+004 Hz
Coefficient of nonlinearity of a phase: 2.431750e-002
First order smothness: 6.081844e-001
Second order smothness: 7.253057e-001

––––––––––––––––––––––––––––––
This track looks like MPEG with probability 95%

===========================================
Track: 12. I-Three - Three Little Birds (feat. Rita Marley, Judy Mowatt & Marcia Griffiths) [Remastered]

Processing file: [12. I-Three - Three Little Birds (feat. Rita Marley, Judy Mowatt & Marcia Griffiths) [Remastered].aucdtect]
Detected average hi-boundary frequency: 2.122723e+004 Hz
Detected average lo-boundary frequency: 1.800886e+004 Hz

Detected average hi-cut frequency: 2.198035e+004 Hz
Detected average lo-cut frequency: 1.943947e+004 Hz
Maximum probablis boundary frequency: 2.189100e+004 Hz
Coefficient of nonlinearity of a phase: 1.213527e-001
First order smothness: 6.405179e-001
Second order smothness: 6.557502e-001

––––––––––––––––––––––––––––––
This track looks like CDDA with probability 100%

===========================================
Track: 13. I-Three - Bob Marley Medley (feat. Rita Marley, Judy Mowatt & Marcia Griffiths) [Remastered]

Processing file: [13. I-Three - Bob Marley Medley (feat. Rita Marley, Judy Mowatt & Marcia Griffiths) [Remastered].aucdtect]
Detected average hi-boundary frequency: 2.123914e+004 Hz
Detected average lo-boundary frequency: 1.791969e+004 Hz
Detected average hi-cut frequency: 2.197906e+004 Hz
Detected average lo-cut frequency: 1.838461e+004 Hz
Maximum probablis boundary frequency: 2.189100e+004 Hz
Coefficient of nonlinearity of a phase: 4.232229e-002
First order smothness: 6.015977e-001
Second order smothness: 6.442469e-001

––––––––––––––––––––––––––––––
This track looks like MPEG with probability 95%

===========================================