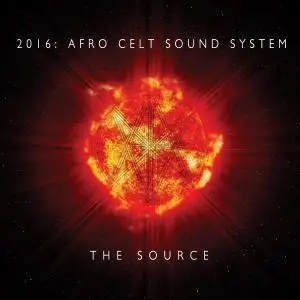 Afro Celt Sound System - The Source
World Fusion, Celtic | MP3 CBR 320 kbps | 77:39 min | 187 MB + 5% Recovery
Label: ECC Records | Tracks: 13 | Rls.date: 2016
The Source is credited to Afro Celt Sound System. Depending on how a court decides, this may or may not be that band. The split between founding members Simon Emmerson on one side and James McNally and Martin Russell on the other is apparently so toxic it had to be litigated. This version, led by Emmerson, strikes first, offering the first new studio material from any ACSS in a decade. His musical partners here include original members vocalist/kora player N'Faly Kouyate and percussionist Johnny Kalsi as well as new member Gaelic rapper/singer/multi-instrumentalist Griogair Labhruidh. Female vocalist/flutist Rioghnach Connolly also plays an important role in this lineup. Her voice on the long, haunting "Beware Soul Brother" is a set highlight, as is her performance on "Honey Bee," where both her vocal and flute jig elevate an otherwise ordinary melody. Part of ACSS' beauty has been the balance of electronics and organic instrumentation, creating a true fusion, not only in terms of global music styles but their juxtaposition with technology as historic tradition met and was balanced with the present. Emmerson and company have dialed back the electronics to make space for more organic instruments, from the slamming dhol drums to the kora, balafon, and pipes, as well as guitars and fiddles. But the beats are here too, propulsive and authoritatively insistent, as on "The Magnificent Seven," where rhythms meet reels en masse, or on "The Soul of a Sister," where guests Les Griottes offer a grooving chant while Kouyate solos atop layers of percussion. Not everything works, though. Shooglenifty's classic "Monkswell Road" is revisioned as "A Higher Love" with participation from members of that band. The droning melody is appended with organic Gaelic hip-hop and a digital dub that falls flat. Elsewhere, the spoken word "Child of Wonder" has author Pàl Ó Siadhail reading from an unpublished book with spacy effects, bluesy guitars, and spooky kora, but it's simply filler. The real ace here is "Where Two Rivers Meet." It commences with kora, lithe flute, soft bodhran, and acoustic guitars before guest Lucy Doonan enters and literally mesmerizes with her gentle delivery. Improvising Uilleann pipes add tension and drama as swelling effects, chimes, and synths swirl, but the processional pace remains, making the track a ten-minute labyrinth. The Source has its moments, but it doesn't stand with ACSS' best recordings, namely their debut and 2005's Anatomic. It too often feels unfocused. That said, given the new membership and all the additional personnel, it's a first album and a good one at that. No matter which unit gets to use the name legally in the end, there is some truly fine music on display here.
TRACKLIST
1. Calling in the Horses (2:59)
2. Beware Soul Brother (8:17)
3. The Magnificent Seven (Acss Meets TDF) (4:24)
4. Cascade (8:06)
5. A Higher Love (Tune "Monkswell Road") (7:47)
6. Honey Bee (5:28)
7. Where Two Rivers Meet (9:56)
8. Mansani Cissé / Tàladh (4:50)
9. Child of Wonder (6:31)
10. Desert Billy (Tune "The Balcony") (3:24)
11. The Communicator (3:53)
12. The Soul of a Sister (4:31)
13. Kalsi Breakbeat (7:33)