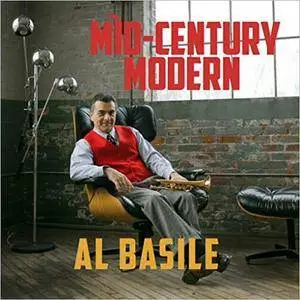 Al Basile - Mid-Century Modern (2016)
Memphis Blues, RnB, Blues Soul | MP3 CBR 320 kbps | 00:50:37 | 119 MB
Label: Sweetspot Records | Release Year: 2016
Al Basile's 13th CD is a collection of new songs based on mid-century blues and classic R&B musical style, with Al's heralded lyric writing. Produced by Duke Robillard, it has Duke's rhythm section joined by 'Monster' Mike Welch on guitar, and Roomful of Blues alumni horns. Familiar musical influences include Louis Jordan, Buddy Johnson, Richard Berry, Albert King, Lee Dorsey, Slim Harpo, and mid-period Miles Davis. Radio promotion by Todd Glazer Promotions, a four month publicity campaign by Mark Pucci Media, print ads, etc. Basile has been nominated five times since 2010 for a Blues Music Award as Best Horn player and his cornet solos and soulful, perfectly suited vocals are featured throughout.
TRACKLIST
01. Keep Your Love, Where's My Money
02. Like You Or Despise You
03. Midnight Blue Persuasion
04. Tickle My Mule
05. I've Got To Have Meat (With Every Meal)
06. Like A Woman, Like A Man
07. Blank Dog
08. Carry These Blues
09. No Truth To The Rumor
10. Listen To The Elders
11. Night Crossing
12. Big Trees Falling
13. Lie Under The House With Me