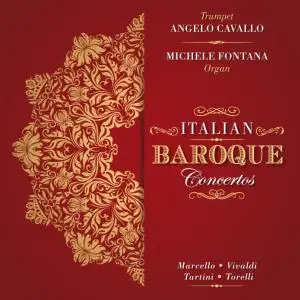 Angelo Cavallo - Italian Baroque Concertos (2019)
WEB FLAC (tracks) - 212 MB | Tracks: 15 | 44:49 min
Style: Classical | Label: Fluente Records
The aphorism attributed to Pablo Picasso is perfectly suited to the spirit of this album, an expressive experience in which the performers try their hand at transcribed pieces, originally designed for other organists, for timbres not belonging to the sound sphere that is heard in this work. Why steal and transcribe original music written for string orchestra, oboe, keyboard adaptations of orchestral compositions? The answer is simple and lies in the enhancement of the universal works of art contained between the lines of the original staves.
The transcription operation is not only a considerable tribute to the composer of the original music, but above all a sound laboratory in which it is possible to explore new potential that the same musical material, even in cases where it was conceived in a strictly idiomatic way, can be rendered in an equally effective way, decidedly fresh and completely relevant from an artistic point of view, above all after having undergone the manipulations of which the transcription is used to translate the source material.
Tracklist:
01. Concerto in D Minor: No. 1, Andante e spiccato
02. Concerto in D Minor: No. 2, Adagio
03. Concerto in D Minor: No. 3, Presto
04. Concerto in D Major BWV 972: No. 1, (Allegro)
05. Concerto in D Major BWV 972: No. 2, Larghetto
06. Concerto in D Major BWV 972: No. 3, Allegro
07. Concerto in D Major: No. 1, Allegro moderato
08. Concerto in D Major: No. 2, Andante
09. Concerto in D Major: No. 3, Allegro grazioso
10. Concerto in C Major BWV 976: No. 1, Allegro
11. Concerto in C Major BWV 976: No. 2, Largo
12. Concerto in C Major BWV 976: No. 3, Allegro
13. Concerto in D Major: No. 1, Allegro
14. Concerto in D Major: No. 2, Adagio - Presto
15. Concerto in D Major: No. 3, Allegro


FILE: 01. Concerto in D Minor_ No. 1, Andante e spiccato.flac
Size: 16320713 Hash: 0F43639F75EC58F58169B5D9AB4DED73 Accuracy: -m0
Conclusion: CDDA 92%
Signature: 0C15E8840C6A537DB1D8BA68336A5539A1C721B3
FILE: 02. Concerto in D Minor_ No. 2, Adagio.flac
Size: 17973705 Hash: 6693D38535D8704347579844D26C1DA3 Accuracy: -m0
Conclusion: CDDA 92%
Signature: 4E41CB65CABD9991E284ED283B12497CBFF33BC8
FILE: 03. Concerto in D Minor_ No. 3, Presto.flac
Size: 16844499 Hash: 465A803E90C9284B1402167C0A2B2B4A Accuracy: -m0
Conclusion: CDDA 76%
Signature: 55AABD042D9381E8C049D126F00158ABDA7473A2
FILE: 04. Concerto in D Major BWV 972_ No. 1, (Allegro).flac
Size: 12697732 Hash: B811B13A7F5CB4D18DE12246BE0B41BB Accuracy: -m0
Conclusion: CDDA 100%
Signature: 3FF28F0D673D10E4B2F34C62304937A097BF6EF5
FILE: 05. Concerto in D Major BWV 972_ No. 2, Larghetto.flac
Size: 13974328 Hash: C599E7E02000EFE92A9FB05F395D1E8F Accuracy: -m0
Conclusion: CDDA 100%
Signature: 288722F9232922C08FB97AD844F77510E19A1D69
FILE: 06. Concerto in D Major BWV 972_ No. 3, Allegro.flac
Size: 13315742 Hash: 5B2FC73FF7168128EA5AFADEB6C57B27 Accuracy: -m0
Conclusion: CDDA 100%
Signature: 085C7B3CACE70C220419B5710369E5CB996CE031
FILE: 07. Concerto in D Major_ No. 1, Allegro moderato.flac
Size: 20530027 Hash: 40F98FC38FEF676F01085A56A61D7145 Accuracy: -m0
Conclusion: CDDA 87%
Signature: A40AF28FF07D8C560106301D0EA7C15B9FE1DC48
FILE: 08. Concerto in D Major_ No. 2, Andante.flac
Size: 8740750 Hash: 180448FBFF47F12D258F4CDD8D5664A2 Accuracy: -m0
Conclusion: CDDA 100%
Signature: 96B0813036AB856C7F029C9FF6C9ADB037A1184E
FILE: 09. Concerto in D Major_ No. 3, Allegro grazioso.flac
Size: 18539038 Hash: A8ABF5422FFA042BC4DD7E53FA4164EC Accuracy: -m0
Conclusion: CDDA 85%
Signature: A68E84270351D27292EDCCE20A67133BE01067C2
FILE: 10. Concerto in C Major BWV 976_ No. 1, Allegro.flac
Size: 19280987 Hash: 10C43AA63381CF8CB68537D1BC7454D1 Accuracy: -m0
Conclusion: CDDA 100%
Signature: 82F8E73F5C8094A969A0FED0F8A47DE795613F33
FILE: 11. Concerto in C Major BWV 976_ No. 2, Largo.flac
Size: 16485858 Hash: 2AE2CCC2823B1EC7A6F59268DC5D907B Accuracy: -m0
Conclusion: CDDA 100%
Signature: F3E2DA6D005F6E638118CBFD1FDF43DF51BC4CD6
FILE: 12. Concerto in C Major BWV 976_ No. 3, Allegro.flac
Size: 15613822 Hash: 1208ECF369F364B93E13E20AF111FDE0 Accuracy: -m0
Conclusion: CDDA 99%
Signature: 918E73582B36B654DE6BE115E92D71AC8EF925B8
FILE: 13. Concerto in D Major_ No. 1, Allegro.flac
Size: 12246007 Hash: BDC77384A101572D579C73A12FE06630 Accuracy: -m0
Conclusion: CDDA 92%
Signature: E30722D348C71DB20F5567EE6297209C74F68A85
FILE: 14. Concerto in D Major_ No. 2, Adagio - Presto.flac
Size: 11282169 Hash: 5C8FC361119D3875FF83694306B6BB35 Accuracy: -m0
Conclusion: CDDA 100%
Signature: 5CDEE781474A2C7886EA22B67394241E529126C8
FILE: 15. Concerto in D Major_ No. 3, Allegro.flac
Size: 8603715 Hash: 7A1781051DA995E59F60679B2BEDAB83 Accuracy: -m0
Conclusion: CDDA 86%
Signature: 39F3F58F0F98D593DFF92AE07EC8934EACE41636