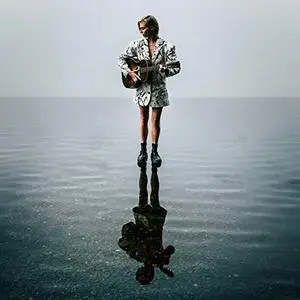 Anna Ternheim - A Space for Lost Time (2019)
WEB FLAC (Tracks) - 214 MB | Cover | MP3 CBR 320 kbps - 79 MB | 00:34:28
Indie Pop, Singer-Songwriter | Label: BMG Rights Management
Swedish artist Anna Ternheim will release new album 'A Space For Lost Time' on September 20th. The experienced songwriter has been through some changes of late, departing from her major label home to truly embrace her independence. New album 'A Space For Lost Time' was constructed between Stockholm, New York, and Echo Park in Los Angeles, yet it sounds resolutely, absolutely like Anna Ternheim. New single 'This Is The One' leads the way, and it finds Anna crossing paths with Bjorn Yttling from Peter Bjorn & John. Sonically it dips into early 70s singer-songwriter climes, a kind of Lauren Canyon hymn re-imagined for an icy Nordic temperament.
TRACKLIST
01. This Is the One
02. You Belong With Me
03. Everytime We Fall
04. When You Were Mine
05. Remember This
06. Lost Times
07. Stars
08. Walk Your Own Way
09. All Because of You
10. Oh Mary
–––––––––––-
DON'T MODIFY THIS FILE
–––––––––––-
PERFORMER: auCDtect Task Manager, ver. 1.6.0 RC1 build 1.6.0.1
Copyright © 2008-2010 y-soft. All rights reserved
http://y-soft.org
ANALYZER: auCDtect: CD records authenticity detector, version 0.8.2
Copyright © 2004 Oleg Berngardt. All rights reserved.
Copyright © 2004 Alexander Djourik. All rights reserved.
FILE: 10. Oh Mary.flac
Size: 14420664 Hash: B9801AF0424713CE8EDFD02779D1A85E Accuracy: -m0
Conclusion: CDDA 100%
Signature: C97AD610C128C076B71CE8D948649B696B57F603
FILE: 09. All Because of You.flac
Size: 24092049 Hash: 7179B99A8685A5730D09E98FB433BCFD Accuracy: -m0
Conclusion: CDDA 100%
Signature: 2B53026A9780F4F5C4095B24975E1B73F9E72B68
FILE: 08. Walk Your Own Way.flac
Size: 24523711 Hash: 4BFD12EF3E7306196893C7984B1AE355 Accuracy: -m0
Conclusion: CDDA 100%
Signature: CEBA7B1151DE2315823B2EF1C2A987790422E768
FILE: 07. Stars.flac
Size: 20598665 Hash: CE5ECA536F13A40698184BC6DD936044 Accuracy: -m0
Conclusion: CDDA 100%
Signature: 98A24CB99B280DFDFD66F7B8768EA4E1584C4A38
FILE: 06. Lost Times.flac
Size: 23821510 Hash: FF55B6582F6F3B807588B3D610A1DC01 Accuracy: -m0
Conclusion: CDDA 100%
Signature: 8D8C894254C51B87EC4ED6D5CB74FB6D2E295C92
FILE: 05. Remember This.flac
Size: 21811879 Hash: 45BFDF21DAC9798A873E0BB4CE7974F5 Accuracy: -m0
Conclusion: CDDA 100%
Signature: 995274C29D53B6CF8FB333484967B5B29FADE370
FILE: 04. When You Were Mine.flac
Size: 26009678 Hash: 35E0AB8F07E6703E81AC2868FF8D4090 Accuracy: -m0
Conclusion: CDDA 100%
Signature: 3E32CD0DA917E4E6D5F8D6C0F775418CCA1A695A
FILE: 03. Everytime We Fall.flac
Size: 27529828 Hash: 555FDFC95D7EC6A7A58FE2296EBF30F6 Accuracy: -m0
Conclusion: MPEG 95%
Signature: 97DCB90BAE9C889261954E71A583ED7F5DD0F48D
FILE: 02. You Belong With Me.flac
Size: 22504649 Hash: CFFFE3B7D96647F5CB09AFA78FA939DA Accuracy: -m0
Conclusion: CDDA 100%
Signature: 93A44271BF0E0F560AB7062E06DAF1857A414F2B
FILE: 01. This Is the One.flac
Size: 19396106 Hash: 34E14740B6EA3BDF076610C1845D3A48 Accuracy: -m0
Conclusion: CDDA 100%
Signature: 76B25CBE5A46F02B4DB9C6BB3CB133A3F4E300BF
All thanks go to the original releaser