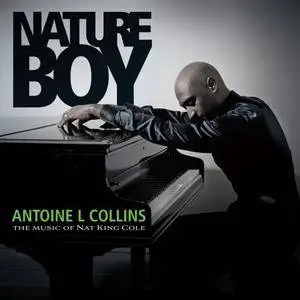 Antoine L Collins - Nature Boy: The Music of Nat King Cole (2018)
WEB FLAC (Tracks) - 318 MB | Cover | MP3 CBR 320 kbps - 126 MB | 00:54:27
Jazz, Vocal Jazz | Label: Antoine L Collins
More than a tribute album, this project, produced by Phillip Victor Bova, celebrates an outstanding musician who left an indelible mark on the world of Jazz. Nat King Cole's songs awaken powerful emotions of passion, pleasure or melancholy, and the songs on Antoine's record address universal, as well as deeply personal, struggles, hopes, loves regrets and fears. So, come out and experience Antoine's interpretation of these intimate insights on life.
TRACKLIST
01. Don't Get Around Much Anymore
02. (Get Your Kicks On) Route 66
03. (I Love You For) Sentimental Reasons
04. Straighten up and Fly Right
05. Nature Boy
06. Fly Me to the Moon
07. When I Fall in Love
08. Walkin' My Baby Back Home
09. Funny (Not Much)
10. My Funny Valentine (feat. Rebecca Noelle)
11. Unforgettable
12. Autumn Leaves
13. Nature Boy (Extended Mix)
14. Les feuilles mortes
–––––––––––-

DON'T MODIFY THIS FILE

–––––––––––-

PERFORMER: auCDtect Task Manager, ver. 1.6.0 RC1 build 1.6.0.1
Copyright © 2008-2010 y-soft. All rights reserved

ANALYZER: auCDtect: CD records authenticity detector, version 0.8.2
Copyright © 2004 Oleg Berngardt. All rights reserved.
Copyright © 2004 Alexander Djourik. All rights reserved.


FILE: 14. Les feuilles mortes.flac
Size: 31221415 Hash: 274A3799E8C5169011B86DFC35D90F99 Accuracy: -m0
Conclusion: CDDA 100%
Signature: 55E3AEDF007882CA65CDC60768B81540DBC5ADB3
FILE: 13. Nature Boy (Extended Mix).flac
Size: 32457518 Hash: 0716D6F0BD796FFA84C10157FCB75B85 Accuracy: -m0
Conclusion: CDDA 100%
Signature: F2456C300AA00CC3C113A1213A4D0C49B20B478D
FILE: 12. Autumn Leaves.flac
Size: 31014028 Hash: 3AA8F0536BC6332D4F4ADD0A326474C7 Accuracy: -m0
Conclusion: CDDA 100%
Signature: 9C69403E515D984F522517CC704463CAD94F7AFD
FILE: 11. Unforgettable.flac
Size: 19496656 Hash: 11213871924A870038A23645DB9BBEDB Accuracy: -m0
Conclusion: CDDA 99%
Signature: 999F3AC6300D2E4021928BC9A4F3E58C002FA06F
FILE: 10. My Funny Valentine (feat. Rebecca Noelle).flac
Size: 31336437 Hash: AE69F20D2848278E53A8B7F6CE124C45 Accuracy: -m0
Conclusion: CDDA 99%
Signature: 00B73573AA8950DAA4DAC312E72A58C2D63F453E
FILE: 09. Funny (Not Much).flac
Size: 18481257 Hash: 4A9D29246201ECC640C2D91E36CD28FD Accuracy: -m0
Conclusion: CDDA 100%
Signature: 60F277F08F25B3CF78CE24A2F937645CF8FE7893
FILE: 08. Walkin' My Baby Back Home.flac
Size: 15014370 Hash: 3380CB7CBA0766DD12A82CBF9C4411D3 Accuracy: -m0
Conclusion: CDDA 100%
Signature: EE7B42BE2D7904DBA60EC29D9B41103029AF9536
FILE: 07. When I Fall in Love.flac
Size: 22964886 Hash: 5F90D7A4394236DAD36138AE4CDAEBF4 Accuracy: -m0
Conclusion: CDDA 100%
Signature: F2760820CE6AAFAF113FB3D704A48C23C2B84E34
FILE: 06. Fly Me to the Moon.flac
Size: 32320877 Hash: 04E69483314A6379E297787A4943C92F Accuracy: -m0
Conclusion: CDDA 100%
Signature: 2064EAD3A3052E3BE7D03813D0E9FAF01A48C8E3
FILE: 05. Nature Boy.flac
Size: 25870408 Hash: C8C9B6BC48BB79850B285D235AEAC782 Accuracy: -m0
Conclusion: CDDA 100%
Signature: E148923030B84DBF327F82B3D4414B7B80C22B3B
FILE: 04. Straighten up and Fly Right.flac
Size: 12067432 Hash: 196592A3946C7B7BE712E77620399635 Accuracy: -m0
Conclusion: CDDA 99%
Signature: 31A2724819F1720DA353BB9EAFD887454E72778A
FILE: 03. (I Love You For) Sentimental Reasons.flac
Size: 22446702 Hash: DEAF6122AD9E15783814E770FE203D9D Accuracy: -m0
Conclusion: CDDA 100%
Signature: 03B1648E734A850B6F7714C37CB5C5F8596894E1
FILE: 02. (Get Your Kicks On) Route 66.flac
Size: 20822331 Hash: 5252790C1ADE497EB813077A6FCE25AC Accuracy: -m0
Conclusion: CDDA 100%
Signature: 2192E8FF1AC971570DD03C3ECA4208A25A1E538B
FILE: 01. Don't Get Around Much Anymore.flac
Size: 18095616 Hash: C6FD2C30B7BFADD66B6DDAC18FBF4CBE Accuracy: -m0
Conclusion: CDDA 100%
Signature: 40636B90B1A2CD361B2EAAC61E5E56CBC42AF04D
All thanks go to the original releaser