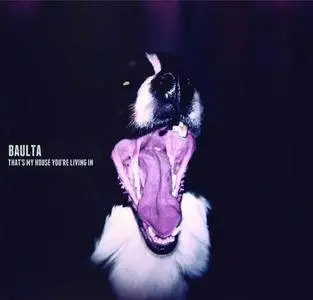 Baulta - That's My House You're Living In (2012)
WEB FLAC (tracks) - 362 MB | MP3 CBR 320 kbps (LAME 3.93) - 128 MB | Front cover
Genre: Post-Rock | RAR 3% Rec. | Label: Self-released
Five awesome dudes from Finland playing ever evolving instrumental music. Baulta was formed in the 2008-2009 in Jyväskylä Finland, by Matti, Tom, Jami and Iiro. The idea was not try create the wheel again, but to play music they liked to listen and play. Music that didn't hail the power from vocals, but from layers and textures. You could categorize them as post-rock, post-metal, alternative, but in the end it's the music that speaks for itself. As the first album was being made, the idea of releasing the music free was grew amongst the band. The reason for that was, that if nobody would've even listened to the music they would have made the music anyways. The music was and still is a way for the members to survive in this crazy world.
Tracklist:
01. In The Woods Tonight, Tiger
02. The First Cigarette Of The Day
03. No Cow Is Sacred Enough (All Game Is Fair)
04. Travel Safe In Space, My Friend
05. Miami Twice
06. Syncope
07. Golden Veins, Happy Years But Now I'm Dead
08. Do We Live Today?
09. Take Us To The Fantasy, Derrick
Total time:
52:44

PERFORMER: auCDtect Task Manager, ver. 1.6.0 RC1 build 1.6.0.1
Copyright © 2008-2010 y-soft. All rights reserved

ANALYZER: auCDtect: CD records authenticity detector, version 0.8.2
Copyright © 2004 Oleg Berngardt. All rights reserved.
Copyright © 2004 Alexander Djourik. All rights reserved.


FILE: 09 - Take Us To The Fantasy, Derrick.flac
Size: 46829674 Hash: 05C63D1D8A367CD2707382A06D4F8154 Accuracy: -m0
Conclusion: CDDA 100%
Signature: 1BD149AD0A8025ED0DA73BEA33217575B52C8B63
FILE: 08 - Do We Live Today !.flac
Size: 39360462 Hash: 683A76D6C027AE7BAEC1A6FB435964D4 Accuracy: -m0
Conclusion: CDDA 100%
Signature: D4F7626ACD698A6DEC333AE8A1A68BD6E0EEDE72
FILE: 07 - Golden Veins, Happy Years But Now I'm Dead.flac
Size: 50579129 Hash: B6FB0BAC7BBBD57902222608C105769D Accuracy: -m0
Conclusion: CDDA 100%
Signature: 2EA84A69067AB437CDF603CDC1D437929F8AA36C
FILE: 06 - Syncope.flac
Size: 40950552 Hash: FFEAECD09816417667357050F60F995B Accuracy: -m0
Conclusion: CDDA 100%
Signature: D666D4E7BCAE182D56DA0337B847C0DF5BEB819B
FILE: 05 - Miami Twice.flac
Size: 34876537 Hash: 04CBE3EE69C730E173491ADD171CCB8F Accuracy: -m0
Conclusion: CDDA 100%
Signature: 9D3227956AE5DBA3F0CF847C9ECFE0E5C8AC4C07
FILE: 04 - Travel Safe In Space, My Friend.flac
Size: 36018665 Hash: 26D6A606799DA18F72C1FE2961CE73A9 Accuracy: -m0
Conclusion: CDDA 100%
Signature: B57A771D4CFD0F99417B3F60C347F59391E89E86
FILE: 03 - No Cow Is Sacred Enough (All Game Is Fair).flac
Size: 40707854 Hash: F1849F4C0148103B134415D51104E51B Accuracy: -m0
Conclusion: CDDA 100%
Signature: F71DE4CB4D82AB7825D20C3F23A22C4CB8A3CDB0
FILE: 02 - The First Cigarette Of The Day.flac
Size: 41107900 Hash: B743F5A5E49E4B01B2C7D2A3CB8A2E5F Accuracy: -m0
Conclusion: CDDA 99%
Signature: D6130DC7D261D13DB9AF1B438826480D76816928
FILE: 01 - In The Woods Tonight, Tiger.flac
Size: 35123546 Hash: 63EB5BEF57C9EF7DC529871DE550E044 Accuracy: -m0
Conclusion: CDDA 100%
Signature: 053C32D37DB98F234115DA165C15B32170BD89DA
See also:
Baulta - Any Fool Can Regret Yesterday (2014)