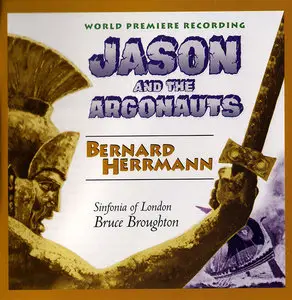 Bernard Herrmann - Jason and the Argonauts: Original Motion Picture Score (1963)
Re-Recording Edition 1999, Sinfonia Of London, conducted by Bruce Broughton
EAC | FLAC (Image) + cue.+log ~ 305 Mb | Mp3, CBR320 kbps ~ 152 Mb | Scans included
Orchestral Score | Label: Intrada Records | # MAF 7083 | Time: 01:01:35
Exciting, colorful and gigantic score for the fantasy film with special effects by Ray Harryhausen. Lengthy, spectacular re-recording features all of the music for Herrmann's various outlandish orchestral requirements, such as the huge brass section (including four tubas!) for the giant bronze statue Talos and multiple harps plus expanded woodwinds for the flying Harpies. Prepared from Herrmann's own original manuscripts and magnificently recorded in stunning detail. Bruce Broughton conducts the Sinfonia Of London.
Jason and the Argonauts (1963) marked the fourth, and arguably the best, of the collaborations between fantasy films producer Charles Schneer and Bernard Herrmann who composed to the wondrous special effects of Ray Harryhausen. [The others were: The Seventh Voyage of Sinbad (1958); The Three Worlds of Gulliver (1960); and Mysterious Island (1961).] This is the world premiere recording of the whole score.

Herrmann, as usual, creates striking, evocative sonic images and brilliant colours by using extraordinary combinations of instruments. For Jason and the Argonauts he chooses to ignore strings altogether. On the other hand, he expands the winds and percussion to a massively huge ensemble. In most cases he triples or quadruples the instrumental requirements over the standard symphony orchestra. Standard pairs of woodwinds are increased to: 4 flutes and piccolos, 6 oboes, 6 cor anglais, 6 clarinets, including bass and contrabass clarinets, and 6 bassoons including contra-bassoons. The mammoth brass section has 8 French horns, 6 trumpets, 6 trombones and 4 tubas!

The immense battery of percussion has 26+ instruments plus 2 complete groups of 5 timpani each. The cymbals alone feature: 4 suspended cymbals, 2 separate pairs of large crash cymbals plus 1 large tam-tam and 1 medium tam-tam! For these instruments, Herrmann wrote music that explored the extreme compasses of the range of many of them, giving an impressive top-to-bottom, and wide dynamic range. He also organised the music so that it filled a wide and deep sonic stage. (Even though the soundtrack was mixed down to mono.)

I have asked the question before, but I will pose it again; however did Herrmann imagine these effects and calculate the forces to interpret them?

The score begins very powerfully with the exuberant and muscular 'Jason Prelude' that introduces the heroic Argonauts theme complete with crashing cymbals and strident brass. In the following cue, 'The Prophesy/The Battle', Herrmann creates an atmosphere of foreboding with a creepy choir of six bassoons with occasional striking harp arpeggio figures. (Throughout Herrmann's writing for the harp is extremely creative and evocative). The battle is marked by very striking, rapid-fire rhythms alternating between horns and bassoons. Herrman creates some exotic dance music in 'The Feast' and later in 'Temple dance' the latter very much in the style of the sensuous Egyptian dancing. The quiet, intense music associated with 'The Oak Grove and Hermes ascension is also impressive with flute and harp prominent.

It is, of course, the music associated with the monsters that Jason encounters which lingers in the memory. The first of these is the metal giant Talos. His might is represented by a pounding four-note figure in minor thirds, hammered out by all the tubas and both sets of timpani. This pounding intensifies to a monstrous (controlled) cacophony as Talos lifts the Argonauts boat and shakes it. For the harpies, the winged monsters, Herrmann creates appropriately screeching music played by the piccolos with brass and harps jabbing away in support. For the huge figure of Triton, who rises from the sea to push apart the "clashing rocks", Herrmann uses the whole range of his symphonic winds from low tuba to high picolo, to convey Triton's might, the surging waters and the creaking rocks. The scoring for the multi-headed Hydra, is particularly dense and jagged with the music rising and falling as the combatants strike at each other. Finally, there is the famous attack of the skeletons. Here Herrmann uses woodblocks and castanets to great menacing effect.

The Sinfonia of London are in top form and Bruce Broughton delivers a reading that would surely have had Herrmann applauding enthusiastically.



Review by Ian Lace, MusicWeb-international.com
One of my favorite fantasy films as a child was definitely Jason and the Argonauts. It got me interested in Greek mythology, and while that phase eventually passed, I still have a lasting affinity for the film. With Ray Harryhausen's classic stop-motion animation, and exciting story, the film also featured orchestral underscore by Hitchcock regular Bernard Herrmann. Herrmann had previously worked on The Seventh Voyage of Sinbad and Mysterious Island for producer Charles Schneer, and in writing this score, decided to get rid of all of the strings, and beef up the other instruments. The result was a powerful and dramatic score that still holds up today as an excellent example of film music.

Unfortunately, the score to Jason and the Argonauts was edited a bit in the final film, and with a mono mix combined with dialogue and sound effects, much of Herrmann's complex orchestration and arrangement fell through the cracks. However, Intrada took it upon them, with the help of Bruce Broughton conducting the Sinfonia of London, to re-record this score as Herrmann intended. The ensuing album is a must-have item in any serious Herrmann enthusiast's collection.

The thunderous fanfare in "Jason Prelude", with roaring brass and timpani, contains three main themes that will be reoccurring throughout the score. It's fantastic, and leads into the diametrically opposite "The Prophecy / The Battle" which begins out as quiet and brooding as they come. Reminiscent of Citizen Kane, the cue slowly builds into a battle sequence filled with percussion and an alternating "tug of war" between horns and bassoons. "The Feast" contains a more "period" type of dance cue, and "The Oak Grove / Ascension" features a harp solo which slowly grows into a heroic brass fanfare.

In "Departure" we hear the main theme once more, followed by a very calm - but slightly ominous "Hera's Effigy". "Argo" starts out with the optimistic heroic fanfare, but then slows down into a dark foreboding motif. The action in "Talos / The Boat / The Wreck" serves as a great example of why Harryhausen was the master of his craft. The pounding timpani and brass in this scene are exciting and tense. With the exception of "Hera Speaks", the Talos attack (including the next track, "The Attack / Talos' Heel / Talos' Death") runs nearly eight minutes long, and allows Herrmann an opportunity to really let the brass give their all.

"The Nets / The Rope / The Cage" is another tense action cue, while "Medea's Ship" is in party rhythmically similar to the main title Herrmann wrote to North by Northwest. In "Medea", we finally get a romantic theme out of the action and drama. Warm woodwinds and a French horn play out this soft and romantic cue. After a few more fight sequences ("Acastus and Jason Fight", "The Hydra / The Hydra Fight") we reach the pinnacle moment in the film. The teeth of the Hydra become skeletons, and in a signature Harryhousen moment, Jason and his crew battle a stop-motion skeleton attack. "Hydra's Teeth / Skeletons / Attack" begins with low brooding rendition of the "Dies Irae", and as the skeletons emerge, woodblocks and castanets are used effectively to "rattle" the bones. This climactic battle takes form in "Scherzo Macabre", which is one of the more challenging and exciting cues. During the next three minutes the orchestra (literally) goes wild! With instruments seemingly bouncing back and forth with complex maneuvers, the music stopping and then starting again, and all the while building in power and intensity.

This is, quite simply, an excellent album. Broughton and the Sinfonia have done an excellent job in interpreting Herrmann's score, and the sound quality is spot on perfect. With a running time of a tad over an hour, this is a hearty album that never gets boring. In fact, it is noted in the (mildly extensive) liner notes that very short or repetitive cues weren't recorded for the album, which is something I wish would happen more often when re-recording film scores! Available exclusively from their website, I strongly urge you to pick this album up. It will be worth it.



Review by Dan Goldwasser, Soundtrack.net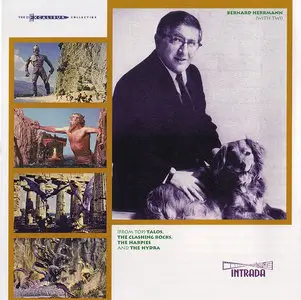 Tracklist:
01. Jason Prelude (01:54)
02. The Prophecy / The Battle (03:31)
03. River Bank (01:42)
04. The Feast (00:59)
05. The Oak Grove / The Ascension (01:50)
06. Mount Olympus (00:30)
07. The Olympic Games (01:14)
08. Departure (02:11)
09. Hera's Effigy (01:43)
10. Argo (01:33)
11. The Titans / The Chamber / The Door (02:51)
12. Talos/The Boat / The Wreck (04:30)
13. Hera Speaks (00:57)
14. The Attack / Talos Heel / Talos Death (03:21)
15. Sorrow / Hera's Warning (01:40)
16. The Harpies (01:46)
17. The Nets / The Rope / The Cage (02:32)
18. Medea's Ship (01:31)
19. Triton (02:25)
20. Medea (01:59)
21. Acastus and Jason Fight (01:17)
22. Temple Dance (02:24)
23. The Glade / The Golden Fleece (01:06)
24. The Hydra / The Hydra Fight (04:15)
25. The Stolen Fleece / The Teeth (02:18)
26. The Path / The Cure (02:06)
27. Hydra's Teeth / Skeletons / Attack (02:04)
28. Scherzo Macabre (03:32)
29. Finale (01:27)
EAC extraction logfile from 6. March 2006, 17:42 for CD
Bernard Herrmann / Jason and the Argonauts

Used drive : HL-DT-STCD-RW GCE-8526B Adapter: 1 ID: 1
Read mode : Secure with NO C2, accurate stream, disable cache
Read offset correction : 6
Overread into Lead-In and Lead-Out : No

Used output format : C:\Programmi\Eac\BIN\flac.exe (User Defined Encoder)
320 kBit/s
Additional command line options : –best -V -T "date=%y" -T "genre=%m" %s

Other options :
Fill up missing offset samples with silence : Yes
Delete leading and trailing silent blocks : No
Installed external ASPI interface


Range status and errors
Selected range
Filename C:\EAC\Bernard Herrmann - Jason and the Argonauts (Soundtrack) [FLAC CUE SCAN)\Bernard Herrmann - Jason and the Argonauts.Flac.wav

Peak level 100.0 %
Range quality 100.0 %
CRC BDD8E9A4
Copy OK

No errors occured

End of status report
[CUETools log; Date: 30.01.2018 16:34:35; Version: 2.1.4]
[CTDB TOCID: yfF4V3GvY.c8r3hiAh3Guo52S1c-] found.
Track | CTDB Status
1 | (23/23) Accurately ripped
2 | (23/23) Accurately ripped
3 | (23/23) Accurately ripped
4 | (23/23) Accurately ripped
5 | (23/23) Accurately ripped
6 | (23/23) Accurately ripped
7 | (23/23) Accurately ripped
8 | (23/23) Accurately ripped
9 | (23/23) Accurately ripped
10 | (23/23) Accurately ripped
11 | (23/23) Accurately ripped
12 | (23/23) Accurately ripped
13 | (23/23) Accurately ripped
14 | (23/23) Accurately ripped
15 | (23/23) Accurately ripped
16 | (23/23) Accurately ripped
17 | (23/23) Accurately ripped
18 | (23/23) Accurately ripped
19 | (23/23) Accurately ripped
20 | (23/23) Accurately ripped
21 | (23/23) Accurately ripped
22 | (23/23) Accurately ripped
23 | (23/23) Accurately ripped
24 | (23/23) Accurately ripped
25 | (23/23) Accurately ripped
26 | (15/23) Accurately ripped, or (8/23) differs in 35 samples @01:11:59-01:11:60
27 | (23/23) Accurately ripped
28 | (23/23) Accurately ripped
29 | (23/23) Accurately ripped
[AccurateRip ID: 003ce8cc-04f8a838-9a0e7d1d] found.
Track [ CRC | V2 ] Status
01 [bff85a33|2d000990] (03+05/25) Accurately ripped
02 [7788b483|5247850c] (03+05/25) Accurately ripped
03 [d27995d6|7a48d3a0] (03+05/25) Accurately ripped
04 [a09a49aa|4d5039ee] (03+05/25) Accurately ripped
05 [b3476a13|baafd1d9] (03+05/25) Accurately ripped
06 [072551f6|c6c64dad] (03+05/25) Accurately ripped
07 [02359b24|09907185] (03+05/25) Accurately ripped
08 [3bab1449|87165e6f] (03+05/25) Accurately ripped
09 [1072ab25|d131fbf3] (03+05/25) Accurately ripped
10 [366d54cf|eb98e044] (03+05/25) Accurately ripped
11 [639ea4af|82deb346] (03+05/25) Accurately ripped
12 [dddebc7d|27120be7] (03+05/25) Accurately ripped
13 [40ac0b6a|fbb2cbdf] (03+05/25) Accurately ripped
14 [76a64775|abd81dfc] (03+05/25) Accurately ripped
15 [e9139e55|1aacd644] (03+05/25) Accurately ripped
16 [67c20b43|cb49cc71] (03+05/25) Accurately ripped
17 [78074a91|0fd09a03] (03+05/25) Accurately ripped
18 [60f8c37d|ffb1545c] (03+05/25) Accurately ripped
19 [825f8fff|7dcbc204] (03+05/25) Accurately ripped
20 [4771cbdb|5dbfabb5] (03+05/25) Accurately ripped
21 [9986de7b|c1f0cde5] (03+05/25) Accurately ripped
22 [e85a6875|64c5f231] (03+05/25) Accurately ripped
23 [a3b0f762|30ae862d] (03+05/25) Accurately ripped
24 [ef5a7805|2c71ea25] (03+05/25) Accurately ripped
25 [b78c9721|e48c8b95] (03+05/25) Accurately ripped
26 [d6bafa3d|71e4aee1] (03+05/25) Accurately ripped
27 [2bb7e111|f7710ac7] (03+05/25) Accurately ripped
28 [18640c44|2a0ffb5a] (03+05/25) Accurately ripped
29 [566159ab|39cc472d] (03+05/25) Accurately ripped
Offsetted by -98:
01 [d0bd729f] (00/25) No match (V2 was not tested)
02 [8a34cdb7] (00/25) No match (V2 was not tested)
03 [39d7acfc] (00/25) No match (V2 was not tested)
04 [3c7fe180] (00/25) No match (V2 was not tested)
05 [ee9d7a4f] (00/25) No match (V2 was not tested)
06 [a0ce8022] (00/25) No match (V2 was not tested)
07 [6027031e] (00/25) No match (V2 was not tested)
08 [bad74a91] (00/25) No match (V2 was not tested)
09 [c00b701f] (00/25) No match (V2 was not tested)
10 [7b50630d] (00/25) No match (V2 was not tested)
11 [eaf37b51] (00/25) No match (V2 was not tested)
12 [8fb25673] (00/25) No match (V2 was not tested)
13 [80301094] (00/25) No match (V2 was not tested)
14 [e6811647] (00/25) No match (V2 was not tested)
15 [0bfe125f] (00/25) No match (V2 was not tested)
16 [3033ff11] (00/25) No match (V2 was not tested)
17 [52d95745] (00/25) No match (V2 was not tested)
18 [dbad14ab] (00/25) No match (V2 was not tested)
19 [014aac97] (00/25) No match (V2 was not tested)
20 [33a23893] (00/25) No match (V2 was not tested)
21 [44037383] (00/25) No match (V2 was not tested)
22 [a4fde649] (00/25) No match (V2 was not tested)
23 [f32ce64e] (00/25) No match (V2 was not tested)
24 [f68878a5] (00/25) No match (V2 was not tested)
25 [b5022b81] (00/25) No match (V2 was not tested)
26 [838683f3] (00/25) No match (V2 was not tested)
27 [fb94288d] (00/25) No match (V2 was not tested)
28 [ad334ffc] (00/25) No match (V2 was not tested)
29 [b0ef8a33] (00/25) No match (V2 was not tested)
Offsetted by -36:
01 [62dd7d4b] (00/25) No match (V2 was not tested)
02 [b7dcd2ab] (00/25) No match (V2 was not tested)
03 [f338e242] (00/25) No match (V2 was not tested)
04 [5c7bb076] (00/25) No match (V2 was not tested)
05 [413d3bcb] (00/25) No match (V2 was not tested)
06 [00e6148e] (00/25) No match (V2 was not tested)
07 [e60672f8] (00/25) No match (V2 was not tested)
08 [942e4259] (00/25) No match (V2 was not tested)
09 [27282cf9] (00/25) No match (V2 was not tested)
10 [d2583feb] (00/25) No match (V2 was not tested)
11 [0d7f1d53] (00/25) No match (V2 was not tested)
12 [ac415d89] (00/25) No match (V2 was not tested)
13 [8c3fce9e] (00/25) No match (V2 was not tested)
14 [c988f179] (00/25) No match (V2 was not tested)
15 [e63ab949] (00/25) No match (V2 was not tested)
16 [19e1747f] (00/25) No match (V2 was not tested)
17 [89b7b7b9] (00/25) No match (V2 was not tested)
18 [4f5a5979] (00/25) No match (V2 was not tested)
19 [91a641af] (00/25) No match (V2 was not tested)
20 [20d1f3cb] (00/25) No match (V2 was not tested)
21 [45de6e0b] (00/25) No match (V2 was not tested)
22 [71913ddd] (00/25) No match (V2 was not tested)
23 [bbaa3f7a] (00/25) No match (V2 was not tested)
24 [f1fda745] (00/25) No match (V2 was not tested)
25 [d0bd01e1] (00/25) No match (V2 was not tested)
26 [6492cec9] (00/25) No match (V2 was not tested)
27 [39619d49] (00/25) No match (V2 was not tested)
28 [5447b234] (00/25) No match (V2 was not tested)
29 [48a0083b] (00/25) No match (V2 was not tested)
Offsetted by 739:
01 [056e02b1] (02/25) Accurately ripped
02 [72911095] (02/25) Accurately ripped
03 [0077fc2d] (02/25) Accurately ripped
04 [ec474b79] (02/25) Accurately ripped
05 [4a0a2e59] (02/25) Accurately ripped
06 [b20cd3d4] (02/25) Accurately ripped
07 [6f6f691d] (02/25) Accurately ripped
08 [30ed5b9d] (02/25) Accurately ripped
09 [b00f659e] (02/25) Accurately ripped
10 [123a88c2] (02/25) Accurately ripped
11 [bd50866c] (02/25) Accurately ripped
12 [913d361c] (02/25) Accurately ripped
13 [2304961b] (02/25) Accurately ripped
14 [df6b256a] (02/25) Accurately ripped
15 [0e30dfb6] (02/25) Accurately ripped
16 [82d9b05e] (02/25) Accurately ripped
17 [37936d63] (02/25) Accurately ripped
18 [f5503588] (02/25) Accurately ripped
19 [9e1f095b] (02/25) Accurately ripped
20 [b5a69807] (02/25) Accurately ripped
21 [5d0fa9af] (02/25) Accurately ripped
22 [6ec30497] (02/25) Accurately ripped
23 [05c91a20] (02/25) Accurately ripped
24 [39366e15] (02/25) Accurately ripped
25 [2b5c7991] (02/25) Accurately ripped
26 [e1ac763c] (00/25) No match (V2 was not tested)
27 [bde9d077] (02/25) Accurately ripped
28 [7cc67df0] (02/25) Accurately ripped
29 [30be2f9f] (02/25) Accurately ripped

Track Peak [ CRC32 ] [W/O NULL]
– 100,0 [BDD8E9A4] [9F3EE00F]
01 100,0 [6AA0989D] [85BBB8AF]
02 100,0 [88666FCE] [70ECFC10]
03 69,5 [DD9DCDCF] [1B65A1C6]
04 50,8 [8FD50EEC] [29C0FA86]
05 100,0 [DAAC4252] [267C4AEF]
06 36,4 [C7E49DA5] [CF519B10]
07 100,0 [CA569A0A] [D797F1F9]
08 87,8 [16528D37] [47B3B70C]
09 20,7 [1177D39A] [3D91C1B6]
10 89,3 [5FF87475] [D8835E76]
11 80,4 [27DAC3B1] [7536B48A]
12 100,0 [B433430D] [7B1B2C11]
13 23,2 [386AF931] [A3796302]
14 100,0 [3636B43B] [BF2734C3]
15 24,3 [E1B675CE] [27D38178]
16 70,4 [6736248B] [C6FE6193]
17 94,4 [881C44A8] [3FB96DFA]
18 100,0 [425ED201] [97DE4703]
19 100,0 [2D865DCB] [E3AF464D]
20 31,9 [BDCE2812] [261A3A34]
21 100,0 [705F6784] [B6F70B78]
22 64,8 [2AF59C4B] [438120E1]
23 96,7 [A498F03B] [2AF835BF]
24 87,7 [667EB5C5] [32427E6D]
25 99,2 [29B90195] [1DE0EA3F]
26 100,0 [1BC7E183] [C05CF85D]
27 95,0 [8E72599C] [3DDDE5B6]
28 100,0 [2091D371] [EE537E68]
29 100,0 [841BE084] [7BDCF812]
foobar2000 1.2 / Dynamic Range Meter 1.1.1
log date: 2013-07-18 14:47:03

––––––––––––––––––––––––––––––––––––––––
Analyzed: Bernard Herrmann / Jason and the Argonauts
––––––––––––––––––––––––––––––––––––––––

DR Peak RMS Duration Track
––––––––––––––––––––––––––––––––––––––––
DR11 0.00 dB -13.38 dB 1:56 01-Jason Prelude
DR13 0.00 dB -18.55 dB 3:32 02-The Prophecy & The Battle
DR14 -3.15 dB -22.30 dB 1:43 03-River Bank
DR12 -5.87 dB -20.89 dB 1:01 04-The Feast
DR12 0.00 dB -16.69 dB 1:51 05-The Oak Grove & The Ascension
DR10 -8.76 dB -22.40 dB 0:31 06-Mount Olympus
DR12 0.00 dB -16.37 dB 1:16 07-The Olympic Games
DR11 -1.12 dB -18.63 dB 2:12 08-Departure
DR10 -13.64 dB -28.55 dB 1:44 09-Hera's Effigy
DR10 -0.98 dB -17.37 dB 1:34 10-Argo
DR14 -1.89 dB -22.08 dB 2:52 11-The Titans & The Chamber & The Door
DR11 0.00 dB -14.09 dB 4:31 12-Talos & The Boat & The Wreck
DR9 -12.68 dB -27.95 dB 0:58 13-Hera Speaks
DR11 0.00 dB -12.54 dB 3:23 14-The Attack & Talos Heel & Talos Death
DR11 -12.27 dB -28.17 dB 1:40 15-Sorrow & Hera's Warning
DR11 -3.04 dB -17.82 dB 1:48 16-The Harpies
DR12 -0.50 dB -15.99 dB 2:33 17-The Nets & The Rope &The Cage
DR12 0.00 dB -14.77 dB 1:32 18-Medea's Ship
DR12 0.00 dB -13.46 dB 2:28 19-Triton
DR10 -9.91 dB -25.14 dB 2:01 20-Medea
DR12 0.00 dB -16.27 dB 1:20 21-Acastus and Jason Fight
DR11 -3.76 dB -19.19 dB 2:26 22-Temple Dance
DR12 -0.29 dB -20.59 dB 1:06 23-The Glade & The Golden Fleece
DR11 -1.13 dB -16.20 dB 4:15 24-The Hydra & The Hydra Fight
DR12 -0.07 dB -17.10 dB 2:21 25-The Stolen Fleece & The Teeth
DR12 0.00 dB -17.74 dB 2:07 26-The Path & The Cure
DR13 -0.44 dB -17.01 dB 2:05 27-Hydra's Teeth & Skeletons & Attack
DR13 0.00 dB -16.14 dB 3:34 28-Scherzo Macabre
DR11 0.00 dB -16.72 dB 1:29 29-Finale
––––––––––––––––––––––––––––––––––––––––

Number of tracks: 29
Official DR value: DR12

Samplerate: 44100 Hz
Channels: 2
Bits per sample: 16
Bitrate: 665 kbps
Codec: FLAC
================================================================================