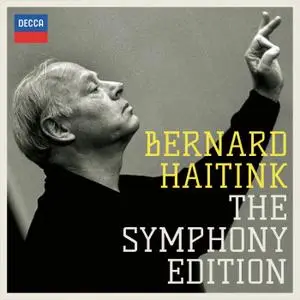 Bernard Haitink - The Symphony Edition [36CD Limited Edition Box Set] (2013)
MP3 CBR 320 kbps | Run Time: 41:41:54 | 5,55 Gb
Genre: Classical | Label: Decca
Haitink will be 85 on 4 March 2014, and this set presents his six complete symphonic cycles by cornerstone classical composers: Beethoven, Brahms, Bruckner, Mahler, Schumann and Tchaikovsky. Originally recorded for Philips, the CDs are now smartly re-packaged in a collectible cube. Every single symphonic cycle is played by the Royal Concertgebouw Orchestra, recently voted by Gramophone Magazine as The Greatest Orchestra in the World .
Dutch-born Bernard Haitink made his debut with the Concertgebouw Orchestra on 7 November 1956. From 1963 Haitink was Principal Conductor, a position he held for 25 years. An exclusive Philips artist for more than 30 years, Haitink remains fully active on the international concert scene. 2013/14 is the 60th season of his conducting career. During this season he celebrates his 85th birthday with a series of concerts in New York, with the LSO, Boston Symphony and New York Philharmonic Orchestras.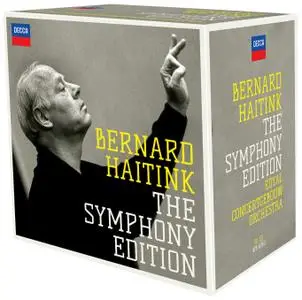 Contents CDs:
CDs 1 5: Beethoven Complete Symphonies + Egmont Overture
CDs 6 9: Brahms Complete Symphonies + Tragic & Academic Festival Overtures, Haydn Variations, Hungarian Dances Nos. 1, 3 & 10
CDs 10 18: Bruckner Complete Symphonies
CDs 19 28: Mahler Complete Symphonies
CDs 29 30: Schumann Complete Symphonies + Genoveva & Manfred Overtures
CDs 31 36: Tchaikovsky Complete Symphonies + Capriccio Italien, 1812 Overture, Slavonic March, Francesca da Rimini, The Storm , Romeo and Juliet fantasy-overture after Shakespeare
BEETHOVEN
CD1 Symphonies Nos. 1 & 3
CD2 Symphonies 2 & 4
CD3 Symphonies 5 & 6
CD4 Egmont Overture & Symphonies Nos. 7 & 8
CD5 Symphony No. 9 (Lucia Popp, Carolyn Watkinson, Peter Schreier, Robert Hall, Netherlands Radio Chorus)
BRAHMS
CD6 Symphony No. 1, Tragic Overture & Academic Festival Overture
CD7 Symphonies Nos. 2 & 3
CD8 Symphony No. 4, Variations on a theme by Haydn & Hungarian Dances Nos. 1, 3 & 10
CD9 Serenade in D, Op. 11 & Serenade in A, Op. 16
BRUCKNER
CD10 Symphony No. 0 in D minor & Symphony No. 1 (First 3 movements)
CD11 Symphony No. 1 (last movement) & Symphony No. 2
CD12 Symphony No. 3
CD13 Symphony No. 4
CD14 Symphony No. 5
CD15 Symphony No. 6
CD16 Symphony No. 7
CD17 Symphony No. 8
CD18 Symphony No. 9
MAHLER
CD19 Symphony No. 1 & First movement of Symphony No. 2
CD20 Symphony No. 2 (Movements II V) (Elly Ameling, Aafje Heynis, Nertherlands Radio Chorus0
CD21 Symphony No. 3 (Movements I V) (Maureen Forrester, Women s Chorus of the Netherlands Radio, Boys Chorus of the St Willibrord Church, Amsterdam)
CD22 Symphony No. 3 (Movement VI) (Maureen Forrester, Women s Chorus of the Netherlands Radio, Boys Chorus of the St Willibrord Church, Amsterdam) & Symphony No. 4
CD23 Symphony No. 5
CD24 Symphony No. 10 & Symphony No. 6 (Movements I III)
CD25 Symphony No. 6 (Movement IV) & Symphony No. 9 (Movements I II)
CD26 Symphony No. 9 (Movements III IV)
CD27 Symphony No. 7
CD28 Symphony No. 8 (Ileana Cotrubas, Heather Harper, Hanneke van Bork, Birgit Finnilä, Marianne Dieleman, William Cochran, Hermann Prey, Hans Sotin, Toonkunstkoor Amsterdam, De Stem des Volks Amsterdam, Collegium Musicum Amstelodamense, Children s Choirs of the Churches of St Willibrord and St Pius X Amsterdam)
SCHUMANN
CD29 Symphonies Nos. 1 & 2 & Genoveva Overture
CD30 Symphonies Nos. 3 & 4 & Manfred Overture
TCHAIKOVSKY
CD31 Symphonies Nos. 1 & 2
CD32 Symphony No. 3, Slavonic March Op. 31 & Francesca da Rimini Op. 32
CD33 Symphony No. 4, Capriccio Italien Op. 45 & Ouverture solennelle 1812
CD34 Symphony No. 5 & The Storm Op. 76
CD35 Symphony No. 6 & Romeo and Juliet fantasy-overture after Shakespeare
CD36 Manfred Op. 58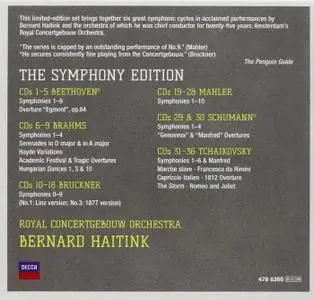 Bernard Haitink, Royal Concertgebouw Orchestra. The Symphoniy Edition


1. Symphony No.1 In С Major, Op.21: I. Adagio Molto - Allegro Con Brio

2. Symphony No.1 In С Major, Op.21: Il. Andante Cantabile Con Moto

3. Symphony No.1 In С Major, Op.21: III. Menuetto: Allegro Molto E Vivace

4. Symphony No.1 In С Major, Op.21: IV. Finale: Adagio - Allegro Molto E Vivace

5. Symphony No.3 In E Flat Major, Op.55 "Eroica": I. Allegro Con Brio

6. Symphony No.3 In E Flat Major, Op.55 "Eroica": II. Marcia Funebre: Adagio Assai

7. Symphony No.3 In E Flat Major, Op.55 "Eroica": III. Scherzo: Allegro Vivace

8. Symphony No.3 In E Flat Major, Op.55 "Eroica": IV. Finale: Allegro Molto

Bernard Haitink, Royal Concertgebouw Orchestra. The Symphoniy Edition


1. Symphony No.2 In D Major, Op.36: I. Adagio Molto - Allegro Con Brio

2. Symphony No.2 In D Major, Op.36: II. Larghetto

3. Symphony No.2 In D Major, Op.36: III. Scherzo: Allegro

4. Symphony No.2 In D Major, Op.36: IV. Allegro Molto

5. Symphony No.4 In В Flat Major, Op.60: I. Adagio - Allegro Vivace

6. Symphony No.4 In В Flat Major, Op.60: II. Allegretto Scherzando

7. Symphony No.4 In В Flat Major, Op.60: III. Allegro Vivace

8. Symphony No.4 In В Flat Major, Op.60: IV. Allegro Ma Non Troppo

Bernard Haitink, Royal Concertgebouw Orchestra. The Symphoniy Edition


1. Symphony No.5 In С Minor, Op.67: I. Allegro Con Brio

2. Symphony No.5 In С Minor, Op.67: II. Andante Con Moto

3. Symphony No.5 In С Minor, Op.67: III. Allegro -

4. Symphony No.5 In С Minor, Op.67: IV. Allegro

5. Symphony No.6 In F Major, Op.68 "Pastoral": I. Allegro Ma Non Troppo

6. Symphony No.6 In F Major, Op.68 "Pastoral": II. Andante Molto Moto Szene Am Bach

7. Symphony No.6 In F Major, Op.68 "Pastoral": III. Allegro

8. Symphony No.6 In F Major, Op.68 "Pastoral": IV. Allegro

9. Symphony No.6 In F Major, Op.68 "Pastoral": V. Allegretto

Bernard Haitink, Royal Concertgebouw Orchestra. The Symphoniy Edition


1. Overture "Egmont" Op.84 - Sostenuto, Ma Non Troppo - Allegro

2. Symphony No.7 In A Major, Op 92: I. Poco Sostenuto-Vivace

3. Symphony No.7 In A Major, Op 92: II. Allegretto

4. Symphony No.7 In A Major, Op 92: III. Presto - Assai Meno Presto

5. Symphony No.7 In A Major, Op 92: IV. Allegro Con Brio

6. Symphony No.8 In F Major, Op.93: I. Allegro Vivace E Con Brio

7. Symphony No.8 In F Major, Op.93: II. Allegretto Scherzando

8. Symphony No.8 In F Major, Op.93: III. Tempo Di Menuetto

9. Symphony No.8 In F Major, Op.93: IV. Allegro Vivace

Bernard Haitink, Royal Concertgebouw Orchestra. The Symphoniy Edition


1. Symphony No.9 In D Minor, Op.125: I. Allegro Ma Non Troppo, Un Poco Maestoso

2. Symphony No.9 In D Minor, Op.125: II. Molto Vivace

3. Symphony No.9 In D Minor, Op.125: III. Adagio Molto E Cantabile

4. Symphony No.9 In D Minor, Op.125: IV. Presto

5. "O Freunde, Nicht Diesetone" - Bass

6. Allegro Assai - Soloists, Chorus

7. Alia Marcia. Allegro Vivace Assai - Tenor, Chorus

8. Andante Maestoso - Adagio Non Troppo Ma Divoto - Chorus

9. Allegro Energico, Sempre Ben Marcato - Chorus

10. Allegro Ma Non Tanto - Soloists, Chorus

Bernard Haitink, Royal Concertgebouw Orchestra. The Symphoniy Edition


1. Symphony No.1 In С Minor, Op.68: I. Un Poco Sostenuto - Allegro - Meno Allegro

2. Symphony No.1 In С Minor, Op.68: II. Andante Sostenuto

3. Symphony No.1 In С Minor, Op.68: III. Un Poco Allegretto E Grazioso

4. Symphony No.1 In С Minor, Op.68: IV. Adagio - Piu Andante - Allegro No Troppo, Ma Con Brio

5. Tragic Overture, Op.81

6. Academic Festival Overture, Op.80

Bernard Haitink, Royal Concertgebouw Orchestra. The Symphoniy Edition


1. Symphony No.2 In D Major, Op 73: I. Allegro Non Troppo

2. Symphony No.2 In D Major, Op 73: II. Adagio Non Troppo - Listesso Tempo, Ma Grazioso

3. Symphony No.2 In D Major, Op 73: III. Allegretto Grazioso (Quasi Andantino) - Presto, Ma Non Assai -Tempo I

4. Symphony No.2 In D Major, Op 73: IV. Allegro Con Spirit

5. Symphony No.3 In F Major, Op.90: I. Allegro Con Brio

6. Symphony No.3 In F Major, Op.90: II. Andante

7. Symphony No.3 In F Major, Op.90: III. Poco Allegretto

8. Symphony No.3 In F Major, Op.90: IV. Allegro

Bernard Haitink, Royal Concertgebouw Orchestra. The Symphoniy Edition


1. Symphony No.4 In E Minor, Op.98: I. Allegro Non Troppo

2. Symphony No.4 In E Minor, Op.98: II. Andante Moderato

3. Symphony No.4 In E Minor, Op.98: III. Allegro Giocoso - Poco Meno Presto -Tempo I

4. Symphony No.4 In E Minor, Op.98: IV. Allegro Energico E Passionato - Piu Allegro

5. Variations On A Theme Of Joseph Haydn, Op.56a "Chorale St Antoni": Thema: Chorale St Antoni: Andante

6. Variations On A Theme Of Joseph Haydn, Op.56a "Chorale St Antoni": Variation I: Poco Piu Animato

7. Variations On A Theme Of Joseph Haydn, Op.56a "Chorale St Antoni": Variation II: Pici Vivace

8. Variations On A Theme Of Joseph Haydn, Op.56a "Chorale St Antoni": Variation III: Con Moto Variation

9. Variations On A Theme Of Joseph Haydn, Op.56a "Chorale St Antoni": Variation IV: Andante Con Moto Variation

10. Variations On A Theme Of Joseph Haydn, Op.56a "Chorale St Antoni": Variation V: Vivace Variation

11. Variations On A Theme Of Joseph Haydn, Op.56a "Chorale St Antoni": Variation VI: Vivace Variation

12. Variations On A Theme Of Joseph Haydn, Op.56a "Chorale St Antoni": Variation VII: Grazioso Variation

13. Variations On A Theme Of Joseph Haydn, Op.56a "Chorale St Antoni": Variation VIII: Presto Non Troppo Finale: Andante

14. Hungarian Dances: No.1 In G Minor

15. Hungarian Dances: No.3 In F Major

16. Hungarian Dances: No.10 In F Major

Bernard Haitink, Royal Concertgebouw Orchestra. The Symphoniy Edition


1. Serenade In D Major, Op 11: I. Allegro Molto

2. Serenade In D Major, Op 11: II. Scherzo: Allegro Non Troppo -Trio: Poco Piu Moto

3. Serenade In D Major, Op 11: III. Adagio Non Troppo

4. Serenade In D Major, Op 11: IV. Menuetto I - Menuetto II

5. Serenade In D Major, Op 11: V. Scherzo: Allegro -Trio

6. Serenade In D Major, Op 11: VI. Rondo: Allegro

7. Serenade In A Major, Op.16: Allegro Moderate

8. Serenade In A Major, Op.16: Scherzo: Vivace

9. Serenade In A Major, Op.16: Adagio Non Troppo

10. Serenade In A Major, Op.16: Quasi Menuetto -Trio

11. Serenade In A Major, Op.16: Rondo: Allegro

Bernard Haitink, Royal Concertgebouw Orchestra. The Symphoniy Edition


1. Symphony No.С In D Minor: I. Allegro

2. Symphony No.С In D Minor: II. Andante

3. Symphony No.С In D Minor: III. Scherzo: Presto

4. Symphony No.С In D Minor: IV. Finale: Moderato

5. Symphony No.1 In С Minor (Linz Version): I. Allegro

6. Symphony No.1 In С Minor (Linz Version): II. Adagio

7. Symphony No.1 In С Minor (Linz Version): III. Scherzo: Schnell-Trio: Langsamer

Bernard Haitink, Royal Concertgebouw Orchestra. The Symphoniy Edition


1. Symphony No. 1 In C Minor: IV Finale: Bewegt, Feurig

2. Symphony No.2 In С Minor: I. Ziemlich Schnell

3. Symphony No.2 In С Minor: II. Adagio. Feierlich, Etwas Bewegt

4. Symphony No.2 In С Minor: III. Scherzo: Schnell

5. Symphony No.2 In С Minor: IV. Finale: Mehr Schnell - Sehr Schnell

Bernard Haitink, Royal Concertgebouw Orchestra. The Symphoniy Edition


1. Symphony No.3 In D Minor (1877 Version): I. Gemabigt, Mehr Bewegt, Misterioso

2. Symphony No.3 In D Minor (1877 Version): II. Adagio, Bewegt, Quasi Andante

3. Symphony No.3 In D Minor (1877 Version): III. Scherzo: Ziemlich Schnell

4. Symphony No.3 In D Minor (1877 Version): IV. Finale: Allegro

Bernard Haitink, Royal Concertgebouw Orchestra. The Symphoniy Edition


1. Symphony No.4 In E Flat Major "Romantic": I. Bewegt, Nicht Zu Schnell

2. Symphony No.4 In E Flat Major "Romantic": II. Andante Quasi Allegretto

3. Symphony No.4 In E Flat Major "Romantic": III. Scherzo: Bewegt -Trio: Nicht Zu Schnell. Keinesfalls Schleppend - Scherzo

4. Symphony No.4 In E Flat Major "Romantic": IV. Finale: Bewegt, Doch Nicht Zu Schnell

Bernard Haitink, Royal Concertgebouw Orchestra. The Symphoniy Edition


1. Symphony No.5 In В Flat Major: I. Introduction: Adagio - Allegro. Mafiig

2. Symphony No.5 In В Flat Major: II. Adagio. Sehr Langsam

3. Symphony No.5 In В Flat Major: III. Scherzo: Molto Vivace (Schnell) - Trio: Im Gleichen Tempo

4. Symphony No.5 In В Flat Major: IV. Finale: Adagio - Allegro Moderato

Bernard Haitink, Royal Concertgebouw Orchestra. The Symphoniy Edition


1. Symphony No.6 In A Major: I. Maestoso

2. Symphony No.6 In A Major: II. Adagio. Sehr Feierlich

3. Symphony No.6 In A Major: III. Scherzo: Nicht Schnell -Trio: Langsam

4. Symphony No.6 In A Major: IV. Finale: Bewegt, Doch Nicht Zu Schnell

Bernard Haitink, Royal Concertgebouw Orchestra. The Symphoniy Edition


1. Symphony Imo.7 In E Major: I. Allegro Moderate

2. Symphony Imo.7 In E Major: II. Adagio: Sehr Feierlich Und Sehr Langsam

3. Symphony Imo.7 In E Major: III. Scherzo: Sehr Schnell

4. Symphony Imo.7 In E Major: IV. Finale: Bewegt, Doch Nicht Schnell

Bernard Haitink, Royal Concertgebouw Orchestra. The Symphoniy Edition


1. Symphony No.8 In С Minor: I. Allegro Moderate

2. Symphony No.8 In С Minor: II. Scherzo: Allegro Moderate

3. Symphony No.8 In С Minor: III. Adagio. Feierlich Langsam, Doch Nicht Schleppend

4. Symphony No.8 In С Minor: IV. Finale: Feierlich, Nicht Schnell

Bernard Haitink, Royal Concertgebouw Orchestra. The Symphoniy Edition


1. Symphony No.9 In D Minor: I. Feierlich. Misterioso

2. Symphony No.9 In D Minor: II. Scherzo: Bewegt, Lebhaft-Trio: Schnell - Scherzo

3. Symphony No.9 In D Minor: III. Adagio. Langsam, Feierlich

Bernard Haitink, Royal Concertgebouw Orchestra. The Symphoniy Edition


1. Symphony No.1 In D Major "Titan": I. Langsam. Schleppend

2. Symphony No.1 In D Major "Titan": II. Kraftig Bewegt, Doch Nicht Zu Schnell

3. Symphony No.1 In D Major "Titan": III. Feierlich Und Gemessen, Ohne Zu Schleppen - Sehr Einfach Und Schlicht Wie Eine Volksweise

4. Symphony No.1 In D Major "Titan": IV. Sturmisch Bewegt

5. Symphony No.2 In С Minor "Resurrection": I. Allegro Maestoso. Mit Durchaus Ernstem Und Feierlichem Ausdruck

Bernard Haitink, Royal Concertgebouw Orchestra. The Symphoniy Edition


1. Symphony No.2 In С Minor "Resurrection": II. Andante Moderato. Sehr Gemachlich

2. Symphony No.2 In С Minor "Resurrection": III.In Ruhig Fliefiender Bewegung

3. Symphony No.2 In С Minor "Resurrection": IV. Urlicht. Sehr Feierlich, Aber Schlicht Contralto (Text From Des Knaben Wunderhorn)

4. Symphony No.2 In С Minor "Resurrection": V. Imtempo Des Scherzos. Wild Herausfahrend

5. Symphony No.2 In С Minor "Resurrection": Maestoso

6. Symphony No.2 In С Minor "Resurrection": Sehr Langsam Und Gedehnt

7. Symphony No.2 In С Minor "Resurrection": Langsam. Misterioso: "Auferstehn, Ja Auferstehn Wirst Du, Mein Staub" (Text After Klopstock: "Die Auferstehung") Soprano

8. Symphony No.2 In С Minor "Resurrection": Etwas Bewegter: "0 Glaube, Mein Herz, О Glaube"Contralto, Soprano

Bernard Haitink, Royal Concertgebouw Orchestra. The Symphoniy Edition


1. Symphony No.3 In D Minor: Part One: I. Kraftig. Entschieden

2. Symphony No.3 In D Minor: Part Two: II. Tempo Di Minuetto. Sehr Mafbig

3. Symphony No.3 In D Minor: Part Two: III. Comodo. Scherzando. Ohne Hast 16

4. Symphony No.3 In D Minor: Part Two: IV. Sehr Langsam. Misterioso. Durchaus Ppp

5. "O Mensch! Gib Acht! Contralto (Text From Nietzsche Also Sprach Zarathustra)

6. Symphony No.3 In D Minor: Part Two: V. Lustig Im Tempo Und Keck Im Ausdruck "Bimm Bamm. Es Sungen Drei Engel" Contralto, Boys' & Women's Choruses (Text From Des Knaben Wunderhom)

Bernard Haitink, Royal Concertgebouw Orchestra. The Symphoniy Edition


1. Symphony No.3 In D Minor: Part Two:Vi. Langsam. Ruhevoll. Empfunden 21

2. Symphony No.4 In G Major: I. Bedachtig. Nicht Eilen - Recht Gemachlich

3. Symphony No.4 In G Major: Ii. In Gemachlicher Bewegung. Ohne Hast

4. Symphony No.4 In G Major: Iii. Ruhevoll. Poco Adagio

5. Symphony No.4 In G Major: Iv. Sehr Behaglich "Wir Genieuen Die Himmlischen Freuden" Soprano (Text From Des Knaben Wunderhorn)

Bernard Haitink, Royal Concertgebouw Orchestra. The Symphoniy Edition


1. Symphony No.5 In С Sharp Minor: Part One: I. Trauermarsch: In Gemessenem Schritt. Streng. Wie Ein Kondukt - J Plotzlich Schneller. Leidenschaftlich. Wild -Tempo I

2. Symphony No.5 In С Sharp Minor: Part One: II. Sturmisch Bewegt. Mit Grofiter Vehemenz - Bedeutend Langsamer -Tempo I Subito

3. Symphony No.5 In С Sharp Minor: Part Two: III. Scherzo: Kraftig, Nicht Zu Schnell

4. Symphony No.5 In С Sharp Minor: Part Three: IV. Adagietto. Sehr Langsam

5. Symphony No.5 In С Sharp Minor: Part Three: V. Rondo-Finale: Allegro - Allegro Giocoso. Frisch

Bernard Haitink, Royal Concertgebouw Orchestra. The Symphoniy Edition


1. Symphony No.10 In F Sharp Minor: Andante - Adagio

2. Symphony No.6 In A Minor: I. Allegro Energico, Ma Non Troppo. Heftig, Aber Markig

3. Symphony No.6 In A Minor: II. Scherzo: Wuchtig

4. Symphony No.6 In A Minor: III. Andante Moderato

Bernard Haitink, Royal Concertgebouw Orchestra. The Symphoniy Edition


1. Symphony No.6 In A Minor: IV. Finale: Allegro Moderato - Allegro Energico

2. Symphony No.9 In D Major: I. Andante Comodo - Mit Wut. Allegro Risoluto -Tempo I

3. Symphony No.9 In D Major: II. Im Tempo Eines Gemachlichen Landlers. Etwas Tappisch Und Sehr Derb - Poco Piu Mosso Subito - Landler, Ganz Langsam

Bernard Haitink, Royal Concertgebouw Orchestra. The Symphoniy Edition


1. Symphony No.9 In D Major: III. Rondo-Burleske: Allegro Assai. Sehr Trotzig - Presto

2. Symphony No.9 In D Major: IV. Adagio. Sehr Langsam Und Noch Zuruckhaltend

Bernard Haitink, Royal Concertgebouw Orchestra. The Symphoniy Edition


1. Symphony No.7 In E Minor: I. Langsam. Adagio - Allegro

2. Symphony No.7 In E Minor: II "Nachimusik": Allegro Moderate

3. Symphony No.7 In E Minor: III. Scherzo

4. Symphony No.7 In E Minor: IV. "Nachtmusik": Andante Amoroso

5. Symphony No.7 In E Minor: V. Rondo-Finale: Allegro Ordinario - Allegro Moderate Ma Energico

Bernard Haitink, Royal Concertgebouw Orchestra. The Symphoniy Edition


1. Symphony No.8 In E Flat Major "Symphony Of A Thousand": Part One: Allegro Impetuoso - "Veni, Creator Spiritus" Chor

2. Symphony No.8 In E Flat Major "Symphony Of A Thousand": Part One:A Tempo - "Imple Superna Gratia" Chor

3. Symphony No.8 In E Flat Major "Symphony Of A Thousand": Part One:Tempo I - "Infirma Nostri Corporis" Chor

4. Symphony No.8 In E Flat Major "Symphony Of A Thousand": Part One:Sehr Fliebend - Noch Einmal So Langsam Als Vorher. Nicht Schleppend -

5. Symphony No.8 In E Flat Major "Symphony Of A Thousand": Part One:"Infirma Nostri Corporis" Chor

6. Symphony No.8 In E Flat Major "Symphony Of A Thousand": Part One:Plotzlich Sehr Breit Und Leidenschaftlichen Ausdrucks - Mit Plotzlichem Aufschwung - "Accende Lumen Sensibus" Chor

7. Symphony No.8 In E Flat Major "Symphony Of A Thousand": Part One:"Qui Paraclitus Diceris" Chor

8. Symphony No.8 In E Flat Major "Symphony Of A Thousand": Part One:A Tempo - "Gloria Sit Patri Domino" Chor

9. Symphony No.8 In E Flat Major "Symphony Of A Thousand": Part Two: Final Scene: Poco Adagio

10. mphony No.8 In E Flat Major "Symphony Of A Thousand": Part Two: Piu Mosso. Allegro Moderato

11. mphony No.8 In E Flat Major "Symphony Of A Thousand": Part Two: Wieder Langsam "Waldung, Sie Schwankt Heran" Chor Und Echo

12. mphony No.8 In E Flat Major "Symphony Of A Thousand": Part Two: Moderato "Ewiger Wonnebrand" Pater Ecstaticus

13. mphony No.8 In E Flat Major "Symphony Of A Thousand": Part Two: Allegro "Wie Felsenabgrund Mir Zu Fufien" Pater Profundus

14. mphony No.8 In E Flat Major "Symphony Of A Thousand": Part Two: Allegro Deciso: "Gerettet Ist Das Edle Glied" Engel, Chor Seliger Knaben

15. mphony No.8 In E Flat Major "Symphony Of A Thousand": Part Two: Molto Leggiero: "Jene Rosen, Aus Den Handen" Die Jungeren Engel

16. mphony No.8 In E Flat Major "Symphony Of A Thousand": Part Two: Schon Etwas Langsamer Und Immer Noch Mafiiger - "Uns Bleibt Ein Erdenrest" Die Vollendeteren Engel

17. mphony No.8 In E Flat Major "Symphony Of A Thousand": Part Two: Im Anfang Noch Etwas Gehalten - "Ich Spur' Soeben - Hier Ist Die Aussicht Frei - Hochste Herrscherin Derwelt" - Die Jungeren Engel, Doctor Marianus, Chor Seliger Knaben, Chor

18. mphony No.8 In E Flat Major "Symphony Of A Thousand": Part Two: Auberst Langsam. Adagissimo - "Dir. Der Unberuhrbaren" Chor, Buherinnen Und Una Poenitentium

19. mphony No.8 In E Flat Major "Symphony Of A Thousand": Part Two: Fliebend - "Bei Der Liebe, Die Den Fuben - Neige, Neige, Du Ohnegleiche" Magna Peccatrix, Mulier Samaritana, Maria Aegyptiaca, Una Poenitentium (Gretchen)

20. mphony No.8 In E Flat Major "Symphony Of A Thousand": Part Two: Unmerklich Frischer - "Er Uberwachst Uns Schon" Chor Seliger Knaben, Una Poenitentium, Mater Gloriosa

21. mphony No.8 In E Flat Major "Symphony Of A Thousand": Part Two: Hymnenartig - "Blicket Auf Zum Retterblick" Doctor Marianus, Chor

22. mphony No.8 In E Flat Major "Symphony Of A Thousand": Part Two: Sehr Langsam Beginnend - "Alles Vergangliche" Chorus Mysticus

Bernard Haitink, Royal Concertgebouw Orchestra. The Symphoniy Edition


1. Symphony No.1 In В Flat Major, Op.38 "Spring": I. Andante Un Poco Maestoso - Allegro Molto Vivace

2. Symphony No.1 In В Flat Major, Op.38 "Spring": II. Larghetto

3. Symphony No.1 In В Flat Major, Op.38 "Spring": III. Scherzo: Molto Vivace

4. Symphony No.1 In В Flat Major, Op.38 "Spring": IV. Allegro Animato E Grazioso

5. Symphony No.2 In С Major, Op.61: I. Sostenuto Assai - Un Poco Piu Vivace - Allegro, Ma Non Troppo - Con Fuoco

6. Symphony No.2 In С Major, Op.61: II. Scherzo: Allegro Vivace

7. Symphony No.2 In С Major, Op.61: III. Adagio Espresslvo

8. Symphony No.2 In С Major, Op.61: IV. Allegro Molto Vivace

9. Overture "Genoveva", Op.81

Bernard Haitink, Royal Concertgebouw Orchestra. The Symphoniy Edition


1. Symphony No.3 In E Flat Major, Op 97 "Rhenish": I. Lebhaft

2. Symphony No.3 In E Flat Major, Op 97 "Rhenish": II. Scherzo. Sehr Mafbig

3. Symphony No.3 In E Flat Major, Op 97 "Rhenish": III. Nicht Schnell

4. Symphony No.3 In E Flat Major, Op 97 "Rhenish": IV. Feierlich

5. Symphony No.3 In E Flat Major, Op 97 "Rhenish": V. Lebhaft

6. Symphony No.4 In D Minor, Op.120: I. Ziemlich Langsam - Lebhaft

7. Symphony No.4 In D Minor, Op.120: II. Romanze: Ziemlich Langsam

8. Symphony No.4 In D Minor, Op.120: III. Scherzo: Lebhaft -Trio

9. Symphony No.4 In D Minor, Op.120: IV. Langsam - Lebhaft - Schneller - Presto

10. Overture "Manfred", Op.115

Bernard Haitink, Royal Concertgebouw Orchestra. The Symphoniy Edition


1. Symphony No.1 In G Minor, Op.13 "Winter Daydreams": I. Reveries Of A Winter Journey: Allegro Tranquillo

2. Symphony No.1 In G Minor, Op.13 "Winter Daydreams": II. Land Of Desolation, Land Of Mists: Adagio Cantabile Ma Non Tanto

3. Symphony No.1 In G Minor, Op.13 "Winter Daydreams": III. Scherzo: Allegro Scherzando

4. Symphony No.1 In G Minor, Op.13 "Winter Daydreams": IV. Finale: Andante Lugubre - Allegro Moderato

5. Symphony No.2 In С Minor, Op.17 "Little Russian": I. Andante Sostenuto - Allegro Vivo

6. Symphony No.2 In С Minor, Op.17 "Little Russian": II. Andantino Marziale, Quasi Moderato

7. Symphony No.2 In С Minor, Op.17 "Little Russian": III. Scherzo: Allegro Molto Vivace

8. Symphony No.2 In С Minor, Op.17 "Little Russian": IV. Moderato Assai - Allegro Vivo

Bernard Haitink, Royal Concertgebouw Orchestra. The Symphoniy Edition


1. Symphony No.3 In D Major, Op.29 "Polish": I. Moderato Assai (Tempo Di Marcia Funebre) - Allegro Brillante

2. Symphony No.3 In D Major, Op.29 "Polish": II. Alia Tedesca: Allegro Moderato E Semplice

3. Symphony No.3 In D Major, Op.29 "Polish": III. Andante Elegiaco

4. Symphony No.3 In D Major, Op.29 "Polish": IV. Scherzo: Allegro Vivo

5. Symphony No.3 In D Major, Op.29 "Polish": V. Finale: Allegro Con Fuoco (Tempo Di Polacca)

6. Marche Slave, Op.31

7. Francesca Da Rimini, Op.32

Bernard Haitink, Royal Concertgebouw Orchestra. The Symphoniy Edition


1. Symphony No.4 In F Minor, Op.36: I. Andante Sostenuto - Moderate Con Anima I Symphony No.4 In F Minor, Op.36: II. Andantino In Modo Di Canzona

2. Symphony No.4 In F Minor, Op.36: III. Scherzo (Pizzicato Ostinato): Allegro

3. Symphony No.4 In F Minor, Op.36: IV. Finale: Allegro Con Fuoco

4. Capriccio Italien, Op.45: Andante Un Poco Rubato - Pochissimo Piu Mosso - Allegro Moderate

5. 1812 Overture, Op.49

Bernard Haitink, Royal Concertgebouw Orchestra. The Symphoniy Edition


1. Symphony No.5 In E Minor, Op.64: I. Andante - Allegro Con Anima

2. Symphony No.5 In E Minor, Op.64: II. Andante Cantabile, Con Alcuna Licenza

3. Symphony No.5 In E Minor, Op.64: III. Valse: Allegro Moderato

4. Symphony No.5 In E Minor, Op.64: IV. Finale: Andante Maestoso - Allegro Vivace

5. The Storm, Op.76: Andante Misterioso - Allegro

Bernard Haitink, Royal Concertgebouw Orchestra. The Symphoniy Edition


1. Symphony No.6 In В Minor, Op.74 "Pathetique": I. Adagio - Allegro Non Troppo

2. Symphony No.6 In В Minor, Op.74 "Pathetique": II. Allegro Con Grazia

3. Symphony No.6 In В Minor, Op.74 "Pathetique": III. Allegro Molto Vivace

4. Symphony No.6 In В Minor, Op.74 "Pathetique": IV. Adagio Lamentoso

5. Romeo And Juliet - Fantasy Overture After Shakespeare

Bernard Haitink, Royal Concertgebouw Orchestra. The Symphoniy Edition


1. Manfred, Op.58: I. Lento Lugubre - Moderate Con Moto - Andante

2. Manfred, Op.58: II. Vivace Con Spirito

3. Manfred, Op.58: III. Andante Con Moto

4. Manfred, Op.58: IV. Allegro Con Fuoco