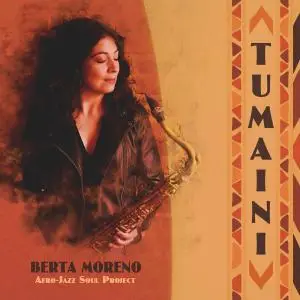 Berta Moreno - Tumaini (2021)
WEB FLAC (tracks) - 301 MB | Tracks: 10 | 46:39
Style: Jazz, Soul, World | Label: Tiger Turn
Tiger Turn is delighted to announce the release of Tumaini, a new album by Madrid-born, New York-based saxophonist and composer Berta Moreno. To be released on all digital platforms on April 30, 2021, Tumaini is an uplifting and joyous musical journey that takes listeners on a vibrant tour of Kenya. Informed by the bandleader's life changing experience volunteering in the Kawangware region several years ago, this heart-led new release seamlessly intertwines elements of soul, jazz and traditional African styles.
Joining Moreno is a multicultural outfit she calls the Afro-Jazz Soul Project made up of a versatile rhythm section featuring bassist Maksim Perepelica from Latvia and Raphaël Pannier from France. This rock-solid duo hits the many rhythmic guideposts of the pieces with ease and precision while the enigmatic Argentinian percussionist Franco Pinna provides an expansive sonority to the project. The pianist and keyboardist Manuel Valera from Cuba proves to be an inspired choice as he infuses the material with lush harmony and creative improvisations. Vocalist Alana Sinkëy from Guinea-Bissau shines as the emotive core of the group, delivering beautiful renditions of the lyrical material while displaying a rich variety of surprising timbres.
Tumaini, which is Moreno's sophomore album, takes inspiration from a life-changing experience Moreno had in Kenya several years back when she visited and worked with the children of the Kawangware neighborhood - one of the most economically challenged locales in the country - through the Little Ray of Hope School. The eight original compositions on Tumaini ("Hope" in Swahili"), are directly inspired by this resilient community and particularly the children, whose positive outlook and joyous attitude deeply moved Moreno. The resulting work is a powerful and profound narrative that takes listeners on a journey through Africa's Savannah landscapes and sunsets to the heart of Kawangware. Much of the music maintains an uplifting tone, deriving its momentum from the use of rhythmic ideas that can be found in the music of East Africa and juxtaposing it over contemporary jazz concepts of harmony and melody.
Tracklist:
01. Make Them Hear You
02. Down By The Riverside
03. New Jim Crow
04. How Can I
05. Moanin'
06. Don't Ask
07. Lonely
08. Return to Spain (Ode to Chick Corea)
09. If It Only Took Love
10. Let's Fall in Love
11. Please Take Care of You For Me
12. Pride


FILE: 01. Karibu.flac
Size: 38193133 Hash: CE66EA0A67A424731E46566EC22CFD2A Accuracy: -m0
Conclusion: CDDA 100%
Signature: 7B7EC096E42A8813DA259B18FAAFC2FB5846E64D
FILE: 02. Afrika.flac
Size: 27956123 Hash: 41313A3D47DBD693114A6353C3125F5D Accuracy: -m0
Conclusion: CDDA 100%
Signature: 6E5C00E773E0E83BEE10EAFA64B2CDD328B0A639
FILE: 03. The Beauty of the Slum.flac
Size: 32670224 Hash: B0C82224CF0FF49D109A4E14AE6CEFEA Accuracy: -m0
Conclusion: CDDA 100%
Signature: 9268C63047946463DF581F4696575DCABF7A9D19
FILE: 04. Dance.flac
Size: 32745013 Hash: DAAF6086512DB10F97C846F94FEA22F9 Accuracy: -m0
Conclusion: MPEG 73%
Signature: 06991070B78129AB53C7DC2F20B7E0560CD653F6
FILE: 05. Mandhari, I.flac
Size: 24139560 Hash: 3B1AB3BD9AE825E37F911742E81C5AA8 Accuracy: -m0
Conclusion: CDDA 100%
Signature: 2AF24585D2144BE597778A993BD09720A7A14811
FILE: 06. Mandhari, II.flac
Size: 28773868 Hash: 48A61D6D757369FDCE33D6A0190B07EB Accuracy: -m0
Conclusion: CDDA 100%
Signature: 27773203BD282C931B511FBF4A1DD5C558CFB6EB
FILE: 07. Hope (Intro).flac
Size: 9421522 Hash: 2EB68B7AF6ADFD1D58358FA4CFD72B93 Accuracy: -m0
Conclusion: CDDA 100%
Signature: 04D855E32BBD496BDB647D76DBD0D94BB3C8304D
FILE: 08. Hope.flac
Size: 42143840 Hash: 8998696B9DE9D84E53E6C73BB743E172 Accuracy: -m0
Conclusion: CDDA 100%
Signature: 5FA0D71896A0B9A34BE6B0C4D42989FF47E19A97
FILE: 09. Christine.flac
Size: 35682462 Hash: F63D7A95DFA9AB99A25E1E0BC7858714 Accuracy: -m0
Conclusion: CDDA 99%
Signature: 4E9B635E6BA54094FE0ACE77DD0067293AFFAE23
FILE: 10. Kutembea.flac
Size: 43175427 Hash: 9870F726E4F5CFCB46EA299E6F207623 Accuracy: -m0
Conclusion: CDDA 100%
Signature: 1140FA7B0DF6D53C40388A7D652D65230669564A