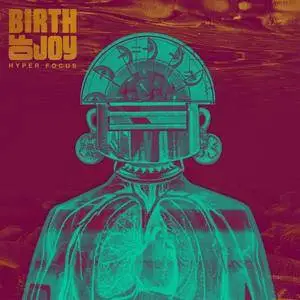 Birth Of Joy - Hyper Focus (2018)
MP3 CBR 320kbps | Tracks: 13 | 51:08 min | 117 Mb
Style: Psychedelic Rock, Stoner Rock, Garage Rock | Label: Glitterhouse Records
Glitterhouse are pleased to announce that psychedelic rockers BIRTH OF JOY will release their 5th album entitled 'Hyper Focus' with Glitterhouse Records on February 16th, 2018. The Dutch trio has toured Europe relentlessly and played 450 shows during the last 3 years only, including festivals like The Great Ecape (UK), Bobital (FR), Montreux Jazz (CH), Pinkpop (NL) or Orange Blossom Special (DE) just to name a few. BIRTH OF JOY was nominated for an Edison Award in 2014, played headline shows in Egypt, Turkey, South Africa and Russia and supported British rockstars MUSE in 2016. They are without any doubt a proven live sensation and one of the hardest working bands on this planet.
Sure, there are psychotic jams, but with peppering their sound with a modern twist of Stoner, Grunge and Punk, the threesome instead creates a lip-smacking sound of their very own, described by Vive Le Rock (UK) as ""triumphant"". ""An organ that howls so psychedelically we fear it may be harmful to those who make direct contact"" says Classic Rock Magazine (UK). Birth of Joy is influenced by 60/70s psychedelica and blues, but peppers their sound with a modern twist of Stoner, Grunge and Punk (including the attitude). On the new album HYPER FOCUS the band steps further away from the standard 60/70s rock&roll sound and again renew themselves by - maybe even more than ever before - incorporating Stoner and Punk but also Progrock and Jazz influences. On the other hand they returned to their roots by keeping the recording process as simple and 'live' as possible to catch their unmatched live-energy.
Tracklist:
01. Join the Game 6:28
02. Hyper Focus 3:34
03. You Are Many 4:22
04. i 1:21
05. Riff Raff 4:48
06. Forenoon 7:41
07. Witches Hammer 2:58
08. ii 1:46
09. Let it slide 4:05
10. Sypdorkat 4:28
11. Poor Duffy 4:34
12. iii 0:53
13. Sell Out 4:14