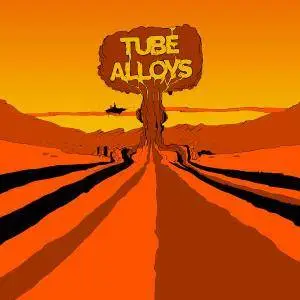 Bla Lotus - Tube Alloys (2018)
WEB FLAC (tracks) - 219 MB | MP3 CBR 320 kbps (LAME 3.93) - 91 MB | Front cover
Genre: Progressive/Psychedelic Rock | RAR 3% Rec. | Label: Self-released
Bla Lotus is a progressive rock trio from Sweden who's motto is, "No six-strings allowed." Formed during the fall of 2016, Blå Lotus was basically three guys with a vision of making heavy prog rock without the aid of a guitar. Heavily influenced by old school progressive acts of yore, they immediately set out to create a fulfilling soundscape equipped with just bass, drums and Hammond organ and a vast array of lengthy jam-based compositions interspersed with heavy stoner-like riffs. Tube Alloys is scheduled for an early 2018 release as a digital-only album featuring six powerful tacks and will be available worldwide via all popular digital retailers.
Tracklist:
01. Trajectory
02. Omnistellar Firefly
03. Mephistopeles
04. Moebius
05. Recreational Nuke
06. Indian Money
Total time:
38:02

PERFORMER: auCDtect Task Manager, ver. 1.6.0 RC1 build 1.6.0.1
Copyright © 2008-2010 y-soft. All rights reserved

ANALYZER: auCDtect: CD records authenticity detector, version 0.8.2
Copyright © 2004 Oleg Berngardt. All rights reserved.
Copyright © 2004 Alexander Djourik. All rights reserved.


FILE: Blå Lotus - Tube Alloys - 06 Indian Money.flac
Size: 50082036 Hash: C392DDC8BD6C1563FF9F617E9E64349B Accuracy: -m0
Conclusion: CDDA 85%
Signature: 1857BE28A975066165B153040976F48A8DB41944
FILE: Blå Lotus - Tube Alloys - 05 Recreational Nuke.flac
Size: 25968827 Hash: 8CABE2066E289C4C8B5684D7D8D077B0 Accuracy: -m0
Conclusion: CDDA 100%
Signature: 9F97BADF86DFC9D82792F245638CF49E4E7302E8
FILE: Blå Lotus - Tube Alloys - 04 Moebius.flac
Size: 44934324 Hash: 20602B9A61EE0D71917CD6D8829437D9 Accuracy: -m0
Conclusion: CDDA 100%
Signature: 61968FF245CE9E375B90BF4E4284489FA67E7F7F
FILE: Blå Lotus - Tube Alloys - 03 Mephistopeles.flac
Size: 48977403 Hash: 7E035C20C981D7BE8256BFDEA1DA6E68 Accuracy: -m0
Conclusion: CDDA 86%
Signature: 2EAA9849D1E673432ADBF4452B5A4E9F87D3488D
FILE: Blå Lotus - Tube Alloys - 02 Omnistellar Firefly.flac
Size: 34419984 Hash: 61F3AE67E23581506F9B98809F32AF82 Accuracy: -m0
Conclusion: CDDA 100%
Signature: 47FBB1D5A9DDD73B01C8830DB879C90BBC2252C6
FILE: Blå Lotus - Tube Alloys - 01 Trajectory.flac
Size: 18427274 Hash: AEA7E48AD341D440D2280BF72C5F399C Accuracy: -m0
Conclusion: CDDA 100%
Signature: B1E25AC208FAFE51431C95073087CE8AFFB0696D