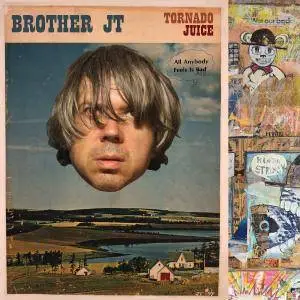 Brother JT - Tornado Juice (2018)
MP3 CBR 320kbps | Tracks: 13 | 45:09 min | 104 Mb
Style: Psychedelic Rock, Indie Rock | Label: Thrill Jockey
Singer/songwriter/guitarist Brother JT (aka John Terlesky) combines classic psychedelic pop elements with unique and often spiritual lyrics. While his solo efforts are usually low-key affairs, he often teams up with Vibrolux for a louder, more rock-oriented version of the Brother JT sound. Terlesky played in Philadelphia's garage rock group Original Sins from the mid-'80s to the mid-'90s, and Vibrolux includes members of other local, psychedelically inspired groups, such as Art Difuria of the Photon Band (who also worked with Kurt Heasley of the Lilys).
Brother JT's debut album, Music for the Other Head, appeared in 1996 and introduced his acid-tinged, eclectic sound; later that year, Rainy Day Fun was released by Drunken Fish Records, the one-time home of fellow sonic trippers Bardo Pond. Come on Down, also released by Drunken Fish, came out in 1997, as did the Brother JT/Vibrolux album Doomsday Rock, which Terlesky released on his own Bedlam label. 1998 saw the release of Holy Ghost Stories as well as an appearance at the space/psych rock festival Terrastock II, and the following year, the live album Dosed & Confused: Live '94-'97 and Way to Go arrived. JT continued to make bluesy, trippy music that defied easy classification into the 2000s: Badman released 2002's Maybe We Should Take Some More?, which was recorded in Philadelphia's Living Room studio, while Drag City issued that year's Spirituals. Terlesky collaborated with producer Dan McKinney for 2003's almost-straightforward Hang in There, Baby, while 2004's Off Blue moved in an even gentler, largely acoustic direction. JT returned in 2007 with Third Ear Candy, which had a title that fit its playful, funky, psychedelic vibe. Jelly Roll Gospel followed in 2008, followed by four more records for Ouroboros including Any Stort in a Porm (2010), Non Compos Mantis (2011), and Smash Crack-Up Pop and This Mud's for You (both 2012).
The Svelteness of Boogietude, which was released in May of 2013, appeared on Thrill Jockey. ~ Heather Phares
Tracklist:
01. T.M.I. 3:46
02. Ponin' 3:13
03. Back to the 90's 2:33
04. Zabriskie 2:35
05. Mississippi Somethin' 4:45
06. Manifest Boogie 4:31
07. Baked Alaska 2:53
08. Snakebit 3:12
09. Peaks and Valleys 3:30
10. Friendly Eyes 3:07
11. Shasta 3:22
12. Eureka 5:28
13. Oh Me Oh My 2:23