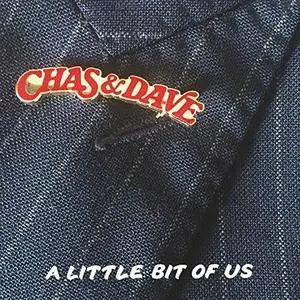 Chas & Dave - A Little Bit Of Us (2018)
WEB FLAC (Tracks) 230 MB | Cover | 33:43 minutes | MP3 CBR 320 kbps | 85 MB
Pop | Label: Cooking Vinyl
Bona fide national treasures Chas & Dave return with a new album 'A Little Bit of Us', their first in over thirty years to feature brand-new Chas & Dave songs. The album, released on April 20th on the duo's rejuvenated 'Rockney' label via Cooking Vinyl, is available on LP (COOKLP704), CD (COOKCD704) and digital download. Says Chas Hodges: "The bloke who owns the studio where we recorded much of this album is Brian Juniper. He introduced me to Dave back in 1963 - Dave was at Junior School with him. I was at Senior School with him when, as 13 year olds, we started a Skiffle group over 60 years ago."
TRACKLIST
1 A Little Bit of Me
2 Come on Charlie
3 When You Wore a Tulip
4 Wonder Where He is Now?
5 Nagasaki
6 Dry Bones
7 Nothing You Can Do
8 Modern Robin Hood
9 Last Kiss
10 My Little Grass Shack
11 Roses of Picardy (Piano Solo)
12 Sling Your Hook (Chas's Message to Cancer)
13 Why Not Me? (Bonus Track Feat. Kate Garner)
–––––––––––-
DON'T MODIFY THIS FILE
–––––––––––-
PERFORMER: auCDtect Task Manager, ver. 1.6.0 RC1 build 1.6.0.1
Copyright © 2008-2010 y-soft. All rights reserved
http://y-soft.org
ANALYZER: auCDtect: CD records authenticity detector, version 0.8.2
Copyright © 2004 Oleg Berngardt. All rights reserved.
Copyright © 2004 Alexander Djourik. All rights reserved.
FILE: 9 Last Kiss.flac
Size: 22986724 Hash: D7039418AC51C16D745748B86CFC23F8 Accuracy: -m0
Conclusion: CDDA 100%
Signature: 4D187D5838F1EB3E21AE3A494552B8CB185E8CA1
FILE: 8 Modern Robin Hood.flac
Size: 28705592 Hash: CFE57B65ADCED5526F79E37C41FDE9DD Accuracy: -m0
Conclusion: CDDA 100%
Signature: 88E7B4287895EF59B2F6A88A369F0F9A637E216E
FILE: 7 Nothing You Can Do.flac
Size: 21821107 Hash: 8A0FE7160231BA1936AD0A161F77A892 Accuracy: -m0
Conclusion: CDDA 100%
Signature: 9796C8EB3E64750E969332B56F83F696D19C7D73
FILE: 6 Dry Bones.flac
Size: 18773251 Hash: 931E82F273A82AF53C410AC55B416D2A Accuracy: -m0
Conclusion: CDDA 87%
Signature: 18ACE91C0F72075EE67BDAE679B99BBF07DFA8FB
FILE: 5 Nagasaki.flac
Size: 9343966 Hash: 472AD4FFC275A62C937F0A48E1E5B1E9 Accuracy: -m0
Conclusion: CDDA 99%
Signature: C518377925922A9C6EF355B9AF1F7DE74FC86DAE
FILE: 4 Wonder Where He is Now-.flac
Size: 21434982 Hash: 12F569547060E5861342C6DA520C4B1B Accuracy: -m0
Conclusion: CDDA 100%
Signature: AAC15622E760DF434400FEC6E4C748EDDCC3A474
FILE: 3 When You Wore a Tulip.flac
Size: 14974263 Hash: 45392184BE4CA3A266070B7B1399745C Accuracy: -m0
Conclusion: CDDA 100%
Signature: B464EDD2C4431529FE67F61B366DD38611AC8E0E
FILE: 2 Come on Charlie.flac
Size: 20247402 Hash: 740F5D696A072609B75F31FF90B7F708 Accuracy: -m0
Conclusion: CDDA 100%
Signature: 5E626920BC8C4790E8CC23A7B66BBF857085E77D
FILE: 13 Why Not Me.flac
Size: 14824572 Hash: 9BC332129CE6BC1F72AD011E2A003B4A Accuracy: -m0
Conclusion: CDDA 100%
Signature: F7508F4BAEEBE89E40CA14CE01E9C59D64E49657
FILE: 12 Sling Your Hook (Chas' Message to Cancer).flac
Size: 14295111 Hash: 84FCC7DB9D24E0F0E39DD051AF4BFCA5 Accuracy: -m0
Conclusion: CDDA 100%
Signature: 5622DA7FDB4F9C2F631E1692AAD956881E97F3AA
FILE: 11 Roses of Picardy.flac
Size: 23301305 Hash: 4BB6E307D8E40EED27E54026ADD7BFE0 Accuracy: -m0
Conclusion: CDDA 100%
Signature: D7775C2C59226A2A181CF02C348AC657C3B30939
FILE: 10 My Little Grass Shack.flac
Size: 7757449 Hash: D79A940311B4C8B0C0EE2B3BA0649A6C Accuracy: -m0
Conclusion: CDDA 100%
Signature: 90244098CB8D44D1E87813371E5C23B7F03DA310
FILE: 1 A Little Bit of Me.flac
Size: 23333734 Hash: 6201D898C60E940D6B1150A76AE874E1 Accuracy: -m0
Conclusion: CDDA 100%
Signature: C53E5EAB5326CB56B0EC6394704FE156570CA789