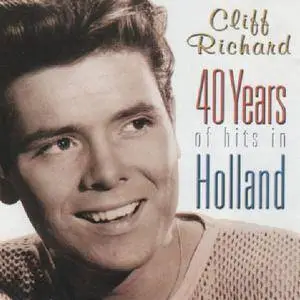 Cliff Richard - 40 Years Of Hits In Holland (1998)
MP3 (CBR 320 kbps) | 01:06:26 | 162 MB
Genre: Rock, Pop | Label: EMI
Cliff Richard scored his first Dutch hit in 1959, when "Living Doll," his sixth U.K. hit (and first number one) conquered the Netherlands as effortlessly as it swept across the rest of Europe. And, no less than in any other country on the continent, it set the stage for a career that would still be going strong half a century later. This collection of Richard's biggest Dutch hit singles is, of course, no different than any other gathering of his biggest successes. Only one number, "Maria No Mas" (the lead track from 1963's When in Spain EP) will seem unfamiliar to U.K. chart-watchers; the remainder of the set travels through all the usual suspects ("Nine Times Out of Ten," "The Young Ones," "Summer Holiday," "Constantly," and so on), thick and fast through the first half of the 1960s, and then more sporadic as the decades wear on. Although the hits did not stop, their impact did lessen, and few people will complain that fully two-thirds of 40 Years of Hits in Holland are preoccupied with Richard's first five years of fame. Four songs from the 1970s and just two (1987's "Some People" and the previous year's Young Ones-led reprise of "Living Doll") close the package – which means, yes, the last ten of that titular 40 years don't even get a look. But the point is made, regardless. Richard was still scoring hits in 1998, just as he is today, and this collection was designed to remind his fans of a few of them.
AllMusic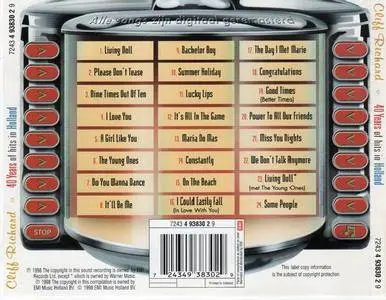 Track List:
01. Living Doll
02. Please Don't Tease
03. Nine Times Out Of Ten
04. I Love You
05. A Girl Like You
06. The Young Ones
07. Do You Wanna Dance
08. It'll Be Me
09. Bachelor Boy
10. Summer Holiday
11. Lucky Lips
12. It's All In The Game
13. Maria No Mas
14. Constantly
15. On The Beach
16. I Could Easily Fall
17. The Day I Met Marie
18. Congratulations
19. Good Times
20. Power To All Our Friends
21. Miss You Nights
22. We Don't Talk Anymore
23. Living Doll (Met The Young Ones)
24. Some People
Download: