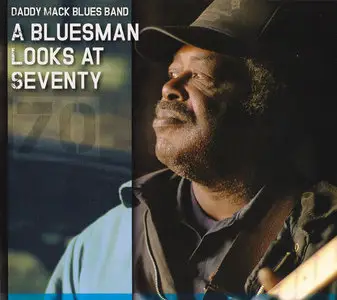 Daddy Mack Blues Band - A Bluesman Looks At Seventy (2015)
EAC | FLAC | Image (Cue&Log) ~ 295 Mb | Mp3 (CBR320) ~ 122 Mb | Scans included
Memphis Blues, Electric Blues | Label: Inside Sounds | # ISC0544 | Time: 00:48:54
When people say, "Memphis blues ain't what it used to be," they haven't heard the Daddy Mack Blues Band. All of its members at one time or another played in the Fieldstones, one of the most talked-about urban blues bands since the 1970s. Led by Mack Orr on lead guitar and vocals, this four-piece group is down-home and funky, and the best band around for cuttin' loose on a Saturday night. Their raw approach to blues is something too often missing in contemporary blues. Since 1998, they have been the house band at the Center For Southern Folklore on Beale Street, where thousands of tourists from all corners of the world have experienced their natural and soulful musical blend. They have also toured across the country, from Huntsville to Las Vegas, and played in Europe.
Howard Stovall, executive director of The Blues Foundation, was a special guest at the 1999 CD release of Daddy Mack's 1st CD, Fix It When I Can, and isn't shy about expressing who he thinks is carrying the torch in Memphis blues. At a Foundation party in April of 1999, Rolling Stones Keith Richards and Ron Wood sat in with the band and, as the story goes, they were able to keep up musically, but no one was shouting to hear "Jumpin' Jack Flash" either.
Daddy Mack's new album, Slow Ride, has been released recently to critical acclaim. It is a new twist on the old adage that rock and rock came from the blues. On Slow Ride, Daddy and the band perform blues versions of rock hits, from Eric Clapton's "After Midnight" to Carlos Santana's "Black Magic Woman." His recent success at the Chicago Blues Festival is a testament that he might be on to something here.
From barbecue dives in Mississippi to Paris, France, Daddy Mack has "been there done that." He isn't too shy to play a party for a gathering of governors from all across the United States or to walk right into the middle of a crowd with his wireless and play guitar licks while his sweat drips right onto the shoes of hollerin' blues fans. Daddy Mack is not only doing his part to keep the blues alive for the 21st Century, he's not compromising what he thinks blues is supposed to be – fun, and with the right balance of showmanship and good music.
"Daddy" Mack Orr's voice has been compared to the biting vocals of Albert King, and his latest album has climbed the blues charts, but Orr still works a day job to pay the bills. At his shop, Mack's Auto Repair on Jackson Avenue, muffled Spanish radio competes with the whir or an industrial fan. Orr leans over the hood of a clunky Chevrolet. The car's guts spill out and reveal a hole where the engine used to sit. "I tell you, figurin' out what 's wrong with 'em cars sure will give you the blues," Orr says, chuckling.

The man in the blue uniform, with hands covered in car oil, is a rising Memphis blues star. The Daddy Mack Blues Band has played in town for more than 15 years–they've entertained curious tourists and locals for more than a decade–but lately critics and blues fans have started paying attention. The band's second album, Slow Ride, featuring Billy Gibson, inched its way up to No. 8 on the Living Blues magazine's national radio chart. It was also listed as a Top 50 download on iTunes. The band has played London, Paris, Las Vegas and most recently before a crowd of thousands at the 2006 Chicago Blues Festival.

On a recent Friday night at the Center for Southern Folklore on South Main, Orr looks up from beneath the brim of a tan fedora and inches closer to the microphone, belting out a melody in a deep, raspy voice. Gibson's harmonica punctuates the clap of the drums. Orr croons. Knees bounce. The room vibrates. Eyes are fixed on the stage. As he closes in on his final jam, Orr walks into the crowd, close enough for the audience members to see the stain of car oil on his cuticles as his fingers jump around the strings. A smile breaks on his face. The audience erupts in applause. "The blues aren't dead, they don't need to be re-created," Gibson says. "These guys, they are the blues."



Review by Alex Doniach, Memphis Commercial Appeal
Tracklist:
01. Champagne Fantasy (02:48)
02. She Loves Money (03:12)
03. Muddy Waters (03:11)
04. Fix It When I Can (03:40)
05. You Don't Have to Love Me (02:21)
06. Red, White, Blue & Green (03:46)
07. Gamblin' House Blues (03:38)
08. Hoodoo Blues (04:57)
09. What Kind of Man? (03:00)
10. I Like Fishin' (05:46)
11. Pocketful of Blues (03:02)
12. Lucky for You (03:58)
13. Door Jam (02:10)
14. After All These Years (03:20)
Exact Audio Copy V0.99 prebeta 5 from 4. May 2009

Отчёт EAC об извлечении, выполненном 6. октября 2015, 17:03

Daddy Mack Blues Band / A Bluesman Looks At Seventy

Дисковод: ASUS DRW-24F1ST a Adapter: 0 ID: 0

Режим чтения : Достоверность
Использование точного потока : Да
Отключение кэша аудио : Да
Использование указателей C2 : Нет

Коррекция смещения при чтении : 6
Способность читать области Lead-in и Lead-out : Нет
Заполнение пропущенных сэмплов тишиной : Да
Удаление блоков с тишиной в начале и конце : Нет
При вычислениях CRC использовались нулевые сэмплы : Да
Интерфейс : Встроенный Win32-интерфейс для Win NT/2000

Выходной формат : Пользовательский кодировщик
Выбранный битрейт : 768 kBit/s
Качество : Высокий
Добавление ID3-тэга : Нет
Утилита сжатия : D:\05. Other\01. Programmes\Exact Audio Copy\FLAC\FLAC.EXE
Дополнительные параметры : -6 -V -T "ARTIST=%a" -T "TITLE=%t" -T "ALBUM=%g" -T "DATE=%y" -T "TRACKNUMBER=%n" -T "GENRE=%m" -T "COMMENT=%e" %s -o %d


TOC извлечённого CD

Трек | Старт | Длительность | Начальный сектор | Конечный сектор
––––––––––––––––––––––––––––––––––-
1 | 0:00.00 | 2:48.33 | 0 | 12632
2 | 2:48.33 | 3:12.02 | 12633 | 27034
3 | 6:00.35 | 3:11.30 | 27035 | 41389
4 | 9:11.65 | 3:40.27 | 41390 | 57916
5 | 12:52.17 | 2:21.31 | 57917 | 68522
6 | 15:13.48 | 3:46.54 | 68523 | 85526
7 | 19:00.27 | 3:38.36 | 85527 | 101912
8 | 22:38.63 | 4:57.26 | 101913 | 124213
9 | 27:36.14 | 3:00.06 | 124214 | 137719
10 | 30:36.20 | 5:46.13 | 137720 | 163682
11 | 36:22.33 | 3:02.36 | 163683 | 177368
12 | 39:24.69 | 3:58.46 | 177369 | 195264
13 | 43:23.40 | 2:10.05 | 195265 | 205019
14 | 45:33.45 | 3:20.63 | 205020 | 220082


Характеристики диапазона извлечения и сообщения об ошибках

Выбранный диапазон

Имя файла D:\Daddy Mack Blues Band - A Bluesman Looks at Seventy (2015)\Daddy Mack Blues Band - A Bluesman Looks At Seventy.wav

Пиковый уровень 96.6 %
Качество диапазона 99.9 %
CRC теста 865C464A
CRC копии 865C464A
Копирование… OK

Ошибок не произошло


AccurateRip: сводка

Трек 1 точность не определена (достоверность 1) [670473BA], AccurateRip вернул [54703AB4]
Трек 2 точность не определена (достоверность 1) [F95DAD9A], AccurateRip вернул [FA1575EB]
Трек 3 точность не определена (достоверность 1) [78963149], AccurateRip вернул [0FA28841]
Трек 4 точность не определена (достоверность 1) [7222AF74], AccurateRip вернул [7279524D]
Трек 5 точность не определена (достоверность 1) [5A9280A9], AccurateRip вернул [E9FEEB5F]
Трек 6 точность не определена (достоверность 1) [37EC93FB], AccurateRip вернул [28325A88]
Трек 7 точность не определена (достоверность 1) [4D9632F6], AccurateRip вернул [3FC47ECB]
Трек 8 точность не определена (достоверность 1) [22D873DC], AccurateRip вернул [7512E200]
Трек 9 точность не определена (достоверность 1) [27C9920C], AccurateRip вернул [DC9112CC]
Трек 10 точность не определена (достоверность 1) [0C2BE785], AccurateRip вернул [F26F141D]
Трек 11 точность не определена (достоверность 1) [E43F7B2A], AccurateRip вернул [6E89882C]
Трек 12 точность не определена (достоверность 1) [1DCBE83E], AccurateRip вернул [9349733A]
Трек 13 точность не определена (достоверность 1) [CF6D69C6], AccurateRip вернул [3AD5EA69]
Трек 14 точность не определена (достоверность 1) [2430FFB6], AccurateRip вернул [948359F6]

Ни один трек не прошёл проверки на точность
В вашей базе может быть иной вариант штамповки диска

Конец отчёта
foobar2000 1.2 / Dynamic Range Meter 1.1.1
log date: 2015-10-08 14:41:22

––––––––––––––––––––––––––––––––––––––––
Analyzed: Daddy Mack Blues Band / A Bluesman Looks At Seventy
––––––––––––––––––––––––––––––––––––––––

DR Peak RMS Duration Track
––––––––––––––––––––––––––––––––––––––––
DR8 -0.30 dB -9.09 dB 2:48 01-Champagne Fantasy
DR11 -0.30 dB -11.88 dB 3:12 02-She Loves Money
DR10 -0.30 dB -10.66 dB 3:11 03-Muddy Waters
DR10 -0.30 dB -11.57 dB 3:40 04-Fix It When I Can
DR10 -0.30 dB -10.94 dB 2:21 05-You Don't Have to Love Me
DR9 -0.30 dB -10.75 dB 3:47 06-Red, White, Blue & Green
DR9 -0.30 dB -10.18 dB 3:38 07-Gamblin' House Blues
DR9 -0.30 dB -10.87 dB 4:57 08-Hoodoo Blues
DR9 -0.30 dB -11.43 dB 3:00 09-What Kind of Man?
DR10 -0.30 dB -11.83 dB 5:46 10-I Like Fishin'
DR10 -0.30 dB -10.72 dB 3:02 11-Pocketful of Blues
DR9 -0.30 dB -11.27 dB 3:59 12-Lucky for You
DR9 -0.30 dB -10.81 dB 2:10 13-Door Jam
DR8 -0.30 dB -9.48 dB 3:21 14-After All These Years
––––––––––––––––––––––––––––––––––––––––

Number of tracks: 14
Official DR value: DR9

Samplerate: 44100 Hz
Channels: 2
Bits per sample: 16
Bitrate: 814 kbps
Codec: FLAC
================================================================================