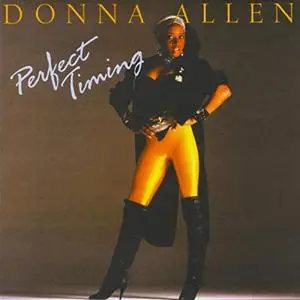 Donna Allen - Perfect Timing (Expanded Edition) (1986/2013)
WEB FLAC (Tracks) - 487 MB | Cover | MP3 CBR 320 kbps - 173 MB | 01:12:45
Soul, Funk | Label: High Fashion Music
Florida native Donna Allen rose to fame following the release of her debut album Perfect Timing on New York based 21 Records in 1986. A born performer, Donna Allen was a cheerleader for the Tampa Bay Buccaneers before becoming a successful singer. Donna got her start in the music business performing with bands Hi-Octane and Trama before the launch of her successful solo career. Donna Allen also toured for 9 years as a backup singer with Gloria Estefan & Miami Sound Machine. 1986 brought the release of Perfect Timing, produced by Lou Pace; arranger behind Miami Sound Machine s international hit Dr. Beat. This paved the way for numerous chart hits over the next few years. Perfect Timing almost reached the Billboard Hot 100 and saw great success in the US R&B Chart rising all the way to #33. All 3 singles would chart with the debut offering SERIOUS being the most successful scoring #21 on the Billboard Hot 100, #17 in the US Hot Dance Music Singles Chart and smashing into the top 10 on both the US R&B and UK Singles chart. Other singles include SATISFIED, which climbed all the way up to #14 on the US R&B chart and #33 on the US Hot Dance Play Chart while securing a top 100 spot in the UK and SWEET SOMEBODY, which earned a #55 on the US R&B and top 50 on the US Hot Dance Play Chart. Big Break Records couldn t be happier to bring you this fantastic reissue of Donna Allen's Perfect Timing! Fully re-mastered and complete with extensive liner notes featuring interviews and added bonus content, this BBR Remaster is a must have for all R&B, Funk, House and Soul fans out there!
TRACKLIST
01. Serious
02. Sweet Somebody
03. Satisfied
04. Daydreams
05. Wild Night
06. Perfect Timing
07. Bit By Bit
08. Another Affair
09. Bad Love (Album Version)
10. Serious (12" Extended Version)
11. Satisfied (12" Long Version Remix)
12. Sweet Somebody (12" Remix)
13. Serious (Single Version)
14. Satisfied (Single Version)
15. Sweet Somebody (Single Version)
16. Serious (12" Delirious Mix)
–––––––––––-
DON'T MODIFY THIS FILE
–––––––––––-
PERFORMER: auCDtect Task Manager, ver. 1.6.0 RC1 build 1.6.0.1
Copyright © 2008-2010 y-soft. All rights reserved
http://y-soft.org
ANALYZER: auCDtect: CD records authenticity detector, version 0.8.2
Copyright © 2004 Oleg Berngardt. All rights reserved.
Copyright © 2004 Alexander Djourik. All rights reserved.
FILE: 16. Donna Allen - Serious (12- Delirious Mix).flac
Size: 51256153 Hash: AAF8E1F2191EB7C2B958256727281150 Accuracy: -m0
Conclusion: CDDA 100%
Signature: 66DC4FDAB2B46F0FBF1C6931D3BE08DBEBB0BD2F
FILE: 15. Donna Allen - Sweet Somebody (Single Version).flac
Size: 27074520 Hash: 65268DE414F11446C56B720A0AD907C9 Accuracy: -m0
Conclusion: CDDA 100%
Signature: 2CB0178E613DE6C298FB3D0258BDDEC9F3323CD0
FILE: 14. Donna Allen - Satisfied (Single Version).flac
Size: 29007852 Hash: 59E91F5B4830824551C6DAE89EF11392 Accuracy: -m0
Conclusion: CDDA 100%
Signature: DE675207CA7CB9B9D7E4234BF09A80F233590D82
FILE: 13. Donna Allen - Serious (Single Version).flac
Size: 26471358 Hash: F635EED03C6415BF207F480FD6B1EE6A Accuracy: -m0
Conclusion: CDDA 100%
Signature: 5AA47FEF9554D99A7EFE0C768F55D643B39F2B08
FILE: 12. Donna Allen - Sweet Somebody (12- Remix).flac
Size: 33477425 Hash: B529054BDD96647E96E9DFA07FDF7269 Accuracy: -m0
Conclusion: CDDA 100%
Signature: 340BFF5482C0C6A8C79D2234A1B7B9AEA12BC7CE
FILE: 11. Donna Allen - Satisfied (12- Long Version Remix).flac
Size: 42531210 Hash: 2E2DB47DB878E3EA8A01084FC81F799D Accuracy: -m0
Conclusion: CDDA 100%
Signature: B764BB234104321056D58EE62E7DBA5BDC915EB2
FILE: 10. Donna Allen - Serious (12- Extended Version).flac
Size: 39096015 Hash: EAC5A04D586F2AFE6FF14F18A45B540D Accuracy: -m0
Conclusion: CDDA 100%
Signature: 61304662C659D0A98AD1B881D720EAD5D50DFCAF
FILE: 09. Donna Allen - Bad Love.flac
Size: 28391360 Hash: 150E7E3FA441DCC00198A2C08934616E Accuracy: -m0
Conclusion: CDDA 100%
Signature: 54BA12F83776D698F00B866E2D3718790E106DBE
FILE: 08. Donna Allen - Another Affair.flac
Size: 25537316 Hash: 5294B3C0A0F3D6348B39D2B38A2F5A86 Accuracy: -m0
Conclusion: CDDA 100%
Signature: 7E007683FF0DF5CD72994DB0AA3C02144EE0E975
FILE: 07. Donna Allen - Bit By Bit.flac
Size: 28967847 Hash: D9FA7255A9225A997B4401CD57A69DE2 Accuracy: -m0
Conclusion: CDDA 100%
Signature: CE1ADEA6FD90F765769C2C6614196648F336A641
FILE: 06. Donna Allen - Perfect Timing.flac
Size: 30658102 Hash: 348FD411D3CA83AE98D495A823AFD069 Accuracy: -m0
Conclusion: CDDA 100%
Signature: FDA0BA37CE8A8476E691835A5A7688506737F41F
FILE: 05. Donna Allen - Wild Night.flac
Size: 29905343 Hash: 1BA5E05AE28F0CF7F3DF10BFA1022D0E Accuracy: -m0
Conclusion: CDDA 99%
Signature: E3BA9F0DCCFBE425C4A17F676431E69198A3DEEF
FILE: 04. Donna Allen - Daydreams.flac
Size: 32371531 Hash: 2232F6610C35073B400C27440C54774D Accuracy: -m0
Conclusion: CDDA 100%
Signature: E3D4BFEF0EEBA289ECD1651BF08537F404630697
FILE: 03. Donna Allen - Satisfied.flac
Size: 31818125 Hash: CA78168344C1C93C944CA6EE7DFB95E4 Accuracy: -m0
Conclusion: CDDA 100%
Signature: 3AFC325F6A00AA67CC77A226AF1A0D6E352F0295
FILE: 02. Donna Allen - Sweet Somebody.flac
Size: 24928471 Hash: 1BB48143FA0FE9B5F308A6995D1B7E3B Accuracy: -m0
Conclusion: CDDA 100%
Signature: 15CB6DB07E0BBE1E5E1E8309345DD4BB82295751
FILE: 01. Donna Allen - Serious.flac
Size: 28711964 Hash: DA4CDCD0F9EB5EECB6BD6AED30A7E993 Accuracy: -m0
Conclusion: CDDA 99%
Signature: 1AF4846F387089037915BCF3DAC11C394438AFE4
All thanks go to the original releaser