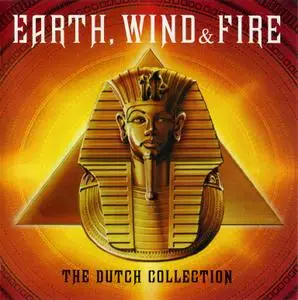 Earth, Wind & Fire - The Dutch Collection (1999)
2CD | EAC Rip | FLAC (Img) + Cue + Log ~ 1,05 Gb | MP3 CBR320 ~ 367 Mb
Full Scans ~ 61 Mb | 01:15:05 + 01:17:19 | RAR 5% Recovery
R&B, Funk, Soul, Disco | Sony Music Media #494765 2 / 17-494765-100
34 of the hit '70s soul/ funk/ disco group's very best, plus updated mixes of three different smashes added as bonus tracks, 'September '99' (Phats & Small Remix), 'Boogie Wonderland' (Stretch & Vern Remix) and 'Let's Groove' (Merchant Of Menace Remix). Also includes the original versions of these three, plus classics like 'After The Love Has Gone', 'Got To Get You Into My Life', 'Fantasy', 'Getaway', 'Sing A Song', 'Shining Star' and 'That's The Way Of The World'. 37 tracks total.

Earth, Wind & Fire is an American band that has spanned the musical genres of R&B, soul, funk, jazz, disco, pop, rock, dance, Latin, and Afro pop. They have been described as one of the most innovative and commercially successful acts of all time. Rolling Stone called them "innovative, precise yet sensual, calculated yet galvanizing" and declared that the band "changed the sound of black pop". VH1 has also described EWF as "one of the greatest bands" ever. The band has won six Grammys from their 17 nominations. They have won four American Music Awards out of 12 nominations. They have also been inducted into the Rock and Roll Hall of Fame and the Vocal Group Hall of Fame, received a star on the Hollywood Walk of Fame, and sold over 90 million records, making them one of the world's best-selling bands of all time.
***************
Track List CD1:
01. September [3:36]
02. Boogie Wonderland [4:50]
03. After the Love Has Gone [3:57]
04. Star [4:23]
05. Can't Let Go [3:26]
06. In the Stone [4:26]
07. And Love Goes On [3:38]
08. Let Me Talk [3:57]
09. Let's Groove [5:36]
10. I've Had Enough [3:53]
11. Fall in Love With Me [3:54]
12. Spread Your Love [3:53]
13. Magnetic [4:19]
14. System of Survival [4:08]
15. Thinking of You [4:40]
16. Turn On (The Beat Box) [4:16]
17. Daydreamin' [4:02]
18. Sunday Morning [4:11]
Exact Audio Copy V1.3 from 2. September 2016

Отчёт EAC об извлечении, выполненном 18. ноября 2019, 5:07

Earth, Wind & Fire / The Dutch Collection CD-1

Дисковод: PLEXTOR DVDR PX-712A Adapter: 1 ID: 2

Режим чтения : Достоверность
Использование точного потока : Да
Отключение кэша аудио : Да
Использование указателей C2 : Нет

Коррекция смещения при чтении : 30
Способность читать области Lead-in и Lead-out : Нет
Заполнение пропущенных сэмплов тишиной : Да
Удаление блоков с тишиной в начале и конце : Нет
При вычислениях CRC использовались нулевые сэмплы : Да
Интерфейс : Установленный внешний ASPI-интерфейс

Выходной формат : Пользовательский кодировщик
Выбранный битрейт : 128 kBit/s
Качество : Высокий
Добавление ID3-тега : Нет
Утилита сжатия : C:\Program Files\Exact Audio Copy\FLAC\FLAC.EXE
Дополнительные параметры : -V -8 -T "Genre=%genre%" -T "Artist=%artist%" -T "Title=%title%" -T "Album=%albumtitle%" -T "Date=%year%" -T "Tracknumber=%tracknr%" -T "Comment=%comment%" %source%


TOC извлечённого CD

Трек | Старт | Длительность | Начальный сектор | Конечный сектор
––––––––––––––––––––––––––––––––––-
1 | 0:00.00 | 3:36.27 | 0 | 16226
2 | 3:36.27 | 4:49.40 | 16227 | 37941
3 | 8:25.67 | 3:57.23 | 37942 | 55739
4 | 12:23.15 | 4:22.42 | 55740 | 75431
5 | 16:45.57 | 3:25.45 | 75432 | 90851
6 | 20:11.27 | 4:26.08 | 90852 | 110809
7 | 24:37.35 | 3:38.25 | 110810 | 127184
8 | 28:15.60 | 3:57.05 | 127185 | 144964
9 | 32:12.65 | 5:35.52 | 144965 | 170141
10 | 37:48.42 | 3:52.45 | 170142 | 187586
11 | 41:41.12 | 3:54.13 | 187587 | 205149
12 | 45:35.25 | 3:52.50 | 205150 | 222599
13 | 49:28.00 | 4:19.27 | 222600 | 242051
14 | 53:47.27 | 4:07.55 | 242052 | 260631
15 | 57:55.07 | 4:40.20 | 260632 | 281651
16 | 62:35.27 | 4:15.70 | 281652 | 300846
17 | 66:51.22 | 4:02.15 | 300847 | 319011
18 | 70:53.37 | 4:11.08 | 319012 | 337844


Характеристики диапазона извлечения и сообщения об ошибках

Выбранный диапазон

Имя файла I:\MOI_RAZDACI\Earth, Wind & Fire - The Dutch Collection (1999)\Earth, Wind & Fire - The Dutch Collection (1999)\CD-1\Earth, Wind & Fire - The Dutch Collection CD-1.wav

Пиковый уровень 100.0 %
Скорость извлечения 11.5 X
Качество диапазона 99.9 %
CRC теста C8EE03DB
CRC копии C8EE03DB
Копирование… OK

Ошибок не произошло


AccurateRip: сводка

Трек 1 отсутствует в базе данных
Трек 2 отсутствует в базе данных
Трек 3 отсутствует в базе данных
Трек 4 отсутствует в базе данных
Трек 5 отсутствует в базе данных
Трек 6 отсутствует в базе данных
Трек 7 отсутствует в базе данных
Трек 8 отсутствует в базе данных
Трек 9 отсутствует в базе данных
Трек 10 отсутствует в базе данных
Трек 11 отсутствует в базе данных
Трек 12 отсутствует в базе данных
Трек 13 отсутствует в базе данных
Трек 14 отсутствует в базе данных
Трек 15 отсутствует в базе данных
Трек 16 отсутствует в базе данных
Трек 17 отсутствует в базе данных
Трек 18 отсутствует в базе данных

Ни одного трека нет в базе AccurateRip

Конец отчёта

–– CUETools DB Plugin V2.1.6

[CTDB TOCID: 7KOmzD0JHXpSg6RYfTwVwKLYpVw-] found
Submit result: 7KOmzD0JHXpSg6RYfTwVwKLYpVw- has been confirmed
Track | CTDB Status
1 | (42/42) Accurately ripped
2 | (42/42) Accurately ripped
3 | (42/42) Accurately ripped
4 | (42/42) Accurately ripped
5 | (42/42) Accurately ripped
6 | (42/42) Accurately ripped
7 | (42/42) Accurately ripped
8 | (42/42) Accurately ripped
9 | (42/42) Accurately ripped
10 | (42/42) Accurately ripped
11 | (42/42) Accurately ripped
12 | (42/42) Accurately ripped
13 | (41/42) Accurately ripped
14 | (42/42) Accurately ripped
15 | (41/42) Accurately ripped
16 | (41/42) Accurately ripped
17 | (41/42) Accurately ripped
18 | (41/42) Accurately ripped


==== Контрольная сумма отчёта 2D818D94B703D48B7AE5D30AD57CCD9F74B84B2473D6501D737E1A59D273F16B ====
Track List CD2:
01. Got to Get You Into My Life [4:03]
02. Fantasy [4:39]
03. I'll Write a Song for You [5:22]
04. Jupiter [3:11]
05. Best of My Love [3:39]
06. Serpentine Fire [3:49]
07. Free [3:28]
08. Getaway [3:46]
09. Saturday Nite [4:03]
10. Sing a Song [3:22]
11. Can't Hide Love [4:10]
12. Shining Star [2:51]
13. Reasons [4:59]
14. That's the Way of the World [5:46]
15. Sun Goddess [4:11]
16. Devotion [4:48]
17. September 99 (Phats & Small remix) [3:43]
18. Boogie Wonderland (Stretch & Vern remix) [3:44]
19. Let's Groove (Merchant of Menace remix) [3:44]
Exact Audio Copy V1.3 from 2. September 2016

Отчёт EAC об извлечении, выполненном 18. ноября 2019, 15:24

Earth, Wind & Fire / The Dutch Collection CD-2

Дисковод: PLEXTOR DVDR PX-712A Adapter: 1 ID: 1

Режим чтения : Достоверность
Использование точного потока : Да
Отключение кэша аудио : Да
Использование указателей C2 : Нет

Коррекция смещения при чтении : 30
Способность читать области Lead-in и Lead-out : Нет
Заполнение пропущенных сэмплов тишиной : Да
Удаление блоков с тишиной в начале и конце : Нет
При вычислениях CRC использовались нулевые сэмплы : Да
Интерфейс : Установленный внешний ASPI-интерфейс

Выходной формат : Пользовательский кодировщик
Выбранный битрейт : 128 kBit/s
Качество : Высокий
Добавление ID3-тега : Нет
Утилита сжатия : C:\Program Files\Exact Audio Copy\FLAC\FLAC.EXE
Дополнительные параметры : -V -8 -T "Genre=%genre%" -T "Artist=%artist%" -T "Title=%title%" -T "Album=%albumtitle%" -T "Date=%year%" -T "Tracknumber=%tracknr%" -T "Comment=%comment%" %source%


TOC извлечённого CD

Трек | Старт | Длительность | Начальный сектор | Конечный сектор
––––––––––––––––––––––––––––––––––-
1 | 0:00.00 | 4:03.15 | 0 | 18239
2 | 4:03.15 | 4:39.02 | 18240 | 39166
3 | 8:42.17 | 5:22.10 | 39167 | 63326
4 | 14:04.27 | 3:10.68 | 63327 | 77644
5 | 17:15.20 | 3:39.37 | 77645 | 94106
6 | 20:54.57 | 3:48.73 | 94107 | 111279
7 | 24:43.55 | 3:27.45 | 111280 | 126849
8 | 28:11.25 | 3:45.55 | 126850 | 143779
9 | 31:57.05 | 4:03.12 | 143780 | 162016
10 | 36:00.17 | 3:22.03 | 162017 | 177169
11 | 39:22.20 | 4:10.02 | 177170 | 195921
12 | 43:32.22 | 2:51.33 | 195922 | 208779
13 | 46:23.55 | 4:59.02 | 208780 | 231206
14 | 51:22.57 | 5:46.15 | 231207 | 257171
15 | 57:08.72 | 4:11.10 | 257172 | 276006
16 | 61:20.07 | 4:47.43 | 276007 | 297574
17 | 66:07.50 | 3:42.57 | 297575 | 314281
18 | 69:50.32 | 3:44.28 | 314282 | 331109
19 | 73:34.60 | 3:44.00 | 331110 | 347909


Характеристики диапазона извлечения и сообщения об ошибках

Выбранный диапазон

Имя файла I:\MOI_RAZDACI\Earth, Wind & Fire - The Dutch Collection (1999)\Earth, Wind & Fire - The Dutch Collection (1999)\2-CD\Earth, Wind & Fire - The Dutch Collection CD-2.wav

Пиковый уровень 97.7 %
Скорость извлечения 3.8 X
Качество диапазона 100.0 %
CRC теста 5FD04898
CRC копии 5FD04898
Копирование… OK

Ошибок не произошло

Конец отчёта

–– CUETools DB Plugin V2.1.6

[CTDB TOCID: ycH66oH7n_N8j1a72BVQfD0c.mQ-] found
Submit result: already submitted
Track | CTDB Status
1 | (41/41) Accurately ripped
2 | (41/41) Accurately ripped
3 | (41/41) Accurately ripped
4 | (41/41) Accurately ripped
5 | (41/41) Accurately ripped
6 | (40/41) Accurately ripped
7 | (41/41) Accurately ripped
8 | (41/41) Accurately ripped
9 | (41/41) Accurately ripped
10 | (41/41) Accurately ripped
11 | (41/41) Accurately ripped
12 | (41/41) Accurately ripped
13 | (41/41) Accurately ripped
14 | (41/41) Accurately ripped
15 | (41/41) Accurately ripped
16 | (41/41) Accurately ripped
17 | (41/41) Accurately ripped
18 | (40/41) Accurately ripped
19 | (41/41) Accurately ripped


==== Контрольная сумма отчёта 891200BE8F2BE39BBE8C71B8672E54A1F4D08EFA98A126ED671F6DE2B65E6DB8 ====