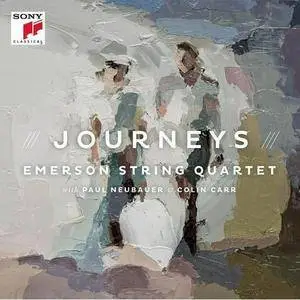 Emerson String Quartet, Paul Neubauer, Colin Carr - Journeys (2013)
XLD | FLAC (image+.cue, log) | Covers Included | 01:01:38 | 304 MB
Genre: Classical | Label: Sony Classical
The Emerson String Quartet formed in 1976 and kept the same personnel for more than 30 years. Journeys marks its final release with original cellist David Finckel, who has departed to pursue other projects (notably duo concerts with his wife, pianist Wu Han). It thus represents a turning point of sorts, and it is good to see that the group has not been content with simply recrossing safe territory but has delivered something innovative, both within its own catalog and in the general chamber music marketplace. The Emerson Quartet's repertory has rested solidly in the Haydn/Beethoven/Brahms mainstream. The group has rarely recorded Tchaikovsky, and Schoenberg never until this release. Journeys contains both, in the form of two sextets, Tchaikovsky's Souvenir de Florence and Schoenberg's Verklärte Nacht. (The Emerson Quartet is joined by violist Paul Neubauer and cellist Colin Carr.) The two works were written within ten years of each other, but they were at opposite extremes of the music of the period in their handling of tonality, and a conventional outlook would hold that they could hardly be more different. Yet the players seem to be suggesting that composers can't fully escape the spirit of the times in which they live, and that in fact, the two works have much in common. Both were written for the combination of two violins, two violas, and two cellos. Both, as the album title suggests, depict journeys, Tchaikovsky's physical, Schoenberg's psychological. And there is a certain emotionally overheated quality that spills through the neat classic forms of the Souvenir de Florence and links it to the more radical world of Schoenberg. The performances seem to stress the connection, with an unusually nervous Tchaikovsky that stresses the dissonances and a warmly Romantic Schoenberg. You may be able to find performances that bring out the basic traits of each work more effectively, but it's safe to say that they haven't been put together in this way. A bold move from some veteran musicians.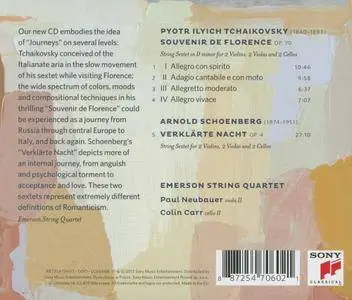 Track List:
01-04. Tchaikovsky: String Sextet in D Minor, Op. 70 "Souvenir de Florence"
05. Schoenberg: Verklärte Nacht, Op. 4
Performers:
Emerson String Quartet
Paul Neubauer, Viola II
Colin Carr, Cello II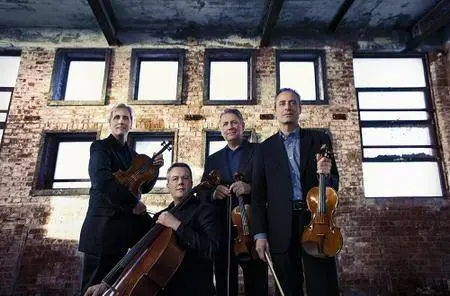 X Lossless Decoder version 20151214 (149.1)

XLD extraction logfile from 2016-07-16 20:29:44 -0400

Emerson String Quartet / Journeys

Used drive : MATSHITA DVD-R UJ-8A8 (revision HB14)
Media type : Pressed CD

Ripper mode : XLD Secure Ripper
Disable audio cache : OK for the drive with a cache less than 1375KiB
Make use of C2 pointers : NO
Read offset correction : 102
Max retry count : 20
Gap status : Analyzed, Appended (except HTOA)

TOC of the extracted CD
Track | Start | Length | Start sector | End sector
––––––––––––––––––––––––––––-
1 | 00:00:00 | 10:46:68 | 0 | 48517
2 | 10:46:68 | 09:58:05 | 48518 | 93372
3 | 20:44:73 | 06:37:45 | 93373 | 123192
4 | 27:22:43 | 07:07:52 | 123193 | 155269
5 | 34:30:20 | 27:10:14 | 155270 | 277533

AccurateRip Summary (DiscID: 000aa620-0032877a-3b0e7405)
Track 01 : OK (v2, confidence 10/10)
Track 02 : OK (v2, confidence 10/10)
Track 03 : OK (v2, confidence 10/10)
Track 04 : OK (v2, confidence 10/10)
Track 05 : OK (v2, confidence 10/10)
->All tracks accurately ripped.

All Tracks
Album gain : -1.45 dB
Peak : 0.988525
Statistics
Read error : 0
Jitter error (maybe fixed) : 0
Retry sector count : 0
Damaged sector count : 0

Track 01
Filename : /Users/brad/Downloads/rips/Emerson String Quartet - Journeys (2013) [FLAC]/01 String Sextet in D Minor, Op. 70 'Souvenir de Florence' - I. Allegro con spirito.flac
/Users/brad/Downloads/rips/Emerson String Quartet - Journeys (2013) [320]/01 String Sextet in D Minor, Op. 70 'Souvenir de Florence' - I. Allegro con spirito.mp3
Pre-gap length : 00:02:00

Track gain : -1.83 dB
Peak : 0.988525
CRC32 hash (test run) : E417BEAA
CRC32 hash : E417BEAA
CRC32 hash (skip zero) : 46E3A258
AccurateRip v1 signature : 1A9FB31E
AccurateRip v2 signature : 1AA7238E
->Accurately ripped (v2, confidence 10/10)
Statistics
Read error : 0
Jitter error (maybe fixed) : 0
Retry sector count : 0
Damaged sector count : 0

Track 02
Filename : /Users/brad/Downloads/rips/Emerson String Quartet - Journeys (2013) [FLAC]/02 String Sextet in D Minor, Op. 70 'Souvenir de Florence' - II. Adagio cantabile e con moto.flac
/Users/brad/Downloads/rips/Emerson String Quartet - Journeys (2013) [320]/02 String Sextet in D Minor, Op. 70 'Souvenir de Florence' - II. Adagio cantabile e con moto.mp3

Track gain : 0.05 dB
Peak : 0.837555
CRC32 hash (test run) : 391442EB
CRC32 hash : 391442EB
CRC32 hash (skip zero) : D86D109E
AccurateRip v1 signature : 20EA5E1C
AccurateRip v2 signature : 9AD526F1
->Accurately ripped (v2, confidence 10/10)
Statistics
Read error : 0
Jitter error (maybe fixed) : 0
Retry sector count : 0
Damaged sector count : 0

Track 03
Filename : /Users/brad/Downloads/rips/Emerson String Quartet - Journeys (2013) [FLAC]/03 String Sextet in D Minor, Op. 70 'Souvenir de Florence' - III. Allegretto moderato.flac
/Users/brad/Downloads/rips/Emerson String Quartet - Journeys (2013) [320]/03 String Sextet in D Minor, Op. 70 'Souvenir de Florence' - III. Allegretto moderato.mp3

Track gain : -2.24 dB
Peak : 0.977631
CRC32 hash (test run) : 83656A16
CRC32 hash : 83656A16
CRC32 hash (skip zero) : 9DF66572
AccurateRip v1 signature : 6B4CD2AF
AccurateRip v2 signature : AD9D124E
->Accurately ripped (v2, confidence 10/10)
Statistics
Read error : 0
Jitter error (maybe fixed) : 0
Retry sector count : 0
Damaged sector count : 0

Track 04
Filename : /Users/brad/Downloads/rips/Emerson String Quartet - Journeys (2013) [FLAC]/04 String Sextet in D Minor, Op. 70 'Souvenir de Florence' - IV. Allegro vivace.flac
/Users/brad/Downloads/rips/Emerson String Quartet - Journeys (2013) [320]/04 String Sextet in D Minor, Op. 70 'Souvenir de Florence' - IV. Allegro vivace.mp3

Track gain : -2.13 dB
Peak : 0.988525
CRC32 hash (test run) : 67F0D33F
CRC32 hash : 67F0D33F
CRC32 hash (skip zero) : E2452A80
AccurateRip v1 signature : BA54E50B
AccurateRip v2 signature : 3650CA2E
->Accurately ripped (v2, confidence 10/10)
Statistics
Read error : 0
Jitter error (maybe fixed) : 0
Retry sector count : 0
Damaged sector count : 0

Track 05
Filename : /Users/brad/Downloads/rips/Emerson String Quartet - Journeys (2013) [FLAC]/05 Verklärte Nacht, Op. 4.flac
/Users/brad/Downloads/rips/Emerson String Quartet - Journeys (2013) [320]/05 Verklärte Nacht, Op. 4.mp3

Track gain : -1.05 dB
Peak : 0.988525
CRC32 hash (test run) : 56549A9B
CRC32 hash : 56549A9B
CRC32 hash (skip zero) : C57D413E
AccurateRip v1 signature : 271D2DFD
AccurateRip v2 signature : D94872AA
->Accurately ripped (v2, confidence 10/10)
Statistics
Read error : 0
Jitter error (maybe fixed) : 0
Retry sector count : 0
Damaged sector count : 0

No errors occurred

End of status report

––-BEGIN XLD SIGNATURE––-
kDpX08EEGtZW.c2RMtYikD6XTpP02NZ9Zm49EdEJPqZGInml2rOAKZdCVKmzNYNV8NAuTwb8q60gQtlHHk5qro1mnmtXKzW2H_FVI9a
––-END XLD SIGNATURE––-