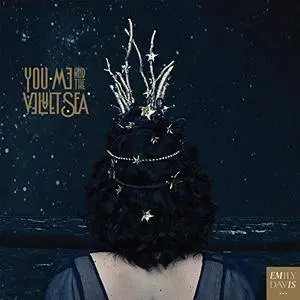 Emily Davis - You, Me & the Velvet Sea (2018)
WEB FLAC (Tracks) - 240 MB | Cover | MP3 CBR 320 kbps - 94 MB | 00:40:27
Folk Rock, Pop | Label: Emily Davis
Emily Davis celebrates the anticipated release of her third studio album, 'You, Me & The Velvet Sea' at Jive on April 14th. Having earned a reputation for delivering 'utterly absorbing' (DB Magazine) and 'breathtaking' (Rip It Up) live, shows, Davis is excited to bring the album to the stage with the help of her stellar band.
'You, Me & the Velvet Sea' has a sound that splits the difference between folk and rock driven by Davis' sassy and syrupy voice and evocative lyrics. The tracks contemplate love in all of its incarnations, conjuring cinematic images, and haunting tableaus, and sass, inspired by the ever-changing mood of the sea.
TRACKLIST
01. Bled for You
02. Lighthouse
03. Moonlight Voodoo
04. Stars Grow Cold
05. Oh Lord
06. Bring Forth the Queen of Mexico
07. Hold On
08. You Bury Me
09. Eve's Blues
10. Heartache
–––––––––––-

DON'T MODIFY THIS FILE

–––––––––––-

PERFORMER: auCDtect Task Manager, ver. 1.6.0 RC1 build 1.6.0.1
Copyright © 2008-2010 y-soft. All rights reserved

ANALYZER: auCDtect: CD records authenticity detector, version 0.8.2
Copyright © 2004 Oleg Berngardt. All rights reserved.
Copyright © 2004 Alexander Djourik. All rights reserved.


FILE: 10. Heartache.flac
Size: 28036193 Hash: D437DA380E32889F28EEC3211D11CBC7 Accuracy: -m0
Conclusion: CDDA 100%
Signature: 71687AD2D623A8F7AEA77200A07EFE27559CEAFF
FILE: 09. Eve's Blues.flac
Size: 23568408 Hash: 0D62A7CB460D6678B6E198A029C5CF83 Accuracy: -m0
Conclusion: CDDA 100%
Signature: AA54F26BAA185AED4B7E11215A69BAD071CB5A5B
FILE: 08. You Bury Me.flac
Size: 24236800 Hash: 5AA2435D3C358867CACF61093ED9311B Accuracy: -m0
Conclusion: CDDA 100%
Signature: A87F975EA890EA2830F7C022F972129C1E0E8750
FILE: 07. Hold On.flac
Size: 23831158 Hash: CD8EBCA7C5E3239291BBD8E6D7F5D420 Accuracy: -m0
Conclusion: CDDA 100%
Signature: 57FF81933EB70AA80A7BBE4A159F6876661056BA
FILE: 06. Bring Forth the Queen of Mexico.flac
Size: 22862772 Hash: 8564CF6D621CECEDB2286A664095CA2E Accuracy: -m0
Conclusion: CDDA 99%
Signature: A5BADCAD5897C795AA30BEA4CCC8EBB617A872FF
FILE: 05. Oh Lord.flac
Size: 30659991 Hash: DF5B2ED54665A5DA3EAE3207DAFDF4BF Accuracy: -m0
Conclusion: CDDA 100%
Signature: 568AFC6865124244D498D54B676F0AF8082CCE29
FILE: 04. Stars Grow Cold.flac
Size: 23575485 Hash: B74BC88990DE30B5960F467BDD8C3C57 Accuracy: -m0
Conclusion: CDDA 100%
Signature: 60108C4843E7699DEA7416500FE59A8735C47CC9
FILE: 03. Moonlight Voodoo.flac
Size: 22755816 Hash: 2408F8581F4D14F46D3E0E436E7BCEF0 Accuracy: -m0
Conclusion: CDDA 100%
Signature: C5CD69F22A0B30F70F17AFE94E76127411263865
FILE: 02. Lighthouse.flac
Size: 24640225 Hash: 7DD7182E7CCD5F4D6E3C87960C95D3BD Accuracy: -m0
Conclusion: CDDA 99%
Signature: 02211A276FC4FD010327303C7631DC9C61757ABB
FILE: 01. Bled for You.flac
Size: 27933515 Hash: D5D38BEA98317F578577E318F3955D5D Accuracy: -m0
Conclusion: CDDA 100%
Signature: 2DD64CE12A2EA3B1AF9C96677174400276E2715A
All thanks go to the original releaser