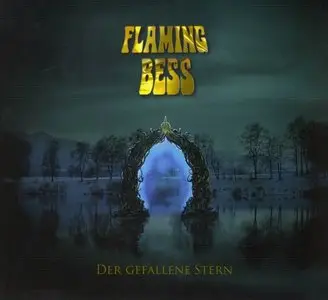 Flaming Bess - Der Gefallene Stern (2013)
XLD Rip | FLAC (image+.cue+log) - 517 MB | MP3 CBR 320 kbps (LAME 3.93) - 196 MB | Covers (13 MB) included
Genre: Progressive Rock | RAR 3% Rec. | Label: Arkana Multimedia (ARK 57967)
Flaming Bess is not your typical band. The original band was formed in 1969, in Düsseldorf. There was the usual club gigs, and personnel changes, before finally recording an album. It just took them ten years. This was 1979's "Tanz Der Götter." A highly regarded album, and very much influenced by other symphonic music of it's time. The second release, 1980's "Verlorene Welt," had a more rock-oriented approach, and featured Marlene Krükel on vocals. This would be the last recording from the band for 15 years. In 1995, they resurfaced with "Fata Morgana". Apparently, this was not just an attempt at recapturing past glory. They had kept up with changes in the music scene, and produced a progressive album to fit the times. Seemingly a pattern now, the next album was not recorded for another ten years. "Finestere Sonne / Black Sun" was released in 2005. It is a double CD, with one in German and one in English. Though adversity, changing trends, and music industry woes, this band has kept going. They remain true to their vision, without becoming antiquated. A truly admirable group, that shows no signs of giving up (ever).
Tracklist:
Verloren im Dunkel:
01. Erwachen
02. Verloren im Dunkel
03. Nosce Te Ipsum
04. Verzweifelt und Vergessen
05. Der gefallene Stern
Anderwelt:
06. Anderwelt
07. Lichtpfad
08. …wie Wüstenregen
09. Identropie
10. Erlösung?
Am Fluss von Sein und Zeit:
11. Am Fluss von Sein und Zeit
12. Die Kyberniten
13. Haravienna
14. Rückkehr
15. Friedhof der Träume
Total time:
01:17:41
X Lossless Decoder version 20100711 (120.5)

XLD extraction logfile from 2013-12-23 14:27:04 +0000

Flaming Bess / Der gefallene Stern

Used drive : HL-DT-ST DVDRW GX30N (revision RP09)

Use cdparanoia mode : YES (CDParanoia III 10.2 engine)
Disable audio cache : OK for the drive with cache less than 2750KB
Make use of C2 pointers : NO
Read offset correction : 6
Max retry count : 100
Gap status : Analyzed, Appended

TOC of the extracted CD
Track | Start | Length | Start sector | End sector
––––––––––––––––––––––––––––-
1 | 00:00:00 | 03:14:35 | 0 | 14584
2 | 03:14:35 | 01:56:06 | 14585 | 23290
3 | 05:10:41 | 05:58:22 | 23291 | 50162
4 | 11:08:63 | 04:59:72 | 50163 | 72659
5 | 16:08:60 | 06:27:70 | 72660 | 101754
6 | 22:36:55 | 04:32:23 | 101755 | 122177
7 | 27:09:03 | 05:14:08 | 122178 | 145735
8 | 32:23:11 | 05:17:26 | 145736 | 169536
9 | 37:40:37 | 04:20:20 | 169537 | 189056
10 | 42:00:57 | 06:18:48 | 189057 | 217454
11 | 48:19:30 | 03:29:59 | 217455 | 233188
12 | 51:49:14 | 04:50:62 | 233189 | 255000
13 | 56:40:01 | 12:19:64 | 255001 | 310489
14 | 68:59:65 | 04:55:62 | 310490 | 332676
15 | 73:55:52 | 03:45:04 | 332677 | 349555

All Tracks
Filename : /Users/Urij/Desktop/Flaming Bess-13/Der gefallene Stern.flac
CRC32 hash : 3BDDE2F1
CRC32 hash (skip zero) : 4B235A0C
Statistics
Read error : 0
Skipped (treated as error) : 0
Edge jitter error (maybe fixed) : 0
Atom jitter error (maybe fixed) : 0
Drift error (maybe fixed) : 0
Dropped bytes error (maybe fixed) : 0
Duplicated bytes error (maybe fixed) : 0

Track 01

Pre-gap length : 00:02:00

CRC32 hash : E2B930E2
CRC32 hash (skip zero) : 7FC7C051
AccurateRip signature : 898E3924
->Rip may not be accurate.
Statistics
Read error : 0
Skipped (treated as error) : 0
Edge jitter error (maybe fixed) : 0
Atom jitter error (maybe fixed) : 0
Drift error (maybe fixed) : 0
Dropped bytes error (maybe fixed) : 0
Duplicated bytes error (maybe fixed) : 0

Track 02

CRC32 hash : 02319720
CRC32 hash (skip zero) : 18A348D8
AccurateRip signature : D0F28A79
->Rip may not be accurate.
Statistics
Read error : 0
Skipped (treated as error) : 0
Edge jitter error (maybe fixed) : 0
Atom jitter error (maybe fixed) : 0
Drift error (maybe fixed) : 0
Dropped bytes error (maybe fixed) : 0
Duplicated bytes error (maybe fixed) : 0

Track 03

CRC32 hash : D265928A
CRC32 hash (skip zero) : 1AFFF40D
AccurateRip signature : D5F2EDB0
->Rip may not be accurate.
Statistics
Read error : 0
Skipped (treated as error) : 0
Edge jitter error (maybe fixed) : 0
Atom jitter error (maybe fixed) : 0
Drift error (maybe fixed) : 0
Dropped bytes error (maybe fixed) : 0
Duplicated bytes error (maybe fixed) : 0

Track 04

CRC32 hash : BC4AC996
CRC32 hash (skip zero) : 0BFAE51C
AccurateRip signature : 7ACD85A3
->Rip may not be accurate.
Statistics
Read error : 0
Skipped (treated as error) : 0
Edge jitter error (maybe fixed) : 0
Atom jitter error (maybe fixed) : 0
Drift error (maybe fixed) : 0
Dropped bytes error (maybe fixed) : 0
Duplicated bytes error (maybe fixed) : 0

Track 05

CRC32 hash : 81652759
CRC32 hash (skip zero) : 88CD05E9
AccurateRip signature : A2F25327
->Rip may not be accurate.
Statistics
Read error : 0
Skipped (treated as error) : 0
Edge jitter error (maybe fixed) : 0
Atom jitter error (maybe fixed) : 0
Drift error (maybe fixed) : 0
Dropped bytes error (maybe fixed) : 0
Duplicated bytes error (maybe fixed) : 0

Track 06

CRC32 hash : AFB75BA9
CRC32 hash (skip zero) : D9BD4345
AccurateRip signature : FD9144B4
->Rip may not be accurate.
Statistics
Read error : 0
Skipped (treated as error) : 0
Edge jitter error (maybe fixed) : 0
Atom jitter error (maybe fixed) : 0
Drift error (maybe fixed) : 0
Dropped bytes error (maybe fixed) : 0
Duplicated bytes error (maybe fixed) : 0

Track 07

CRC32 hash : 8020A6F6
CRC32 hash (skip zero) : 94612FBC
AccurateRip signature : 2AC5A47E
->Rip may not be accurate.
Statistics
Read error : 0
Skipped (treated as error) : 0
Edge jitter error (maybe fixed) : 0
Atom jitter error (maybe fixed) : 0
Drift error (maybe fixed) : 0
Dropped bytes error (maybe fixed) : 0
Duplicated bytes error (maybe fixed) : 0

Track 08

CRC32 hash : CF55B03D
CRC32 hash (skip zero) : 6131352C
AccurateRip signature : 1AC15D50
->Rip may not be accurate.
Statistics
Read error : 0
Skipped (treated as error) : 0
Edge jitter error (maybe fixed) : 0
Atom jitter error (maybe fixed) : 0
Drift error (maybe fixed) : 0
Dropped bytes error (maybe fixed) : 0
Duplicated bytes error (maybe fixed) : 0

Track 09

CRC32 hash : BA9CACB1
CRC32 hash (skip zero) : A2B157E6
AccurateRip signature : FAF24F2A
->Rip may not be accurate.
Statistics
Read error : 0
Skipped (treated as error) : 0
Edge jitter error (maybe fixed) : 0
Atom jitter error (maybe fixed) : 0
Drift error (maybe fixed) : 0
Dropped bytes error (maybe fixed) : 0
Duplicated bytes error (maybe fixed) : 0

Track 10

CRC32 hash : 38218245
CRC32 hash (skip zero) : 812BEC12
AccurateRip signature : 1B54AC2C
->Rip may not be accurate.
Statistics
Read error : 0
Skipped (treated as error) : 0
Edge jitter error (maybe fixed) : 0
Atom jitter error (maybe fixed) : 0
Drift error (maybe fixed) : 0
Dropped bytes error (maybe fixed) : 0
Duplicated bytes error (maybe fixed) : 0

Track 11

CRC32 hash : D0DDB862
CRC32 hash (skip zero) : 005A9A2D
AccurateRip signature : 942FB6BA
->Rip may not be accurate.
Statistics
Read error : 0
Skipped (treated as error) : 0
Edge jitter error (maybe fixed) : 0
Atom jitter error (maybe fixed) : 0
Drift error (maybe fixed) : 0
Dropped bytes error (maybe fixed) : 0
Duplicated bytes error (maybe fixed) : 0

Track 12

CRC32 hash : 16339BD1
CRC32 hash (skip zero) : EA7493A7
AccurateRip signature : 72B4334D
->Rip may not be accurate.
Statistics
Read error : 0
Skipped (treated as error) : 0
Edge jitter error (maybe fixed) : 0
Atom jitter error (maybe fixed) : 0
Drift error (maybe fixed) : 0
Dropped bytes error (maybe fixed) : 0
Duplicated bytes error (maybe fixed) : 0

Track 13

CRC32 hash : 3DAB5DB5
CRC32 hash (skip zero) : 4368907D
AccurateRip signature : 418E7E94
->Rip may not be accurate.
Statistics
Read error : 0
Skipped (treated as error) : 0
Edge jitter error (maybe fixed) : 0
Atom jitter error (maybe fixed) : 0
Drift error (maybe fixed) : 0
Dropped bytes error (maybe fixed) : 0
Duplicated bytes error (maybe fixed) : 0

Track 14

CRC32 hash : 0E3ABC3D
CRC32 hash (skip zero) : D311EE40
AccurateRip signature : 76469B25
->Rip may not be accurate.
Statistics
Read error : 0
Skipped (treated as error) : 0
Edge jitter error (maybe fixed) : 0
Atom jitter error (maybe fixed) : 0
Drift error (maybe fixed) : 0
Dropped bytes error (maybe fixed) : 0
Duplicated bytes error (maybe fixed) : 0

Track 15

CRC32 hash : AD29479F
CRC32 hash (skip zero) : 8AAE153D
AccurateRip signature : ABF54F03
->Rip may not be accurate.
Statistics
Read error : 0
Skipped (treated as error) : 0
Edge jitter error (maybe fixed) : 0
Atom jitter error (maybe fixed) : 0
Drift error (maybe fixed) : 0
Dropped bytes error (maybe fixed) : 0
Duplicated bytes error (maybe fixed) : 0

No errors occurred

End of status report
Thanks to
BeoKuzma