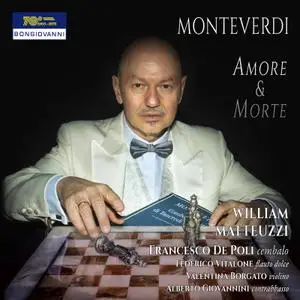 Francesco de Poli and William Matteuzzi - Amore & morte (2020)
WEB FLAC (tracks) - 374 MB | Tracks: 11 | 68:29 min
Style: Classical | Label: Bongiovanni
The voice of the Narrator (Testo) shall be clear, steady and with good pronunciation, () in keeping with the passions of the oration. Thus the recommendation by Claudio Monteverdi in the preface to his Combattimento di Tancredi e Clorinda, published in Venice in 1638. Monteverdi's remarks on performance together with his actual music underline the tension between passions here between love and death, (Amore e morte, as the present collection is entitled), a combination which most people associate with a romantic aesthetic or sensibility. Yet an awareness of this association is better served through Monteverdi's fusion of words and music, heightening the perception of each by the combination of the two. Thus Monteverdi laid the foundations of opera, a genre destined to be as popular as it would be widespread in centuries to come. And his influence would be felt throughout all its stylistic variations each time words were clothed in music.
Tracklist:
01. Volgendo il ciel per l'immortal sentiero, SV 154 (Arr. for Solo Voice & Continuo)
02. Scherzi musicali (Excerpts): No. 5, Et è pur dunque vero, SV 250
03. Se i languidi miei sguardi, SV 141
04. Scherzi musicali (Excerpts): No. 1, Maledetto sia l'aspetto, SV 246
05. Se pur destina e vole, SV 142
06. Scherzi musicali (Excerpts): No. 3, Eri già tutta mia, SV 248
07. La mia turca che d'amor non ha fè, SV 310 (Arr. for Solo Voice & Continuo)
08. L'incoronazione di Poppea, SV 308: Sento un certo non so che (Arr. for Solo Voice & Chamber Ensemble)
09. Lamento d' Arianna, SV 107 (Arr. for Solo Voice & Continuo)
10. Combattimento di Tancredi e Clorinda, SV 153 (Arr. for Solo Voice & Chamber Ensemble)
11. Si dolce è'l tormento, SV 332 (Arr. for Solo Voice & Continuo)


FILE: 01. Volgendo il ciel per l'immortal sentiero, SV 154 (Arr. for Solo Voice & Continuo).flac
Size: 14276814 Hash: 1D98613C9EBCF103523062DCB968AA5D Accuracy: -m0
Conclusion: MPEG 95%
Signature: DB3377C4BD0C4E7455E9EFD104C62248E003FBF1
FILE: 02. No. 5, Et è pur dunque vero, SV 250.flac
Size: 45633920 Hash: CBABFA02C42FBA7555750BD5698A3213 Accuracy: -m0
Conclusion: MPEG 95%
Signature: 1F43EFE405904007B8B8FAB2FDCE0960D9356179
FILE: 03. Se i languidi miei sguardi, SV 141.flac
Size: 48263510 Hash: 53B8A3A693BA396CF5274E22CD73BE78 Accuracy: -m0
Conclusion: MPEG 95%
Signature: E3FD8CEE1B309E1AE3BD70B3CA247890CC04F724
FILE: 04. No. 1, Maledetto sia l'aspetto, SV 246.flac
Size: 7810424 Hash: 5B8123418F4EDDFC7D6167396D4CF105 Accuracy: -m0
Conclusion: CDDA 100%
Signature: 5B58F066677CFC0AFCF25BFA633396D027A6EC17
FILE: 05. Se pur destina e vole, SV 142.flac
Size: 52888914 Hash: 697C73ADECE849B7C434D61821998D00 Accuracy: -m0
Conclusion: CDDA 100%
Signature: D154571188C51E01646D2E0E0DCF276D1C5D9DA8
FILE: 06. No. 3, Eri già tutta mia, SV 248.flac
Size: 14610489 Hash: 0FF7CBAAEE11F84C4FF656E92B51089C Accuracy: -m0
Conclusion: CDDA 100%
Signature: C43B60162FB063666E61B93A6A5D49522EF2638A
FILE: 07. La mia turca che d'amor non ha fè, SV 310 (Arr. for Solo Voice & Continuo).flac
Size: 8573888 Hash: A36F4626EF7C9500041A10B6070F6120 Accuracy: -m0
Conclusion: CDDA 100%
Signature: D11898E3C2C09D64CC6AA39768F79F4F273F6A5D
FILE: 08. Sento un certo non so che (Arr. for Solo Voice & Chamber Ensemble).flac
Size: 15995466 Hash: 417AE9D412A44DF440A26777189082F6 Accuracy: -m0
Conclusion: CDDA 100%
Signature: 62E668B7D88994D22A436125AB18B4F397E15B9D
FILE: 09. Lamento d' Arianna, SV 107 (Arr. for Solo Voice & Continuo).flac
Size: 51246449 Hash: DDEB929F4F9143CB08381246AF157A29 Accuracy: -m0
Conclusion: CDDA 100%
Signature: 3420D4BAC5FBAAE1F16576615AAAB0052F7F1BE3
FILE: 10. Combattimento di Tancredi e Clorinda, SV 153 (Arr. for Solo Voice & Chamber Ensemble).flac
Size: 114387507 Hash: 42FCC74E522CF0671B6717DCA5BA802D Accuracy: -m0
Conclusion: MPEG 95%
Signature: BADE36670D7C4C089A75468F6D389044F3BAED63
FILE: 11. Si dolce è'l tormento, SV 332 (Arr. for Solo Voice & Continuo).flac
Size: 18717028 Hash: 197DC8F458759AD901B9CBCE3EFA313A Accuracy: -m0
Conclusion: CDDA 100%
Signature: ECB696011BF3149AF0177849A00B5833C74BC20A