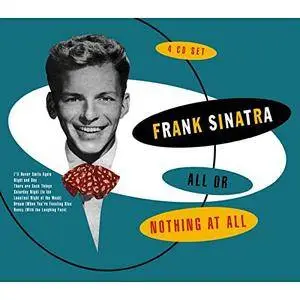 Frank Sinatra - All Or Nothing At All (4CD Box Set, 2001)
Vocal Jazz, Traditional Pop | MP3 CBR 320 kbps | 714 Mb
Label: Proper Box UK
Frank Sinatra's contribution to 20th century music has been immense. His treatment of the classics from the great American Songbook made him into the greatest male interpreter of America's best songs. Many of these will be linked with his name forever. This 4 CD set is made up of 102 tracks including many transcription sides that were never recorded commercially by Sinatra.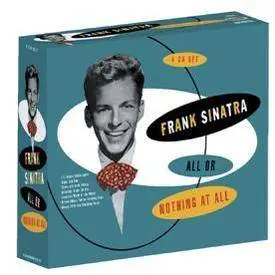 Contents:
CD1 - Big Band Beginnings (01:17:44)
CD2- Time After Time (01:18:34)
CD3 - Mam'selle (01:16:51)
CD4 - Radio Rules Ok! (01:18:50)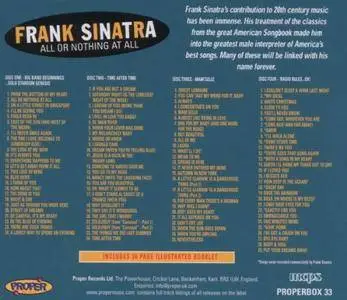 CD1 - Big Band Beginnings (01:17:44)

01. From The Bottom Of My Heart [03:24]
02. All Or Nothing At All [02:58]
03. On A Little Street In Singapore [02:49]
04. I'll Be Seeing You [03:08]
05. Fools Rush In [03:16]
06. East Of The Sun (And West Of The Moon) [03:21]
07. I'll Never Smile Again [03:12]
08. The One I Love (Belongs To Somebody Else) [03:36]
09. Oh! Look At Me Now [03:15]
10. It's Always You [03:15]
11. Everything Happens To Me [03:16]
12. Let's Get Away From It All [05:01]
13. This Love Of Mine [03:43]
14. Blue Skies [03:17]
15. I Think Of You [02:56]
16. How About You? [02:55]
17. The Song Is You [03:25]
18. Night And Day [03:03]
19. Just As Though You Were Here [03:14]
20. Street Of Dreams [02:43]
21. Be Careful, It's My Heart [02:49]
22. In The Blue Of The Evening [02:56]
23. There Are Such Things [02:43]
24. A Lovely Way To Spend An Evening [03:15]

CD2- Time After Time (01:18:34)

01. If You Are But A Dream [03:11]
02. Saturday Night (Is The Loneliest Night Of The Week) [02:44]
03. I Dream Of You (More Than You Dream I Do) [03:07]
04. I Fall In Love Too Easily [03:13]
05. Ol' Man River [04:07]
06. When Your Lover Has Gone [02:56]
07. My Melancholy Baby [03:14]
08. Where Or When [03:17]
09. I Should Care [03:03]
10. Dream (When You're Feeling Blue) [03:04]
11. Jesus Is A Rock In The Weary Land [03:21]
12. Someone To Watch Over Me [03:24]
13. You Go To My Head [03:04]
14. Nancy (With The Laughing Face) [03:27]
15. You Are Too Beautiful [03:06]
16. Oh, What It Seemed To Be [03:06]
17. (I Don't Stand) A Ghost Of A Chance (With You) [03:12]
18. Why Shouldn't I? [02:55]
19. They Say It's Wonderful [03:09]
20. The Girl That I Marry [03:06]
21. Soliloquy Part 1 [03:49]
22. Soliloquy Part 2 [04:16]
23. The Things We Did Last Summer [03:20]
24. Time After Time [03:13]

CD3 - Mam'selle (01:16:51)

01. Sweet Lorraine [03:13]
02. You Can Take My Word For It, Baby [02:33]
03. Always [03:05]
04. I Concentrate On You [03:06]
05. Mam'selle [03:24]
06. Almost Like Being In Love [02:47]
07. One For My Baby (And One More For The Road) [03:05]
08. But Beautiful [03:16]
09. All Of Me [02:50]
10. Laura [03:15]
11. What'll I Do? [03:07]
12. Mean To Me [03:20]
13. Spring Is Here [02:47]
14. It Never Entered My Mind [03:20]
15. Autumn In New York [03:19]
16. A Little Learnin' Is A Dangerous Thing (Part 1) [03:23]
17. A Little Learnin' Is A Dangerous Thing (Part 2) [03:10]
18. For Every Man There's A Woman [02:53]
19. Why Was I Born? [02:45]
20. Bop! Goes My Heart [03:09]
21. It All Depends On You [02:47]
22. Don't Cry, Joe [03:19]
23. When The Sun Goes Down [03:07]
24. When You're Smiling [02:32]
25. Nevertheless [03:07]

CD4 - Radio Rules Ok! (01:18:50)

01. I Couldn't Sleep A Week Last Night [02:49]
02. My Ideal [01:26]
03. White Christmas [03:09]
04. Close To You [03:08]
05. You'll Never Know [02:06]
06. Come Out, Wherever You Are [02:01]
07. Long Ago (And Far Away) [02:32]
08. Amor [03:29]
09. I'll Walk Alone [03:15]
10. Some Other Time [01:49]
11. There's No You [02:18]
12. There Goes That Song Again [02:54]
13. With A Song In My Heart [03:40]
14. Guess I'll Hang My Tears Out To Dry [03:39]
15. If I Loved Her [02:37]
16. I Begged Her [04:20]
17. How Deep Is The Ocean [02:22]
18. Great Day! [01:12]
19. Over The Rainbow [04:01]
20. Bess, Oh Where Is My Bess? [03:11]
21. I Only Have Eyes For You [02:30]
22. Exactly Like You [01:51]
23. Embraceable You [03:19]
24. Five Minutes More [01:27]
25. Goin' Home [03:27]
26. I've Got A Crush On You [01:44]
27. Bye Bye Baby [02:31]
28. Body And Soul [03:34]
29. Put Your Dreams Away [02:15]