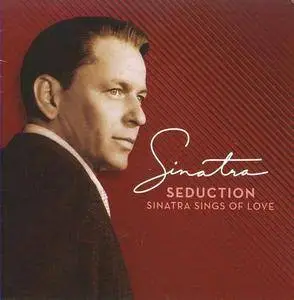 Frank Sinatra - Seduction: Sinatra Sings Of Love (Deluxe Edition) (2009)
XLD Rip | FLAC (Tracks) +cue, log, artworks - 594 MB | MP3 CBR 320 kbps - 226 MB | 01:38:35
Traditional Pop, Vocal Jazz, Swing, Easy Listening | Label: Reprise
Released by Reprise just in time for Valentines Day 2009, Seduction: Sinatra Sings of Love is a good collection of 22 highlights with an additional ten cuts on the two-disc "deluxe" edition from Sinatra's Reprise recordings. While there are surely some hits here "Some Enchanted Evening," "They Can't Take That Away from Me," "I Get A Kick Out of You," "I've Got You Under My Skin" what's noteworthy about this collection is that it isn't just a recycling of familiar songs, it digs a little deeper into his catalog (even finding a previously unissued "My Funny Valentine") to create a compilation that isn't necessarily for aficionados, but rather Sinatra fans who already know the big tunes and want to dig a little deeper (without buying albums). In this regard, it's a worthy compilation, delivering plenty of good music that is both good and fits the seductive mood of the title.
TRACKLIST
CD1
01. "Prisoner of Love" (Russ Columbo, Leo Robin, Clarance Gaskill)
02. "I've Got You Under My Skin" (Cole Porter)
03. "My Funny Valentine" [Alternate Version] (Richard Rodgers, Lorenz Hart)
04. "Witchcraft" (Cy Coleman, Carolyn Leigh)
05. "All the Way" (Sammy Cahn, Jimmy Van Heusen)
06. "It Had to Be You" (Isham Jones, Gus Kahn)
07. "Young at Heart" (Leigh, Johnny Richards)
08. "Love Is a Many-Splendored Thing" (Paul Francis Webster, Sammy Fain)
09. "Some Enchanted Evening" (Rodgers, Oscar Hammerstein II)
10. "(How Little It Matters) How Little We Know" (Leigh, Phil Springer)
11. "I Get a Kick Out of You" (Porter)
12. "The Second Time Around" (Cahn, Van Heusen)
13. "At Long Last Love" (Porter)
14. "I Concentrate on You" (Porter)
15. "Then Suddenly Love" (Ray Alfred, Paul Vance)
16. "They Can't Take That Away from Me" (George Gershwin, Ira Gershwin)
17. "A Fine Romance" (Dorothy Fields, Jerome Kern)
18. "More (Theme from Mondo Cane)" (Riz Ortolani, Nino Oliviero, Marcello Ciorciolini, Norman Newell)
19. "This Happy Madness (Estrada Branca)" (Aloysio de Oliveira, Antonio Carlos Jobim, Gene Lees)
20. "Teach Me Tonight" (Cahn, Gene DePaul)
21. "All the Way Home" (Teddy Randazzo)
22. "That's All" (Bob Haymes, Alan Brandt)
X Lossless Decoder version 20161007 (149.3)

XLD extraction logfile from 2016-11-30 17:30:56 +0000

Frank Sinatra / Seduction: Sinatra Sings Of Love

Used drive : MATSHITA DVD-R UJ-8A8 (revision HA13)
Media type : Pressed CD

Ripper mode : CDParanoia III 10.2
Disable audio cache : OK for the drive with a cache less than 2750KiB
Make use of C2 pointers : NO
Read offset correction : 102
Max retry count : 100
Gap status : Analyzed, Appended (except HTOA)

TOC of the extracted CD
Track | Start | Length | Start sector | End sector
––––––––––––––––––––––––––––-
1 | 00:00:00 | 03:54:38 | 0 | 17587
2 | 03:54:38 | 03:33:66 | 17588 | 33628
3 | 07:28:29 | 02:30:17 | 33629 | 44895
4 | 09:58:46 | 02:39:04 | 44896 | 56824
5 | 12:37:50 | 03:30:42 | 56825 | 72616
6 | 16:08:17 | 03:54:71 | 72617 | 90237
7 | 20:03:13 | 02:56:18 | 90238 | 103455
8 | 22:59:31 | 03:22:62 | 103456 | 118667
9 | 26:22:18 | 03:29:39 | 118668 | 134381
10 | 29:51:57 | 02:21:09 | 134382 | 144965
11 | 32:12:66 | 03:17:55 | 144966 | 159795
12 | 35:30:46 | 03:05:38 | 159796 | 173708
13 | 38:36:09 | 02:16:23 | 173709 | 183931
14 | 40:52:32 | 02:39:44 | 183932 | 195900
15 | 43:32:01 | 02:22:10 | 195901 | 206560
16 | 45:54:11 | 02:43:41 | 206561 | 218826
17 | 48:37:52 | 02:12:20 | 218827 | 228746
18 | 50:49:72 | 03:07:29 | 228747 | 242800
19 | 53:57:26 | 03:00:73 | 242801 | 256373
20 | 56:58:24 | 03:47:70 | 256374 | 273468
21 | 60:46:19 | 03:55:44 | 273469 | 291137
22 | 64:41:63 | 03:22:11 | 291138 | 306298

List of alternate offset correction values
# | Absolute | Relative | Confidence
–––––––––––––––––––––
1 | 96 | -6 | 45

AccurateRip Summary (DiscID: 00363e03-035a8f19-370ff316)
Track 01 : OK (v1+v2, confidence 9/53)
Track 02 : OK (v1+v2, confidence 9/54)
Track 03 : OK (v1+v2, confidence 9/54)
Track 04 : OK (v1+v2, confidence 9/54)
Track 05 : OK (v1+v2, confidence 9/53)
Track 06 : OK (v1+v2, confidence 9/53)
Track 07 : OK (v1+v2, confidence 9/53)
Track 08 : OK (v1+v2, confidence 9/52)
Track 09 : OK (v1+v2, confidence 8/52)
Track 10 : OK (v1+v2, confidence 9/53)
Track 11 : OK (v1+v2, confidence 8/52)
Track 12 : OK (v1+v2, confidence 9/53)
Track 13 : OK (v1+v2, confidence 8/52)
Track 14 : OK (v1+v2, confidence 9/53)
Track 15 : OK (v1+v2, confidence 9/52)
Track 16 : OK (v1+v2, confidence 9/53)
Track 17 : OK (v1+v2, confidence 9/53)
Track 18 : OK (v1+v2, confidence 9/54)
Track 19 : OK (v1+v2, confidence 9/52)
Track 20 : OK (v1+v2, confidence 9/53)
Track 21 : OK (v1+v2, confidence 9/53)
Track 22 : OK (v1+v2, confidence 9/52)
->All tracks accurately ripped.

All Tracks
Album gain : -5.31 dB
Peak : 1.000000
Statistics
Read error : 0
Skipped (treated as error) : 0
Edge jitter error (maybe fixed) : 2
Atom jitter error (maybe fixed) : 1
Drift error (maybe fixed) : 0
Dropped bytes error (maybe fixed) : 1
Duplicated bytes error (maybe fixed) : 1

Track 01
Filename : /Users/Rips/Desktop/Rip/01 Prisoner Of Love.flac
/Users/Rips/Desktop/Rip/01 Prisoner Of Love.mp3
Pre-gap length : 00:02:00

Track gain : -1.87 dB
Peak : 0.870422
CRC32 hash (test run) : DAF7D244
CRC32 hash : DAF7D244
CRC32 hash (skip zero) : 0C0E0481
AccurateRip v1 signature : 10F1CC21
AccurateRip v2 signature : 143206A5
->Accurately ripped (v1+v2, confidence 4+5/53)
Statistics
Read error : 0
Skipped (treated as error) : 0
Edge jitter error (maybe fixed) : 0
Atom jitter error (maybe fixed) : 0
Drift error (maybe fixed) : 0
Dropped bytes error (maybe fixed) : 0
Duplicated bytes error (maybe fixed) : 0
Inconsistency in error sectors : 0

Track 02
Filename : /Users/Rips/Desktop/Rip/02 I've Got You Under My Skin.flac
/Users/Rips/Desktop/Rip/02 I've Got You Under My Skin.mp3

Track gain : -4.04 dB
Peak : 0.999939
CRC32 hash (test run) : 4C3FE253
CRC32 hash : 4C3FE253
CRC32 hash (skip zero) : 1E3BC35C
AccurateRip v1 signature : 061E6295
AccurateRip v2 signature : 3FFD0645
->Accurately ripped (v1+v2, confidence 4+5/54)
Statistics
Read error : 0
Skipped (treated as error) : 0
Edge jitter error (maybe fixed) : 0
Atom jitter error (maybe fixed) : 0
Drift error (maybe fixed) : 0
Dropped bytes error (maybe fixed) : 0
Duplicated bytes error (maybe fixed) : 0
Inconsistency in error sectors : 0

Track 03
Filename : /Users/Rips/Desktop/Rip/03 My Funny Valentine.flac
/Users/Rips/Desktop/Rip/03 My Funny Valentine.mp3
Pre-gap length : 00:01:10

Track gain : -1.94 dB
Peak : 0.640747
CRC32 hash (test run) : 430F2771
CRC32 hash : 430F2771
CRC32 hash (skip zero) : B2600D36
AccurateRip v1 signature : 05859453
AccurateRip v2 signature : 041FC168
->Accurately ripped (v1+v2, confidence 4+5/54)
Statistics
Read error : 0
Skipped (treated as error) : 0
Edge jitter error (maybe fixed) : 0
Atom jitter error (maybe fixed) : 0
Drift error (maybe fixed) : 0
Dropped bytes error (maybe fixed) : 0
Duplicated bytes error (maybe fixed) : 0
Inconsistency in error sectors : 0

Track 04
Filename : /Users/Rips/Desktop/Rip/04 Witchcraft.flac
/Users/Rips/Desktop/Rip/04 Witchcraft.mp3

Track gain : -3.39 dB
Peak : 0.886353
CRC32 hash (test run) : 30410F8B
CRC32 hash : 30410F8B
CRC32 hash (skip zero) : 1AFAD3CB
AccurateRip v1 signature : B7F800DC
AccurateRip v2 signature : 97C1D5B0
->Accurately ripped (v1+v2, confidence 4+5/54)
Statistics
Read error : 0
Skipped (treated as error) : 0
Edge jitter error (maybe fixed) : 0
Atom jitter error (maybe fixed) : 0
Drift error (maybe fixed) : 0
Dropped bytes error (maybe fixed) : 0
Duplicated bytes error (maybe fixed) : 0
Inconsistency in error sectors : 0

Track 05
Filename : /Users/Rips/Desktop/Rip/05 All The Way.flac
/Users/Rips/Desktop/Rip/05 All The Way.mp3
Pre-gap length : 00:01:56

Track gain : -4.99 dB
Peak : 0.999969
CRC32 hash (test run) : 6C2AA484
CRC32 hash : 6C2AA484
CRC32 hash (skip zero) : BECE5A4F
AccurateRip v1 signature : 2DC3459E
AccurateRip v2 signature : 2387F01E
->Accurately ripped (v1+v2, confidence 4+5/53)
Statistics
Read error : 0
Skipped (treated as error) : 0
Edge jitter error (maybe fixed) : 1
Atom jitter error (maybe fixed) : 1
Drift error (maybe fixed) : 0
Dropped bytes error (maybe fixed) : 0
Duplicated bytes error (maybe fixed) : 0
Inconsistency in error sectors : 0

Track 06
Filename : /Users/Rips/Desktop/Rip/06 It Had To Be You.flac
/Users/Rips/Desktop/Rip/06 It Had To Be You.mp3

Track gain : -1.56 dB
Peak : 0.736603
CRC32 hash (test run) : 2EFA491C
CRC32 hash : 2EFA491C
CRC32 hash (skip zero) : 5CD71E4A
AccurateRip v1 signature : 1D3230A0
AccurateRip v2 signature : C4247E5C
->Accurately ripped (v1+v2, confidence 4+5/53)
Statistics
Read error : 0
Skipped (treated as error) : 0
Edge jitter error (maybe fixed) : 0
Atom jitter error (maybe fixed) : 0
Drift error (maybe fixed) : 0
Dropped bytes error (maybe fixed) : 0
Duplicated bytes error (maybe fixed) : 0
Inconsistency in error sectors : 0

Track 07
Filename : /Users/Rips/Desktop/Rip/07 Young At Heart.flac
/Users/Rips/Desktop/Rip/07 Young At Heart.mp3
Pre-gap length : 00:01:08

Track gain : -3.34 dB
Peak : 0.838135
CRC32 hash (test run) : 042E5B69
CRC32 hash : 042E5B69
CRC32 hash (skip zero) : 78C96517
AccurateRip v1 signature : 00389CE6
AccurateRip v2 signature : 7608B5D7
->Accurately ripped (v1+v2, confidence 4+5/53)
Statistics
Read error : 0
Skipped (treated as error) : 0
Edge jitter error (maybe fixed) : 0
Atom jitter error (maybe fixed) : 0
Drift error (maybe fixed) : 0
Dropped bytes error (maybe fixed) : 0
Duplicated bytes error (maybe fixed) : 0
Inconsistency in error sectors : 0

Track 08
Filename : /Users/Rips/Desktop/Rip/08 Love Is A Many-Splendored Thing.flac
/Users/Rips/Desktop/Rip/08 Love Is A Many-Splendored Thing.mp3
Pre-gap length : 00:01:15

Track gain : -6.39 dB
Peak : 0.982361
CRC32 hash (test run) : D18F670F
CRC32 hash : D18F670F
CRC32 hash (skip zero) : C7E896ED
AccurateRip v1 signature : 878AA0C4
AccurateRip v2 signature : 4E139C38
->Accurately ripped (v1+v2, confidence 4+5/52)
Statistics
Read error : 0
Skipped (treated as error) : 0
Edge jitter error (maybe fixed) : 0
Atom jitter error (maybe fixed) : 0
Drift error (maybe fixed) : 0
Dropped bytes error (maybe fixed) : 0
Duplicated bytes error (maybe fixed) : 0
Inconsistency in error sectors : 0

Track 09
Filename : /Users/Rips/Desktop/Rip/09 Some Enchanted Evening.flac
/Users/Rips/Desktop/Rip/09 Some Enchanted Evening.mp3

Track gain : -5.36 dB
Peak : 0.892853
CRC32 hash (test run) : 41558579
CRC32 hash : 41558579
CRC32 hash (skip zero) : 1AB2E470
AccurateRip v1 signature : 654104E9
AccurateRip v2 signature : DC1CF682
->Accurately ripped (v1+v2, confidence 3+5/52)
Statistics
Read error : 0
Skipped (treated as error) : 0
Edge jitter error (maybe fixed) : 0
Atom jitter error (maybe fixed) : 0
Drift error (maybe fixed) : 0
Dropped bytes error (maybe fixed) : 0
Duplicated bytes error (maybe fixed) : 0
Inconsistency in error sectors : 0

Track 10
Filename : /Users/Rips/Desktop/Rip/10 (How Little It Matters) How Little We Know.flac
/Users/Rips/Desktop/Rip/10 (How Little It Matters) How Little We Know.mp3
Pre-gap length : 00:02:07

Track gain : -4.14 dB
Peak : 0.876923
CRC32 hash (test run) : C47DAEA9
CRC32 hash : C47DAEA9
CRC32 hash (skip zero) : D780E22C
AccurateRip v1 signature : 679093C7
AccurateRip v2 signature : 57E3C817
->Accurately ripped (v1+v2, confidence 4+5/53)
Statistics
Read error : 0
Skipped (treated as error) : 0
Edge jitter error (maybe fixed) : 0
Atom jitter error (maybe fixed) : 0
Drift error (maybe fixed) : 0
Dropped bytes error (maybe fixed) : 0
Duplicated bytes error (maybe fixed) : 0
Inconsistency in error sectors : 0

Track 11
Filename : /Users/Rips/Desktop/Rip/11 I Get A Kick Out Of You.flac
/Users/Rips/Desktop/Rip/11 I Get A Kick Out Of You.mp3

Track gain : -5.99 dB
Peak : 1.000000
CRC32 hash (test run) : 7FF5D758
CRC32 hash : 7FF5D758
CRC32 hash (skip zero) : 85E51024
AccurateRip v1 signature : 1BC8033C
AccurateRip v2 signature : 19FBD3F1
->Accurately ripped (v1+v2, confidence 3+5/52)
Statistics
Read error : 0
Skipped (treated as error) : 0
Edge jitter error (maybe fixed) : 0
Atom jitter error (maybe fixed) : 0
Drift error (maybe fixed) : 0
Dropped bytes error (maybe fixed) : 0
Duplicated bytes error (maybe fixed) : 0
Inconsistency in error sectors : 0

Track 12
Filename : /Users/Rips/Desktop/Rip/12 The Second Time Around.flac
/Users/Rips/Desktop/Rip/12 The Second Time Around.mp3
Pre-gap length : 00:03:62

Track gain : -3.43 dB
Peak : 0.782562
CRC32 hash (test run) : 5491EA98
CRC32 hash : 5491EA98
CRC32 hash (skip zero) : 22404723
AccurateRip v1 signature : 38D2BEBF
AccurateRip v2 signature : 03D326CB
->Accurately ripped (v1+v2, confidence 4+5/53)
Statistics
Read error : 0
Skipped (treated as error) : 0
Edge jitter error (maybe fixed) : 0
Atom jitter error (maybe fixed) : 0
Drift error (maybe fixed) : 0
Dropped bytes error (maybe fixed) : 0
Duplicated bytes error (maybe fixed) : 0
Inconsistency in error sectors : 0

Track 13
Filename : /Users/Rips/Desktop/Rip/13 At Long Last Love.flac
/Users/Rips/Desktop/Rip/13 At Long Last Love.mp3

Track gain : -7.42 dB
Peak : 1.000000
CRC32 hash (test run) : 88A97D82
CRC32 hash : 88A97D82
CRC32 hash (skip zero) : 26B99630
AccurateRip v1 signature : 9DF1C0AC
AccurateRip v2 signature : 5E5E440C
->Accurately ripped (v1+v2, confidence 3+5/52)
Statistics
Read error : 0
Skipped (treated as error) : 0
Edge jitter error (maybe fixed) : 0
Atom jitter error (maybe fixed) : 0
Drift error (maybe fixed) : 0
Dropped bytes error (maybe fixed) : 0
Duplicated bytes error (maybe fixed) : 0
Inconsistency in error sectors : 0

Track 14
Filename : /Users/Rips/Desktop/Rip/14 I Concentrate On You.flac
/Users/Rips/Desktop/Rip/14 I Concentrate On You.mp3
Pre-gap length : 00:01:36

Track gain : -2.02 dB
Peak : 0.814575
CRC32 hash (test run) : EB9A1B66
CRC32 hash : EB9A1B66
CRC32 hash (skip zero) : D7073725
AccurateRip v1 signature : 0D8FADA8
AccurateRip v2 signature : 252BA4AF
->Accurately ripped (v1+v2, confidence 4+5/53)
Statistics
Read error : 0
Skipped (treated as error) : 0
Edge jitter error (maybe fixed) : 0
Atom jitter error (maybe fixed) : 0
Drift error (maybe fixed) : 0
Dropped bytes error (maybe fixed) : 0
Duplicated bytes error (maybe fixed) : 0
Inconsistency in error sectors : 0

Track 15
Filename : /Users/Rips/Desktop/Rip/15 Then Suddenly Love.flac
/Users/Rips/Desktop/Rip/15 Then Suddenly Love.mp3
Pre-gap length : 00:01:19

Track gain : -5.77 dB
Peak : 0.977142
CRC32 hash (test run) : 854A8B39
CRC32 hash : 854A8B39
CRC32 hash (skip zero) : 9EF8E806
AccurateRip v1 signature : 8E98F4C2
AccurateRip v2 signature : 6BC4C306
->Accurately ripped (v1+v2, confidence 4+5/52)
Statistics
Read error : 0
Skipped (treated as error) : 0
Edge jitter error (maybe fixed) : 1
Atom jitter error (maybe fixed) : 0
Drift error (maybe fixed) : 0
Dropped bytes error (maybe fixed) : 1
Duplicated bytes error (maybe fixed) : 1
Inconsistency in error sectors : 0

Track 16
Filename : /Users/Rips/Desktop/Rip/16 They Can't Take That Away From Me.flac
/Users/Rips/Desktop/Rip/16 They Can't Take That Away From Me.mp3

Track gain : -7.28 dB
Peak : 0.999969
CRC32 hash (test run) : 0A8402A8
CRC32 hash : 0A8402A8
CRC32 hash (skip zero) : 7B23C892
AccurateRip v1 signature : 12884E65
AccurateRip v2 signature : B6235C7D
->Accurately ripped (v1+v2, confidence 4+5/53)
Statistics
Read error : 0
Skipped (treated as error) : 0
Edge jitter error (maybe fixed) : 0
Atom jitter error (maybe fixed) : 0
Drift error (maybe fixed) : 0
Dropped bytes error (maybe fixed) : 0
Duplicated bytes error (maybe fixed) : 0
Inconsistency in error sectors : 0

Track 17
Filename : /Users/Rips/Desktop/Rip/17 A Fine Romance.flac
/Users/Rips/Desktop/Rip/17 A Fine Romance.mp3
Pre-gap length : 00:01:03

Track gain : -4.64 dB
Peak : 0.936493
CRC32 hash (test run) : A8EE094A
CRC32 hash : 96345F2E
->Rip may not be accurate.
CRC32 hash (skip zero) : A6AB9D83
AccurateRip v1 signature : 9E4CF7BB
AccurateRip v2 signature : 741CC0CC
->Accurately ripped (v1+v2, confidence 4+5/53)
Statistics
Read error : 0
Skipped (treated as error) : 0
Edge jitter error (maybe fixed) : 0
Atom jitter error (maybe fixed) : 0
Drift error (maybe fixed) : 0
Dropped bytes error (maybe fixed) : 0
Duplicated bytes error (maybe fixed) : 0
Inconsistency in error sectors : 0

Track 18
Filename : /Users/Rips/Desktop/Rip/18 More (Theme From Mondo Cane).flac
/Users/Rips/Desktop/Rip/18 More (Theme From Mondo Cane).mp3

Track gain : -5.29 dB
Peak : 0.851166
CRC32 hash (test run) : 3FF9A3BE
CRC32 hash : 3FF9A3BE
CRC32 hash (skip zero) : 81048C5E
AccurateRip v1 signature : B5F77652
AccurateRip v2 signature : 97281DE8
->Accurately ripped (v1+v2, confidence 4+5/54)
Statistics
Read error : 0
Skipped (treated as error) : 0
Edge jitter error (maybe fixed) : 0
Atom jitter error (maybe fixed) : 0
Drift error (maybe fixed) : 0
Dropped bytes error (maybe fixed) : 0
Duplicated bytes error (maybe fixed) : 0
Inconsistency in error sectors : 0

Track 19
Filename : /Users/Rips/Desktop/Rip/19 This Happy Madness (Estrada Branca).flac
/Users/Rips/Desktop/Rip/19 This Happy Madness (Estrada Branca).mp3
Pre-gap length : 00:03:23

Track gain : -4.12 dB
Peak : 0.903442
CRC32 hash (test run) : 40C14608
CRC32 hash : 40C14608
CRC32 hash (skip zero) : DAB10980
AccurateRip v1 signature : A76C7BB0
AccurateRip v2 signature : E31916C7
->Accurately ripped (v1+v2, confidence 4+5/52)
Statistics
Read error : 0
Skipped (treated as error) : 0
Edge jitter error (maybe fixed) : 0
Atom jitter error (maybe fixed) : 0
Drift error (maybe fixed) : 0
Dropped bytes error (maybe fixed) : 0
Duplicated bytes error (maybe fixed) : 0
Inconsistency in error sectors : 0

Track 20
Filename : /Users/Rips/Desktop/Rip/20 Teach Me Tonight.flac
/Users/Rips/Desktop/Rip/20 Teach Me Tonight.mp3
Pre-gap length : 00:01:71

Track gain : -8.90 dB
Peak : 1.000000
CRC32 hash (test run) : A9A40D5F
CRC32 hash : A9A40D5F
CRC32 hash (skip zero) : 20D66512
AccurateRip v1 signature : 3C6589F6
AccurateRip v2 signature : D6B43C94
->Accurately ripped (v1+v2, confidence 4+5/53)
Statistics
Read error : 0
Skipped (treated as error) : 0
Edge jitter error (maybe fixed) : 0
Atom jitter error (maybe fixed) : 0
Drift error (maybe fixed) : 0
Dropped bytes error (maybe fixed) : 0
Duplicated bytes error (maybe fixed) : 0
Inconsistency in error sectors : 0

Track 21
Filename : /Users/Rips/Desktop/Rip/21 All The Way Home.flac
/Users/Rips/Desktop/Rip/21 All The Way Home.mp3
Pre-gap length : 00:01:10

Track gain : -5.42 dB
Peak : 0.908295
CRC32 hash (test run) : 4A6E462E
CRC32 hash : 4A6E462E
CRC32 hash (skip zero) : 145E6A99
AccurateRip v1 signature : 44136184
AccurateRip v2 signature : EAB305D2
->Accurately ripped (v1+v2, confidence 4+5/53)
Statistics
Read error : 0
Skipped (treated as error) : 0
Edge jitter error (maybe fixed) : 0
Atom jitter error (maybe fixed) : 0
Drift error (maybe fixed) : 0
Dropped bytes error (maybe fixed) : 0
Duplicated bytes error (maybe fixed) : 0
Inconsistency in error sectors : 0

Track 22
Filename : /Users/Rips/Desktop/Rip/22 That's All.flac
/Users/Rips/Desktop/Rip/22 That's All.mp3
Pre-gap length : 00:01:22

Track gain : -3.46 dB
Peak : 0.912109
CRC32 hash (test run) : 450DF424
CRC32 hash : 450DF424
CRC32 hash (skip zero) : 5056297F
AccurateRip v1 signature : BD128145
AccurateRip v2 signature : 6518364F
->Accurately ripped (v1+v2, confidence 4+5/52)
Statistics
Read error : 0
Skipped (treated as error) : 0
Edge jitter error (maybe fixed) : 0
Atom jitter error (maybe fixed) : 0
Drift error (maybe fixed) : 0
Dropped bytes error (maybe fixed) : 0
Duplicated bytes error (maybe fixed) : 0
Inconsistency in error sectors : 0

Some inconsistencies found

End of status report

––-BEGIN XLD SIGNATURE––-
KzP2FqNYYn5iVlGFauTSTVM8DWZK8s4rPR2qz2_DXPmxr3Cmam_0uOED5auQHQyj7INsbdhOpnnh.6JQLPhRCl5GQJM7tLX.iftGogu
––-END XLD SIGNATURE––-
CD2
01. "The Look of Love" (Cahn, Van Heusen)
02. "Secret Love" (Webster, Fain)
03. "I Wish You Love" (Léo Chauliac, Charles Trenet, Albert Beach)
04. "I Like to Lead When I Dance" (Cahn, Van Heusen)
05. "Misty" (Erroll Garner, Johnny Burke)
06. "Stay With Me (Main Theme from The Cardinal)" (Leigh, Jerome Moross)
07. "Talk To Me Baby" (Robert E. Dolan, Johnny Mercer)
08. "For Once in My Life" (Ron Miller, Orlando Murden)
09. "All of You" (Porter)
10. "I Had the Craziest Dream" (Mack Gordon, Harry Warren)
X Lossless Decoder version 20161007 (149.3)

XLD extraction logfile from 2016-11-30 20:01:18 +0000

Frank Sinatra / Seduction: Sinatra Sings Of Love

Used drive : MATSHITA DVD-R UJ-8A8 (revision HA13)
Media type : Pressed CD

Ripper mode : CDParanoia III 10.2
Disable audio cache : OK for the drive with a cache less than 2750KiB
Make use of C2 pointers : NO
Read offset correction : 102
Max retry count : 100
Gap status : Analyzed, Appended (except HTOA)

TOC of the extracted CD
Track | Start | Length | Start sector | End sector
––––––––––––––––––––––––––––-
1 | 00:00:00 | 02:45:74 | 0 | 12448
2 | 02:45:74 | 03:54:51 | 12449 | 30049
3 | 06:40:50 | 02:55:04 | 30050 | 43178
4 | 09:35:54 | 04:10:30 | 43179 | 61958
5 | 13:46:09 | 02:44:24 | 61959 | 74282
6 | 16:30:33 | 03:07:69 | 74283 | 88376
7 | 19:38:27 | 03:01:19 | 88377 | 101970
8 | 22:39:46 | 02:52:45 | 101971 | 114915
9 | 25:32:16 | 01:44:20 | 114916 | 122735
10 | 27:16:36 | 03:14:64 | 122736 | 137349

List of alternate offset correction values
# | Absolute | Relative | Confidence
–––––––––––––––––––––
1 | 96 | -6 | 14

AccurateRip Summary (DiscID: 000c0346-005f5e87-8307270a)
Track 01 : OK (v1, confidence 2/16)
Track 02 : OK (v1, confidence 2/16)
Track 03 : OK (v1, confidence 2/16)
Track 04 : OK (v1, confidence 2/16)
Track 05 : OK (v1, confidence 2/16)
Track 06 : OK (v1, confidence 2/16)
Track 07 : OK (v1, confidence 2/16)
Track 08 : OK (v1, confidence 2/16)
Track 09 : OK (v1, confidence 2/16)
Track 10 : OK (v1, confidence 2/16)
->All tracks accurately ripped.

All Tracks
Album gain : -6.03 dB
Peak : 0.999939
Statistics
Read error : 0
Skipped (treated as error) : 0
Edge jitter error (maybe fixed) : 0
Atom jitter error (maybe fixed) : 0
Drift error (maybe fixed) : 0
Dropped bytes error (maybe fixed) : 0
Duplicated bytes error (maybe fixed) : 0

Track 01
Filename : /Users/Rips/Desktop/Rip/01 The Look of Love.flac
/Users/Rips/Desktop/Rip/01 The Look of Love.mp3
Pre-gap length : 00:02:00

Track gain : -6.29 dB
Peak : 0.999451
CRC32 hash (test run) : C36BCDDF
CRC32 hash : C36BCDDF
CRC32 hash (skip zero) : 849F4344
AccurateRip v1 signature : 018A775E
AccurateRip v2 signature : C7B19A8A
->Accurately ripped (v1, confidence 2/16)
Statistics
Read error : 0
Skipped (treated as error) : 0
Edge jitter error (maybe fixed) : 0
Atom jitter error (maybe fixed) : 0
Drift error (maybe fixed) : 0
Dropped bytes error (maybe fixed) : 0
Duplicated bytes error (maybe fixed) : 0
Inconsistency in error sectors : 0

Track 02
Filename : /Users/Rips/Desktop/Rip/02 Secret Love.flac
/Users/Rips/Desktop/Rip/02 Secret Love.mp3
Pre-gap length : 00:01:53

Track gain : -5.38 dB
Peak : 0.906403
CRC32 hash (test run) : A6130111
CRC32 hash : A6130111
CRC32 hash (skip zero) : 4CFAFC9F
AccurateRip v1 signature : 656775EB
AccurateRip v2 signature : 5A400773
->Accurately ripped (v1, confidence 2/16)
Statistics
Read error : 0
Skipped (treated as error) : 0
Edge jitter error (maybe fixed) : 0
Atom jitter error (maybe fixed) : 0
Drift error (maybe fixed) : 0
Dropped bytes error (maybe fixed) : 0
Duplicated bytes error (maybe fixed) : 0
Inconsistency in error sectors : 0

Track 03
Filename : /Users/Rips/Desktop/Rip/03 I Wish You Love.flac
/Users/Rips/Desktop/Rip/03 I Wish You Love.mp3
Pre-gap length : 00:02:00

Track gain : -5.25 dB
Peak : 0.928986
CRC32 hash (test run) : 6048C595
CRC32 hash : 6048C595
CRC32 hash (skip zero) : 14F841F0
AccurateRip v1 signature : 80C7475E
AccurateRip v2 signature : 284C26AB
->Accurately ripped (v1, confidence 2/16)
Statistics
Read error : 0
Skipped (treated as error) : 0
Edge jitter error (maybe fixed) : 0
Atom jitter error (maybe fixed) : 0
Drift error (maybe fixed) : 0
Dropped bytes error (maybe fixed) : 0
Duplicated bytes error (maybe fixed) : 0
Inconsistency in error sectors : 0

Track 04
Filename : /Users/Rips/Desktop/Rip/04 I Like to Lead When I Dance.flac
/Users/Rips/Desktop/Rip/04 I Like to Lead When I Dance.mp3
Pre-gap length : 00:01:37

Track gain : -4.74 dB
Peak : 0.948578
CRC32 hash (test run) : E1D9D31D
CRC32 hash : E1D9D31D
CRC32 hash (skip zero) : AC01849F
AccurateRip v1 signature : 6BD28072
AccurateRip v2 signature : 0573D391
->Accurately ripped (v1, confidence 2/16)
Statistics
Read error : 0
Skipped (treated as error) : 0
Edge jitter error (maybe fixed) : 0
Atom jitter error (maybe fixed) : 0
Drift error (maybe fixed) : 0
Dropped bytes error (maybe fixed) : 0
Duplicated bytes error (maybe fixed) : 0
Inconsistency in error sectors : 0

Track 05
Filename : /Users/Rips/Desktop/Rip/05 Misty.flac
/Users/Rips/Desktop/Rip/05 Misty.mp3
Pre-gap length : 00:01:61

Track gain : -5.15 dB
Peak : 0.905823
CRC32 hash (test run) : 0A2D15F0
CRC32 hash : 0A2D15F0
CRC32 hash (skip zero) : 5E55B2B2
AccurateRip v1 signature : 3F139FB5
AccurateRip v2 signature : BD0C65AE
->Accurately ripped (v1, confidence 2/16)
Statistics
Read error : 0
Skipped (treated as error) : 0
Edge jitter error (maybe fixed) : 0
Atom jitter error (maybe fixed) : 0
Drift error (maybe fixed) : 0
Dropped bytes error (maybe fixed) : 0
Duplicated bytes error (maybe fixed) : 0
Inconsistency in error sectors : 0

Track 06
Filename : /Users/Rips/Desktop/Rip/06 Stay With Me.flac
/Users/Rips/Desktop/Rip/06 Stay With Me.mp3

Track gain : -6.10 dB
Peak : 0.927887
CRC32 hash (test run) : 11656331
CRC32 hash : 11656331
CRC32 hash (skip zero) : 92B515A2
AccurateRip v1 signature : EDAC5D40
AccurateRip v2 signature : 2DED3F7B
->Accurately ripped (v1, confidence 2/16)
Statistics
Read error : 0
Skipped (treated as error) : 0
Edge jitter error (maybe fixed) : 0
Atom jitter error (maybe fixed) : 0
Drift error (maybe fixed) : 0
Dropped bytes error (maybe fixed) : 0
Duplicated bytes error (maybe fixed) : 0
Inconsistency in error sectors : 0

Track 07
Filename : /Users/Rips/Desktop/Rip/07 Talk to Me Baby.flac
/Users/Rips/Desktop/Rip/07 Talk to Me Baby.mp3
Pre-gap length : 00:03:04

Track gain : -5.34 dB
Peak : 0.901978
CRC32 hash (test run) : 42EF28A9
CRC32 hash : 6DE6B141
->Rip may not be accurate.
CRC32 hash (skip zero) : F04F5A00
AccurateRip v1 signature : 860A3927
AccurateRip v2 signature : 47BD4B94
->Accurately ripped (v1, confidence 2/16)
Statistics
Read error : 0
Skipped (treated as error) : 0
Edge jitter error (maybe fixed) : 0
Atom jitter error (maybe fixed) : 0
Drift error (maybe fixed) : 0
Dropped bytes error (maybe fixed) : 0
Duplicated bytes error (maybe fixed) : 0
Inconsistency in error sectors : 0

Track 08
Filename : /Users/Rips/Desktop/Rip/08 For Once in My Life.flac
/Users/Rips/Desktop/Rip/08 For Once in My Life.mp3
Pre-gap length : 00:02:47

Track gain : -7.38 dB
Peak : 0.943878
CRC32 hash (test run) : 2D689186
CRC32 hash : 2D689186
CRC32 hash (skip zero) : 0AC61231
AccurateRip v1 signature : DE20E866
AccurateRip v2 signature : 1CDB7C3F
->Accurately ripped (v1, confidence 2/16)
Statistics
Read error : 0
Skipped (treated as error) : 0
Edge jitter error (maybe fixed) : 0
Atom jitter error (maybe fixed) : 0
Drift error (maybe fixed) : 0
Dropped bytes error (maybe fixed) : 0
Duplicated bytes error (maybe fixed) : 0
Inconsistency in error sectors : 0

Track 09
Filename : /Users/Rips/Desktop/Rip/09 All of You.flac
/Users/Rips/Desktop/Rip/09 All of You.mp3
Pre-gap length : 00:02:05

Track gain : -6.85 dB
Peak : 0.999939
CRC32 hash (test run) : A0C46B3F
CRC32 hash : A0C46B3F
CRC32 hash (skip zero) : DEEB8A6F
AccurateRip v1 signature : 8B9EE933
AccurateRip v2 signature : 5B0B234A
->Accurately ripped (v1, confidence 2/16)
Statistics
Read error : 0
Skipped (treated as error) : 0
Edge jitter error (maybe fixed) : 0
Atom jitter error (maybe fixed) : 0
Drift error (maybe fixed) : 0
Dropped bytes error (maybe fixed) : 0
Duplicated bytes error (maybe fixed) : 0
Inconsistency in error sectors : 0

Track 10
Filename : /Users/Rips/Desktop/Rip/10 I Had the Craziest Dream.flac
/Users/Rips/Desktop/Rip/10 I Had the Craziest Dream.mp3
Pre-gap length : 00:02:52

Track gain : -6.55 dB
Peak : 0.946045
CRC32 hash (test run) : A22F473D
CRC32 hash : A22F473D
CRC32 hash (skip zero) : 3BE70A6F
AccurateRip v1 signature : 1AD9E1D5
AccurateRip v2 signature : 6B6EAABD
->Accurately ripped (v1, confidence 2/16)
Statistics
Read error : 0
Skipped (treated as error) : 0
Edge jitter error (maybe fixed) : 0
Atom jitter error (maybe fixed) : 0
Drift error (maybe fixed) : 0
Dropped bytes error (maybe fixed) : 0
Duplicated bytes error (maybe fixed) : 0
Inconsistency in error sectors : 0

Some inconsistencies found

End of status report

––-BEGIN XLD SIGNATURE––-
xdm5_d9S.JDOl6o5WgAlZWgyNe_6rCgbi.Wpra1LAS9lb6Z6hmf03Zpku7iU5WgNP0UD9cOZqZxOngEMR4dmZahreWms3gMXcdIV2qK
––-END XLD SIGNATURE––-
All thanks go to the original releaser