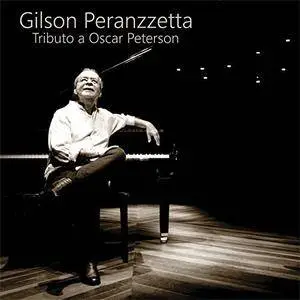 Gilson Peranzzetta - Tributo a Oscar Peterson (2018)
WEB FLAC (Tracks) - 283 MB | Cover | MP3 CBR 320 kbps - 114 MB | 00:49:34
Jazz | Label: Fina Flor
Three months after releasing a live album in January with Ivan Lins, Cumplicidade, the pianist, composer and arranger from Rio de Janeiro, Gilson Peranzzetta already presents another album. Tribute to Oscar Peterson reaches the phonographic market in April by the same label, Fina Flor, who edited Peranzzetta's live album with Ivan. As the title tribute to Oscar Peterson already makes explicit, Peranzzetta's solo CD celebrates the legacy of Canadian jazz pianist Oscar Emmanuel Peterson, a prodigious musician celebrated for dexterity and speed in piano playing.
Although the extensive discography of this exuberant technique pianist consists essentially of albums in which the musician prioritized the interpretation of others' works, Peterson was also a composer, eventually recording his own music throughout a phonographic work that reached peak production between the 1950s and 1970.
TRACKLIST
01. Somewhere
02. I Feel Pretty
03. Garota de Ipanema
04. The Days of Wine and Roses
05. Con Alma
06. Tico Tico no Fubá
07. Easy to Love
08. It's All Right with Me
09. I've Got You Under My Skin
10. It's De-Lovely
11. Just One of Those Things
–––––––––––-

DON'T MODIFY THIS FILE

–––––––––––-

PERFORMER: auCDtect Task Manager, ver. 1.6.0 RC1 build 1.6.0.1
Copyright © 2008-2010 y-soft. All rights reserved

ANALYZER: auCDtect: CD records authenticity detector, version 0.8.2
Copyright © 2004 Oleg Berngardt. All rights reserved.
Copyright © 2004 Alexander Djourik. All rights reserved.


FILE: 11. Just One of Those Things.flac
Size: 26823267 Hash: 7AC6D1975AEF9684D95B87ACF17992CE Accuracy: -m0
Conclusion: CDDA 100%
Signature: F3BCB0BF23F40D12511F22E5E6CDD5763FEFA4EC
FILE: 10. It's De-Lovely.flac
Size: 16508018 Hash: 2DC7100A2A8C3E9F6DE4C58014757596 Accuracy: -m0
Conclusion: CDDA 100%
Signature: DB18FCCC1B5993602BD5C40369B813C48305BBAA
FILE: 09. I've Got You Under My Skin.flac
Size: 24571690 Hash: 1EE70AE825EDCF8ABCA68A33D3BAC103 Accuracy: -m0
Conclusion: CDDA 100%
Signature: 5CEE8F474B3523755C41511137FBE33120EF48BA
FILE: 08. It's All Right with Me.flac
Size: 25392806 Hash: 0EF12E6426957FA01EDFD490AACEB491 Accuracy: -m0
Conclusion: CDDA 100%
Signature: CDA1F688DBB82D7D9D192A904CE5AFB5BCF2F32F
FILE: 07. Easy to Love.flac
Size: 32916689 Hash: F8DFA514BA9E38340E3D87156152F1ED Accuracy: -m0
Conclusion: CDDA 100%
Signature: EEDD925DD9C0609B5278BE9B374CA2158074696E
FILE: 06. Tico Tico no Fubá.flac
Size: 35839011 Hash: 2B22B6DDB7D0062F46D35E4631FCBDD4 Accuracy: -m0
Conclusion: CDDA 100%
Signature: 0744FAA3A8F91C1195C519C13285EAF7694E5690
FILE: 05. Con Alma.flac
Size: 40804191 Hash: D79C19F2440D13B8213A22A8C5B77DAC Accuracy: -m0
Conclusion: CDDA 100%
Signature: 005FA6A03E657918326203C7B969B3CDB800458D
FILE: 04. The Days of Wine and Roses.flac
Size: 21171350 Hash: 72D772A81601DF5D63C639D4A3A5B8E5 Accuracy: -m0
Conclusion: CDDA 100%
Signature: F14C7A000B6202F00C71885CAABF6BB61570B273
FILE: 03. Garota de Ipanema.flac
Size: 41081187 Hash: 66F26179822F8F68D0642AEA98D38E37 Accuracy: -m0
Conclusion: CDDA 100%
Signature: A6E83B1D7C27AC70E01AE31A87216ADD74B69148
FILE: 02. I Feel Pretty.flac
Size: 18696829 Hash: 49FA95EB236F2DA063A1DC69C09E637E Accuracy: -m0
Conclusion: CDDA 100%
Signature: A86D5400ADC90D449BE18DDE5B42731FCDA539C8
FILE: 01. Somewhere.flac
Size: 13482639 Hash: 69CA73EA78EFB231F7C647D35E1534D4 Accuracy: -m0
Conclusion: CDDA 100%
Signature: 3E995FF5C25C088592412AB4220A5EB5E5075CA3
All thanks go to the original releaser