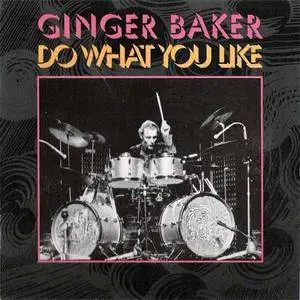 Ginger Baker - Do What You Like (2CD) (1998) {Polygram Chronicles}
EAC Rip | FLAC with CUE and log | scans | 993 mb
MP3 CBR 320kbps | RAR | 387 mb
Genre: jazz rock, Afrobeat, blues rock
Do What You Like
is a 1998 compilation by drummer Ginger Baker that combines three of his albums: 1970's
Ginger Baker's Air Force
, 1970's
Ginger Baker's Air Force 2
, and 1972's
Stratavarious
, plus a non-LP track and a song previously unreleased.
For a change, the late 1960s yielded up a supergroup that lived up to its hype and then some. Ginger Baker's Air Force was recorded live at Royal Albert Hall in January of 1970 – in fact, this may be the best-sounding live album ever to come out of that notoriously difficult venue – at a show that must have been a wonder to watch, as the ten-piece band blazed away in sheets of sound, projected delicate flute parts behind multi-layered African percussion, or built their songs up Bolero-like, out of rhythms from a single instrument into huge jazz-cum-R&B crescendos. Considering that this was only their second gig, the group sounds astonishingly tight, which greatly reduces the level of self-indulgence that one would expect to find on an album where five of the eight tracks run in excess of ten minutes. There aren't too many wasted notes or phrases in the 78 minutes of music included here, and Steve Winwood's organ, Baker, Phil Seamen, and Remi Kabaka's drums, and the sax playing by Chris Wood, Graham Bond (on alto), and Harold McNair, all stand out, especially the sax trio's interwoven playing on "Don't Care." Additionally, Denny Laine plays louder, flashier, more virtuoso-level guitar than he ever got to turn in with the Moody Blues, bending notes in exquisite fashion in the opening of Air Force's rendition of the Cream standard "Toad," crunching away on rhythm elsewhere, and indulging in some more introspective blues for "Man of Constant Sorrow." The original CD reissue, which sounded pretty good, was deleted in the early '90s, but this album has been remastered again and repackaged as part of the Ginger Baker retrospective Do What You Like on Polygram's Chronicles series. It's a must-own for jazz-rock, Afro-fusion, blues-rock, or percussion fans.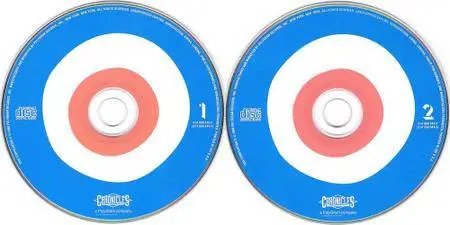 DISC 1 - LIVE AT THE ROYAL ALBERT HALL
(
Ginger Baker's Air Force
)
1. Da Da Man
2. Early In The Morning
3. Don't Care
4. Toad
5. Aiko Biaye
6. Man Of Constant Sorrow
7. Do What You Like
8. Doin' It
DISC 2 - IN THE STUDIO
(
non-LP single
)
01. Man Of Constant Sorrow
(
Ginger Baker's Air Force 2
)
02. Let Me Ride
03. Sweet Wine
04. Do U No Hu Yor Phrenz R?
05. We Free Kings
06. I Don't Want To Go On Without You
07. Toady
08. 12 Gates Of The City
(
Ginger Baker's Air Force 2
outtake, previously unreleased)
09. Sunshine Of Your Love
(
Stratavarious
)
10. Ariwo
11. Tiwa (It's Our Own)
12. Something Nice
13. Ju Ju
14. Blood Brothers
15. Coda
DISC 1 - LIVE AT THE ROYAL ALBERT HALL
(Ginger Baker's Air Force)
Ginger Baker-drums
Steve Winwood-organ & vocals
Jeanette Jacobs-vocals
Denny Laine-guitar & vocals
Chris Wood-tenor sax & flute
Rick Grech-bass & violin
Remi Kabaka-drums
Graham Bond-alto sax
Harold McNair-tenor sax & flute
Phil Seamen-percussion

Produced by Jimmy Miller
Recorded live at Royal Albert Hall, London, January 1970
===========
DISC 2 - IN THE STUDIO
(non-LP single)
Ginger Baker-drums
Steve Winwood-organ & vocals
Jeanette Jacobs-vocals
Denny Laine-guitar & vocals
Chris Wood-tenor sax & flute
Rick Grech-bass & violin
Remi Kabaka-drums
Graham Bond-alto sax
Harold McNair-tenor sax & flute
Phil Seamen-percussion
Produced by Jimmy Miller
Recorded at Olympic Studios, London in February 1970
(Ginger Baker's Air Force 2)
Ginger Baker-drums, tympani, tubular bells & African drums
Graham Bond-alto sax, organ, vocals & piano
Steve Gregory-tenor sax & flute
Bud Beadle-baritone, alto & soprano saxes
Ken Craddock-piano, organ, guitar & vocals
Colin Gibson-bass guitar (on "Do U No Hu Yor Phrenz R?", "We Free Kings", "Toady", and "12 Gates Of The City")
Neemoi Acquaye-African drums & percussion (except on "I Don't Want To Go On Without You")
Aliki Ashman-vocals
Diane Stewart-vocals
ADDITIONAL PERSONNEL:
On "Let Me Ride", "Sweet Wine", and "I Don't Want To Go On Without You":
Rick Grech-bass
Harold McNair-alto sax, flute & alto flute
Denny Laine-guitar & vocals
Catherine James-vocals
On "Let Me Ride", "Sweet Wine", and "12 Gates Of The City"
Rocky Dzidzornu-percussion
Produced by Ginger Baker
===
(Stratavarious)
PERSONNEL:
On "Ariwo" and "Tiwa (It's Our Own)":
Sandra Danielle-vocals (on "Ariwo" only)
Fela Ransome-Kuti-organ & vocals
Bobby Gass-bass
Ginger Baker-drums
Alhaji JK Brimar/Dusty & David/Ginger & Fela-percussion
June, JK, Dusty, David, Remi, Auntie, BBC, Sandra-choir
On "Something Nice" and "Ju Ju":
Fela Ransome-Kuti-piano
Bobby Gass-bass, guitar & vocals
Ginger Baker-drums & percussion
June, Sandra, JK, Dusty, David, Fela-choir (on "Ju Ju" only)
On "Blood Brothers 69"
Guy Warren-drums
Ginger Baker-drums
On "Coda"
Ginger Baker-drums & percussion, voice
Produced by Ginger Baker

Digitally remastered by Suha Gur at PolyGram Studios
EAC extraction logfile from 23. May 2006, 20:03 for CD
Ginger Baker / Do What You Like (Disc 1)

Used drive : LITE-ON DVDRW SOHW-1633S Adapter: 0 ID: 0
Read mode : Secure with NO C2, accurate stream, disable cache
Read offset correction : 12
Overread into Lead-In and Lead-Out : No

Used output format : Internal WAV Routines
44.100 Hz; 16 Bit; Stereo

Other options :
Fill up missing offset samples with silence : Yes
Delete leading and trailing silent blocks : No
Installed external ASPI interface


Track 1
Filename D:\FLAC\Ginger Baker - Do What You Like (2CD) (1998) [FLAC] {Polygram Chronicles}\Disc 1\01 - Da Da Man.wav

Pre-gap length 0:00:02.00

Peak level 78.2 %
Track quality 100.0 %
Test CRC 7BFB1667
Copy CRC 7BFB1667
Copy OK

Track 2
Filename D:\FLAC\Ginger Baker - Do What You Like (2CD) (1998) [FLAC] {Polygram Chronicles}\Disc 1\02 - Early In The Morning.wav

Peak level 75.4 %
Track quality 100.0 %
Test CRC 68E2A658
Copy CRC 68E2A658
Copy OK

Track 3
Filename D:\FLAC\Ginger Baker - Do What You Like (2CD) (1998) [FLAC] {Polygram Chronicles}\Disc 1\03 - Don't Care.wav

Pre-gap length 0:00:02.06

Peak level 77.0 %
Track quality 100.0 %
Test CRC 641C7228
Copy CRC 641C7228
Copy OK

Track 4
Filename D:\FLAC\Ginger Baker - Do What You Like (2CD) (1998) [FLAC] {Polygram Chronicles}\Disc 1\04 - Toad.wav

Peak level 99.9 %
Track quality 99.9 %
Test CRC 300E7140
Copy CRC 300E7140
Copy OK

Track 5
Filename D:\FLAC\Ginger Baker - Do What You Like (2CD) (1998) [FLAC] {Polygram Chronicles}\Disc 1\05 - Aiko Biaye.wav

Pre-gap length 0:00:01.36

Peak level 99.3 %
Track quality 100.0 %
Test CRC 84702246
Copy CRC 84702246
Copy OK

Track 6
Filename D:\FLAC\Ginger Baker - Do What You Like (2CD) (1998) [FLAC] {Polygram Chronicles}\Disc 1\06 - Man Of Constant Sorrow.wav

Peak level 99.9 %
Track quality 100.0 %
Test CRC AEAD4382
Copy CRC AEAD4382
Copy OK

Track 7
Filename D:\FLAC\Ginger Baker - Do What You Like (2CD) (1998) [FLAC] {Polygram Chronicles}\Disc 1\07 - Do What You Like.wav

Peak level 84.3 %
Track quality 100.0 %
Test CRC 4836B242
Copy CRC 4836B242
Copy OK

Track 8
Filename D:\FLAC\Ginger Baker - Do What You Like (2CD) (1998) [FLAC] {Polygram Chronicles}\Disc 1\08 - Doin' It.wav

Peak level 84.7 %
Track quality 100.0 %
Test CRC A4EFDC11
Copy CRC A4EFDC11
Copy OK

No errors occured


End of status report




EAC extraction logfile from 24. May 2006, 4:22 for CD
Ginger Baker / Do What You Like (Disc 2)

Used drive : LITE-ON DVDRW SOHW-1633S Adapter: 0 ID: 0
Read mode : Secure with NO C2, accurate stream, disable cache
Read offset correction : 12
Overread into Lead-In and Lead-Out : No

Used output format : Internal WAV Routines
44.100 Hz; 16 Bit; Stereo

Other options :
Fill up missing offset samples with silence : Yes
Delete leading and trailing silent blocks : No
Installed external ASPI interface


Track 1
Filename D:\FLAC\Ginger Baker - Do What You Like (2CD) (1998) [FLAC] {Polygram Chronicles}\Disc 2\01 - Man Of Constant Sorrow.wav

Pre-gap length 0:00:02.00

Peak level 67.1 %
Track quality 100.0 %
Test CRC BF4ECB2E
Copy CRC BF4ECB2E
Copy OK

Track 2
Filename D:\FLAC\Ginger Baker - Do What You Like (2CD) (1998) [FLAC] {Polygram Chronicles}\Disc 2\02 - Let Me Ride.wav

Pre-gap length 0:00:02.66

Peak level 97.3 %
Track quality 99.9 %
Test CRC B8D3A708
Copy CRC B8D3A708
Copy OK

Track 3
Filename D:\FLAC\Ginger Baker - Do What You Like (2CD) (1998) [FLAC] {Polygram Chronicles}\Disc 2\03 - Sweet Wine.wav

Pre-gap length 0:00:02.06

Peak level 91.9 %
Track quality 100.0 %
Test CRC CE372E48
Copy CRC CE372E48
Copy OK

Track 4
Filename D:\FLAC\Ginger Baker - Do What You Like (2CD) (1998) [FLAC] {Polygram Chronicles}\Disc 2\04 - Do U No Hu Yor Phrenz R .wav

Pre-gap length 0:00:01.86

Peak level 99.6 %
Track quality 99.9 %
Test CRC 82B31241
Copy CRC 82B31241
Copy OK

Track 5
Filename D:\FLAC\Ginger Baker - Do What You Like (2CD) (1998) [FLAC] {Polygram Chronicles}\Disc 2\05 - We Free Kings.wav

Pre-gap length 0:00:02.26

Peak level 84.8 %
Track quality 100.0 %
Test CRC AB55B13D
Copy CRC AB55B13D
Copy OK

Track 6
Filename D:\FLAC\Ginger Baker - Do What You Like (2CD) (1998) [FLAC] {Polygram Chronicles}\Disc 2\06 - I Don't Want To Go On Without You.wav

Pre-gap length 0:00:01.00

Peak level 99.6 %
Track quality 100.0 %
Test CRC D90ECFF3
Copy CRC D90ECFF3
Copy OK

Track 7
Filename D:\FLAC\Ginger Baker - Do What You Like (2CD) (1998) [FLAC] {Polygram Chronicles}\Disc 2\07 - Toady.wav

Pre-gap length 0:00:01.80

Peak level 97.8 %
Track quality 100.0 %
Test CRC 124BFE08
Copy CRC 124BFE08
Copy OK

Track 8
Filename D:\FLAC\Ginger Baker - Do What You Like (2CD) (1998) [FLAC] {Polygram Chronicles}\Disc 2\08 - 12 Gates Of The City.wav

Pre-gap length 0:00:02.77

Peak level 92.6 %
Track quality 100.0 %
Test CRC E8D458A0
Copy CRC E8D458A0
Copy OK

Track 9
Filename D:\FLAC\Ginger Baker - Do What You Like (2CD) (1998) [FLAC] {Polygram Chronicles}\Disc 2\09 - Sunshine Of Your Love.wav

Pre-gap length 0:00:03.80

Peak level 79.1 %
Track quality 100.0 %
Test CRC 79684CCF
Copy CRC 79684CCF
Copy OK

Track 10
Filename D:\FLAC\Ginger Baker - Do What You Like (2CD) (1998) [FLAC] {Polygram Chronicles}\Disc 2\10 - Ariwo.wav

Pre-gap length 0:00:02.76

Peak level 89.1 %
Track quality 99.9 %
Test CRC EBB2E97A
Copy CRC EBB2E97A
Copy OK

Track 11
Filename D:\FLAC\Ginger Baker - Do What You Like (2CD) (1998) [FLAC] {Polygram Chronicles}\Disc 2\11 - Tiwa (It's Our Own).wav

Pre-gap length 0:00:01.97

Peak level 89.1 %
Track quality 100.0 %
Test CRC 0B90D0D3
Copy CRC 0B90D0D3
Copy OK

Track 12
Filename D:\FLAC\Ginger Baker - Do What You Like (2CD) (1998) [FLAC] {Polygram Chronicles}\Disc 2\12 - Something Nice.wav

Pre-gap length 0:00:02.77

Peak level 99.9 %
Track quality 99.9 %
Test CRC AA67A531
Copy CRC AA67A531
Copy OK

Track 13
Filename D:\FLAC\Ginger Baker - Do What You Like (2CD) (1998) [FLAC] {Polygram Chronicles}\Disc 2\13 - Ju Ju.wav

Pre-gap length 0:00:01.73

Peak level 99.9 %
Track quality 99.9 %
Test CRC 26FFFA04
Copy CRC 26FFFA04
Copy OK

Track 14
Filename D:\FLAC\Ginger Baker - Do What You Like (2CD) (1998) [FLAC] {Polygram Chronicles}\Disc 2\14 - Blood Brothers.wav

Pre-gap length 0:00:01.66

Peak level 88.0 %
Track quality 100.0 %
Test CRC 9F8C17A9
Copy CRC 9F8C17A9
Copy OK

Track 15
Filename D:\FLAC\Ginger Baker - Do What You Like (2CD) (1998) [FLAC] {Polygram Chronicles}\Disc 2\15 - Coda.wav

Pre-gap length 0:00:01.69

Peak level 35.4 %
Track quality 99.9 %
Test CRC 27AF295D
Copy CRC 27AF295D
Copy OK

No errors occured


End of status report