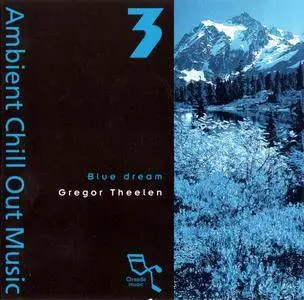 Gregor Theelen - Blue Dream (Ambient Chill Out Music 3) (1995)
XLD Rip | FLAC (image+.cue+log) - 369 MB | MP3 CBR 320 kbps (LAME 3.93) - 149 MB | Covers - 62 MB
Genre: Electronic, New Age | RAR 3% Rec. | Label: Oreade Music (AMB 5250-2)
Gregor Theelen was born in a family of musicians. He studied at the Music College ofHilversum, Holland; he worked with several well-known artists, he composed, arranged, wrote musicals as well as pieces for string quartets and film music. He is a recording engineer, he teaches and writes for piano. He makes movies and produces for theatre. And, by the way, he plays the piano, the accordion and the guitar.
Tracklist:
01. Creation
02. Eden
03. Firedance
04. The Blue Planet, Part One
05. The Blue Planet, Part Two
06. Ayesha
07. The Cloud And The Glory
Total time:
01:03:31
X Lossless Decoder version 20170729 (150.3)

XLD extraction logfile from 2017-12-15 03:27:11 +0300

Gregor Theleen / Blue Dream (Ambient Chill Out Music 3)

Used drive : HL-DT-ST DVDRAM GP60NB60 (revision PA01)
Media type : Pressed CD

Ripper mode : CDParanoia III 10.2
Disable audio cache : OK for the drive with a cache less than 2750KiB
Make use of C2 pointers : YES
Read offset correction : 6
Max retry count : 20
Gap status : Analyzed, Appended

TOC of the extracted CD
Track | Start | Length | Start sector | End sector
––––––––––––––––––––––––––––-
1 | 00:00:00 | 09:23:64 | 0 | 42288
2 | 09:23:64 | 08:28:01 | 42289 | 80389
3 | 17:51:65 | 05:14:25 | 80390 | 103964
4 | 23:06:15 | 08:35:40 | 103965 | 142629
5 | 31:41:55 | 12:50:67 | 142630 | 200446
6 | 44:32:47 | 08:31:65 | 200447 | 238836
7 | 53:04:37 | 10:26:25 | 238837 | 285811

AccurateRip Summary (DiscID: 0010b2e2-0064f2f4-630ee207)
Track 01 : OK (v1, confidence 1/1)
Track 02 : OK (v1, confidence 1/1)
Track 03 : OK (v1, confidence 1/1)
Track 04 : OK (v1, confidence 1/1)
Track 05 : OK (v1, confidence 1/1)
Track 06 : NG (total 1 submission)
Track 07 : OK (v1, confidence 1/1)
->6 tracks accurately ripped, 1 track not

All Tracks
Filename : /Users/crosfield/Desktop/Gregor Theleen - Blue Dream (Ambient Chill Out Music 3) [FLAC]/Gregor Theleen - Blue Dream (Ambient Chill Out Music 3).flac
CRC32 hash : 771E25F8
CRC32 hash (skip zero) : 810228F2
Statistics
Read error : 0
Skipped (treated as error) : 0
Edge jitter error (maybe fixed) : 0
Atom jitter error (maybe fixed) : 0
Drift error (maybe fixed) : 0
Dropped bytes error (maybe fixed) : 0
Duplicated bytes error (maybe fixed) : 0
Inconsistency in error sectors : 0

Track 01
Pre-gap length : 00:02:00

CRC32 hash : B1D8495D
CRC32 hash (skip zero) : FCD8A52B
AccurateRip v1 signature : E19669DA
AccurateRip v2 signature : BB7388BB
->Accurately ripped (v1, confidence 1/1)
Statistics
Read error : 0
Skipped (treated as error) : 0
Edge jitter error (maybe fixed) : 0
Atom jitter error (maybe fixed) : 0
Drift error (maybe fixed) : 0
Dropped bytes error (maybe fixed) : 0
Duplicated bytes error (maybe fixed) : 0
Inconsistency in error sectors : 0

Track 02

CRC32 hash : 23E8BD25
CRC32 hash (skip zero) : E2F14D28
AccurateRip v1 signature : 0859D106
AccurateRip v2 signature : 48D4590A
->Accurately ripped (v1, confidence 1/1)
Statistics
Read error : 0
Skipped (treated as error) : 0
Edge jitter error (maybe fixed) : 0
Atom jitter error (maybe fixed) : 0
Drift error (maybe fixed) : 0
Dropped bytes error (maybe fixed) : 0
Duplicated bytes error (maybe fixed) : 0
Inconsistency in error sectors : 0

Track 03

CRC32 hash : FC879BE0
CRC32 hash (skip zero) : E3A7EB20
AccurateRip v1 signature : EA698E22
AccurateRip v2 signature : A4C6C147
->Accurately ripped (v1, confidence 1/1)
Statistics
Read error : 0
Skipped (treated as error) : 0
Edge jitter error (maybe fixed) : 0
Atom jitter error (maybe fixed) : 0
Drift error (maybe fixed) : 0
Dropped bytes error (maybe fixed) : 0
Duplicated bytes error (maybe fixed) : 0
Inconsistency in error sectors : 0

Track 04

CRC32 hash : 6C3B7F4F
CRC32 hash (skip zero) : 944C9DFE
AccurateRip v1 signature : 63F884A1
AccurateRip v2 signature : E191862A
->Accurately ripped (v1, confidence 1/1)
Statistics
Read error : 0
Skipped (treated as error) : 0
Edge jitter error (maybe fixed) : 0
Atom jitter error (maybe fixed) : 0
Drift error (maybe fixed) : 0
Dropped bytes error (maybe fixed) : 0
Duplicated bytes error (maybe fixed) : 0
Inconsistency in error sectors : 0

Track 05

CRC32 hash : 56D8CCCF
CRC32 hash (skip zero) : 5DC69037
AccurateRip v1 signature : 270E265A
AccurateRip v2 signature : 12074DD5
->Accurately ripped (v1, confidence 1/1)
Statistics
Read error : 0
Skipped (treated as error) : 0
Edge jitter error (maybe fixed) : 0
Atom jitter error (maybe fixed) : 0
Drift error (maybe fixed) : 0
Dropped bytes error (maybe fixed) : 0
Duplicated bytes error (maybe fixed) : 0
Inconsistency in error sectors : 0

Track 06

CRC32 hash : 71427AAF
CRC32 hash (skip zero) : BAF24361
AccurateRip v1 signature : 83112DBF
AccurateRip v2 signature : 7C027A98
->Rip may not be accurate (total 1 submission).
Statistics
Read error : 0
Skipped (treated as error) : 0
Edge jitter error (maybe fixed) : 0
Atom jitter error (maybe fixed) : 0
Drift error (maybe fixed) : 0
Dropped bytes error (maybe fixed) : 0
Duplicated bytes error (maybe fixed) : 0
Inconsistency in error sectors : 0

Track 07

CRC32 hash : EA821F7D
CRC32 hash (skip zero) : 7E69A43F
AccurateRip v1 signature : 37F3D450
AccurateRip v2 signature : 5B2E78BA
->Accurately ripped (v1, confidence 1/1)
Statistics
Read error : 0
Skipped (treated as error) : 0
Edge jitter error (maybe fixed) : 0
Atom jitter error (maybe fixed) : 0
Drift error (maybe fixed) : 0
Dropped bytes error (maybe fixed) : 0
Duplicated bytes error (maybe fixed) : 0
Inconsistency in error sectors : 0

No errors occurred

End of status report
[CUETools log; Date: 16.01.2018 2:12:47; Version: 2.1.4]
[CTDB TOCID: 2XmhScyaTivjhqKNELUUqgNiv0M-] disk not present in database.
[AccurateRip ID: 0010b2e2-0064f2f4-630ee207] found.
Track [ CRC | V2 ] Status
01 [e19669da|bb7388bb] (1+0/1) Accurately ripped
02 [0859d106|48d4590a] (1+0/1) Accurately ripped
03 [ea698e22|a4c6c147] (1+0/1) Accurately ripped
04 [63f884a1|e191862a] (1+0/1) Accurately ripped
05 [270e265a|12074dd5] (1+0/1) Accurately ripped
06 [83112dbf|7c027a98] (0+0/1) No match
07 [37f3d450|5b2e78ba] (1+0/1) Accurately ripped

Track Peak [ CRC32 ] [W/O NULL]
– 100,0 [771E25F8] [810228F2]
01 100,0 [B1D8495D] [FCD8A52B]
02 100,0 [23E8BD25] [E2F14D28]
03 100,0 [FC879BE0] [E3A7EB20]
04 100,0 [6C3B7F4F] [944C9DFE]
05 100,0 [56D8CCCF] [5DC69037]
06 56,6 [71427AAF] [BAF24361]
07 100,0 [EA821F7D] [7E69A43F]
Thanks to
CrosfieldSee also:
Mister Ed - Ultra-Beige Dream (Ambient Chill Out Music 5) (1995)
Mister Ed - Orange Dream (1995) (Ambient Chill Out Music 6) (1995)