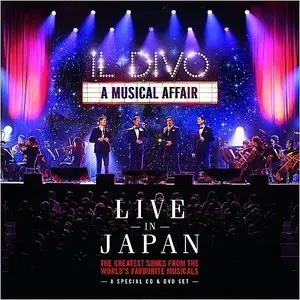 Il Divo - A Musical Affair: Live In Japan (2014)
Classical Crossover, Pop | MP3 CBR 320 kbps | 01:02:12 | 146 MB
Label: Columbia | Release Year: 2014
One year from their landmark album, A Musical Affair, inspired by classic Broadway musicals, Il Divo will release a very special CD, Live In Japan. Filmed and recorded at Tokyo's famous Budokan Theatre in March of 2014, this impressive collection features 15 songs on the CD. Il Divo is the world's first and most successful classical crossover group. They have sold over 30 million albums worldwide, achieved 50 number one records, and received 160 gold and platinum awards in over 33 countries. Il Divo formed in 2003 and now celebrate more than an illustrious decade together.
TRACKLIST
01. Tonight
02. Some Enchanted Evening
03. Can You Feel The Love Tonight
04. Memory
05. I Will Always Love You (Siempre Te Amaré)
06. Don't Cry For Me Argentina
07. Somewhere
08. The Winner Takes It All (Va Todo Al Ganador)
09. Bring Him Home
10. Love Changes Everything
11. The Music Of The Night
12. The Impossible Dream
13. My Way (A Mi Manera))
14. Time To Say Goodbye (Con Te Partirò)
15. A Whole New World